London Population Projected to Grow by Almost a 10th by 2026
(Bloomberg) -- London is projected to see its population rise faster than any other region of the U.K.
The number of people living in the British capital is set to reach 9.54 million by 2026, almost 9 percent more than in 2016, according to Office for National Statistics projections published Thursday. Tower Hamlets in east London is expected to grow by almost 18 percent, making it the fastest-expanding local authority in England.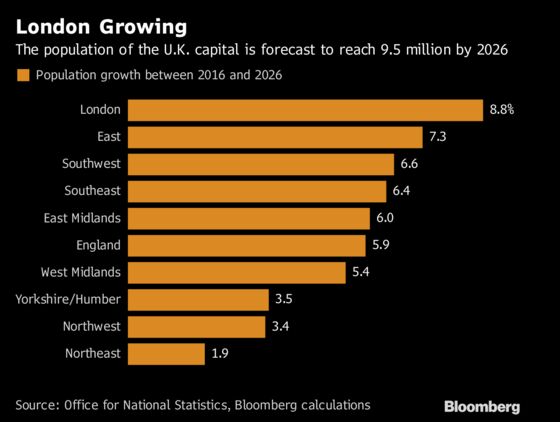 But immigration is not the reason for the almost 800,000 people on course to join the London population, the ONS said. Instead, it reflects "natural change," the difference between the number of births and deaths. That contrasts with the northeast, where a projected increase of 51,000 is mostly down to migration.
"While the overall populations of all regions in England are projected to increase over the next decade, reasons for these increases vary greatly depending on where you live," said ONS statistician Andrew Nash. "What's also clear is that the population is aging in all regions, with the number of people aged 65 and over growing considerably faster than younger age groups."
The population of England as a whole is seen growing by almost 6 percent to 58.5 million.
Other figures from the ONS show that around one in seven of the U.K. population was born outside the country last year. Poland remained the most common country of birth, with an estimated 1 million Polish nationals now living in the U.K., though the largest increases in population in 2017 were among people born in Romania.
Short-term migration figures show British residents made twice as many visits abroad than vice-versa in 2016, despite a record number of foreigners coming to the U.K. to study. Vacations and family visits were the main reasons given by Britons for going overseas.