London Avoids Toughest Covid Curbs as Tories Protest New Tiers
(Bloomberg) -- London will avoid the toughest coronavirus restrictions when England's partial lockdown ends next week, but Prime Minister Boris Johnson faces a potential rebellion from members of his party angry about the tougher rules imposed on their districts.
The U.K. capital has been placed into tier 2 from Dec. 2, which means pubs, restaurants and bars can open for business but alcohol can only be served as part of a meal. Almost all of England will be in either tier 2 or the highest tier 3, in which pubs and restaurants must close except for takeaway. Households will not be allowed to mix indoors in either tier.
The regional three-tier system is tougher than before lockdown because ministers want to make sure they get a grip of the virus before people are allowed a five-day relaxation of the rules during the Christmas holidays.
"The policies have been far too authoritarian," influential Conservative MP Graham Brady told the BBC on Thursday. "There has got to be a real danger that if these restrictions aren't lifted very, very soon there will be a lot of businesses that simply won't reopen."
Brady said he will oppose the measures when they are put to a vote in Parliament next week.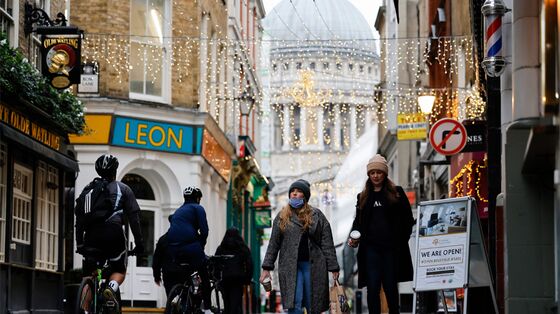 Some 41% of England will be in the toughest tier 3, including large swathes of the northeast, northwest, and the Midlands. Bristol, in the southwest, and the southeast county of Kent are also in tier 3.
Another 57% of England will be in tier 2, including much of southern England and the northwest region of Liverpool which has pioneered mass testing. Only Cornwall, the Isle of Wight and the Isles of Scilly are in the lowest tier 1.
"Hope is on the horizon but we still have further to go," Health Secretary Matt Hancock told the House of Commons after the government announcing details of the tiers. "We must all dig deep."
Under the new rules, the general requirement for people to "stay at home" will end, and shops, gyms and hairdressers will reopen. But in all areas, people will be urged to continue to work from home if they can.
The announcement triggered an immediate push back from the hospitality industry, 98% of which is covered by the top two tiers in England, according to trade body UKHospitality. That will wipe out an estimated £7.8 billion of trading compared to last year if the restrictions last all of December, it said.
"We still have not seen any evidence that hospitality venues –- which have invested great time effort and money to making their spaces Covid-secure –- are a problem," UKHospitality Chief Executive Kate Nicholls said in a statement. The new system is a "huge blow" and "it seems unfair and arbitrary that hospitality is being dealt such a harsh hand," she said.
The threat to business angered Tory MPs who had lobbied ministers to keep their areas out of the highest tiers.
The coronavirus restrictions are "destroying lives and livelihoods," Conservative MP Richard Drax said in a statement. "We need a new strategy based on common sense, not fear and more fear."
Hancock said the government will review which region is in each tier on Dec. 16, based on infection rates and local pressures on the National Health Service, and then every week after that.
In London, Mayor Sadiq Khan welcomed the move to keep the capital in tier 2. "This decision will be a welcome boost for London's shops, businesses and hospitality venues who were forced to close just as preparations for the Christmas period began," he said.
Ravinder Bhogal, owner of Jikoni restaurant in central London, said the relaxation of the 10 p.m. curfew is better than the situation before the lockdown. Venues will now have to take last orders at 10 p.m. but will be able to stay open until 11 p.m.
"It is definitely an improvement on the last tier 2 and it means we can give our guests a relaxed meal without rushing them out," she said. "It feels a bit like coming up for air. However, we'd like a proper idea of what is expected in January to give businesses the time to plan."
Johnson's New Regional Covid Rules for England
Under all Tiers
Everyone should work from home where they can.
Education and childcare open. Gyms and swimming pools open. Shops and hairdressers open.
Exceptions to household mixing rules for people in support bubbles.
Tier 1
Maximum of six people can meet indoors or outdoors.
Bars, pubs and restaurants table service only; last orders 10 p.m., close 11 p.m.
Entertainment venues open.
Accommodation open. Overnight stays allowed for up to six people.
Exercise classes and sport outdoors, but with maximum of six people indoors.
Travel advice: Walk, cycle.
Large events, sports and performances allowed but limited to 50% capacity, or maximum 4,000 people outdoors/1,000 indoors (whichever is lower).
Tier 2
No household mixing indoors. Maximum of six people outdoors.
Pubs, bars closed unless operating as restaurants. Alcohol only served with "substantial meals." Last orders 10 p.m., close 11 p.m.
Entertainment open. Accommodation open.
Exercise classes and sport allowed outdoors, but indoors only if there's no interaction between households.
Travel advice: Reduce journeys.
Large events, sports and performances allowed but limited to 50% capacity, or maximum 2,000 people outdoors/1,000 indoors (whichever is lower).
Tier 3
No mixing households indoors, or in most outdoor space. Maximum of six in parks and sports courts.
Bars, pubs and restaurants all closed, apart from take-away or delivery meals. Indoor entertainment closed.
Travel advice: Avoid leaving Tier 3 area, reduce journeys.
No overnight stays beyond local area, with exceptions for work, education. Accommodation closed, with exceptions for work.
Exercise classes and sports can take place outdoors, but not higher-risk contact activities.
Large events banned. Drive-in events permitted.