Lockdowns Knock East EU Industry to Post-Economic Crisis Lows
Isolation measures imposed to staunch the spread of the coronavirus thrust central European manufacturing, the region's main growth engine, into the deepest declines at least since the global economic crisis.
As broken supply chains stopped deliveries and consumers in the euro zone ceased buying imported goods, factories east of the former Iron Curtain have ground to a halt.
Purchasing-manager indexes declined more than analysts forecast in the largest economies in the region, with Poland falling to 42.4 and the Czech Republic declining to 41.3. Hungary's PMI, which is calculated under different methodology, was also worse than expected, plummeting to a record-low 29.1, from 50.3 in February.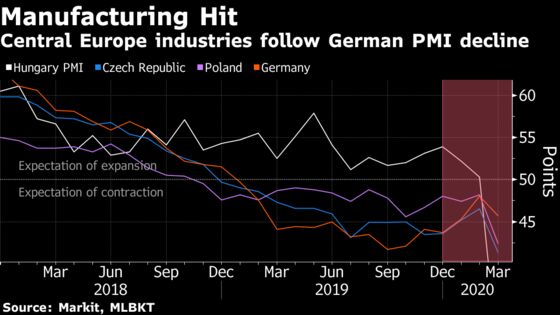 Governments across the region were among the EU's first after Italy to impose restrictions to contain Covid-19, with the Czech Republic shutting schools on March 10 -- followed by Poland a day later. That was followed by government-imposed lockdowns of most other aspects of life shortly after and the closing of many of the region's factories, which churn out everything from cars to computer screens.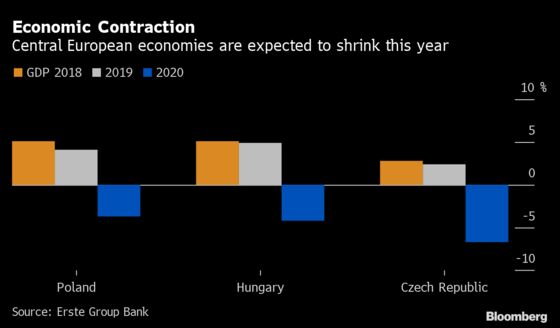 Policy makers have since adopted unprecedented spending packages to ease the impact on businesses and workers. But those measures will at best only soften the blow, and declines in gross domestic product look inevitable. Erste Group Bank AG forecasts that the combined economy of central and eastern Europe may shrink 4.7% in 2020.