Local Governor in Japan Threatens to Cancel Olympics Torch Relay
(Bloomberg) -- The governor of Shimane prefecture, located in Western Japan, said he's ready to cancel local Olympics torch relay events unless the host city of Tokyo and the country's government take more aggressive steps to stop the spread of the coronavirus.
"I will consider canceling the torch relay events as long as the current situation continues," Tatsuya Maruyama, governor of Shimane Prefecture, told a new conference. He added that a final decision will be made after monitoring the situation for another month.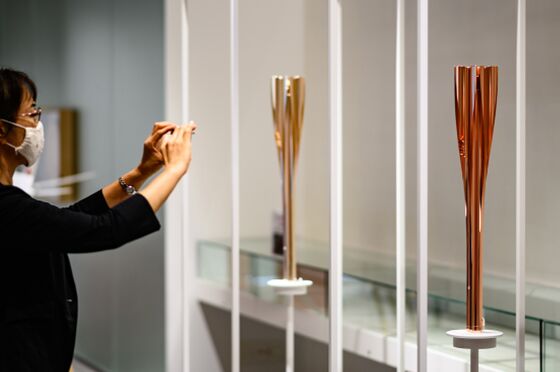 The Tokyo Olympics have been mired in doubt and controversy after the pandemic forced a delay last year. Former Japanese Prime Minister Yoshiro Mori resigned as the chief of the Tokyo 2020 Organizing Committee last week after sparking a global outcry with sexist comments that women talk too much. Maruyama's warning raises concerns that other prefectures may follow suit, adding to doubts whether the games will be held this summer.
While Tokyo's infection numbers have been on the decline since stricter measures were adopted last month, a final decision on the games won't happen until next month.
The torch relay is scheduled on March 25 in Fukushima, one of the hardest-hit prefectures in the 2011 earthquake and home to the nuclear plant that was damaged. The relay will last 121 days, covering all Japan's 47 prefectures through 859 municipalities. Shimane, with a population of 666,000, is due to be the 24th to receive the torch on May 15-16 before it goes to neighboring Hiroshima Prefecture.