Lira Swings Leave Turkish Firms Wondering What Price They'll Pay
(Bloomberg) -- President Recep Tayyip Erdogan wants a cheaper lira to unleash the animal spirits of Turkish businesses. But the extreme currency swings triggered by his war on interest rates are for now having a chilling effect on companies nationwide.
 "We've entered a tough period," said Ayhan Zeytinoglu, head of the Kocaeli Chamber of Industry, a province just to the east of Istanbul. Raw-material suppliers to sectors including automotives and chemicals are concerned they may have to pay much more in lira terms to replace goods they sell, he said. "A competitive currency is a good plan over the long term, but not this way."
Turkey's central bank has cut its benchmark rate by a total of 4 percentage points to 15% in three consecutive meetings, while signaling another reduction is possible on Dec. 16. 
It's unclear whether the resultant lira volatility -- an 11-day slide put its year-to-date loss at 38% before the currency climbed more than 10% Wednesday -- will make the regulator think again. Erdogan, who holds the unorthodox belief that high interest rates cause inflation rather than curb it, has doubled down on his demands for cuts, and got his way.
On Monday, he outlined a new economic future for Turkey prioritizing investment, fast growth and job creation -- a combination that has underpinned his electoral success for two decades -- while attacking "vassal economists" who criticize his policies.
The clash between government and markets has companies fretting. "Many of our members are waiting on the sidelines" for the lira to stabilize, said Sinan Oncel, head of the United Brands Association, an organization of Turkish retailers.
"Demand and supply have frozen," said Metin Gunes, who heads a national association of fertilizer producers. "As an industry that's dependent on imports of raw materials, we're facing the issue of proper pricing."
The volatility even has some questioning the free-float currency system put in place in the aftermath of a 2001 economic crisis. Tahir Tellioglu, head of the Confederation of Building Contractors, said Turkey should "consider a fixed exchange rate, if that's what's needed." With rising costs pushing up property prices, the domestic market will suffer significantly, he complained.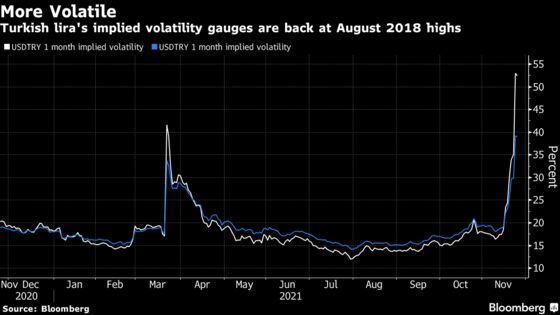 Executives from firms earning their income in hard currency aren't so worried. The Borsa Istanbul's industrials index has climbed more than 29% this quarter.
For most though, the weaker lira is certain to raise already elevated producer prices, which rose an annual 46% in October, and fuel consumer inflation that stood at 20% last month, four times the central bank's year-end target. That could curb demand, as well as angering voters who are already drifting away from Erdogan's ruling AK Party.
Turgay Mersin, who leads an association of car dealers, said some of them may be "deferring selling" due to the lira's gyrations, in an effort to preserve capital. 
"Everyone's rushing to buy euros and dollars. This will result in higher inflation. Price increases have already started," he said.