Lira Slides as Erdogan Loses Ally's Support for Local Elections
(Bloomberg) -- The Turkish lira extended a slump after a key political ally of President Recep Tayyip Erdogan's AK Party said the partnership won't hold for local elections scheduled for March. Bonds and stocks fell.
The lira slipped more than 3 percent in the biggest drop in nearly two months. The nationalist MHP will "draw its path by itself only," the party's leader Devlet Bahceli said in a speech at parliament in Ankara. In response, Erdogan said that his party wants to continue the alliance and that difference of opinion in various issues should not be allowed to overshadow the ties.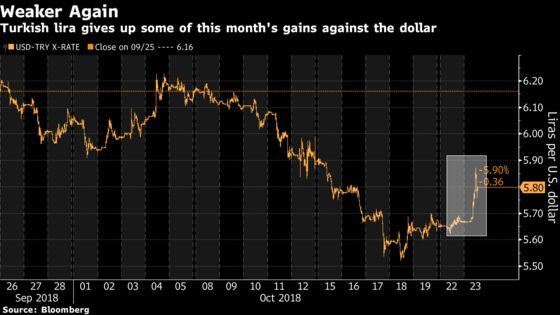 The development comes after months of speculation over a rift in an alliance forged before presidential elections earlier this year, and raises the prospect of renewed political turbulence in Turkey that could derail a nascent recovery in the nation's assets. The AK Party needs support from other parties to push through laws in parliament.
Bahceli is "putting the knife in," said Timothy Ash, an emerging-market strategist at BlueBay Asset Management LLP in London, adding that he might just be "playing games, pending eventually cutting a deal with the AKP."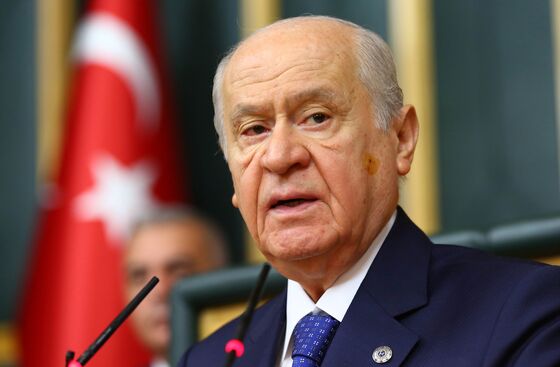 Among Bahceli's grievances is Erdogan's refusal to heed his party's calls for an amnesty for some prisoners. More than 160,000 inmates will be eligible for the amnesty under a law backed by the MHP, Feti Yildiz, the Deputy Chairman of the nationalist party, said in a televised speech in September.
The lira pared its decline and was trading 1.8 percent lower at 5.7735 against the dollar as of 3:30 p.m. in Istanbul. The yield on 10-year government bonds was 79 basis points higher at 19.91 percent while the benchmark Borsa Istanbul 100 Index fell for a fourth day, led by Turkcell Iletisim Hizmetleri AS.
The currency has recouped more than 20 percent of its value against the dollar from a record low in August, buoyed by tighter central bank policy and signs that Turkey was patching up its broken relations with the U.S. after it released a jailed American pastor earlier in October.
"Some retracement had been expected on the back of the strong rally, but also uncertainty increased ahead of the central bank meeting on Thursday and the geopolitical conflict with Saudi," Christian Wietoska, a strategist at Deutsche Bank AG said in emailed comments. "Without any further escalation on the geopolitical front, we don't expect another sharp sell-off."
Erdogan said Tuesday that the killing of journalist Jamal Khashoggi at Saudi Arabia's consulate in Istanbul was the result of a thoroughly planned plot, rejecting Riyadh's explanations of the murder and calling on Saudi's king to hold all culprits to account. Some analysts see the move as part of Turkey's bid to regain influence across the Middle East.
The central bank sets rates on Oct. 25, and 24 out of 28 economists surveyed by Bloomberg expect that policy makers will hold its one-week repo rate after raising borrowing costs by 625 basis points in September.