Lindsey Graham Doesn't See Need to Have Mueller, McGahn Testify
(Bloomberg) -- Senate Judiciary Chairman Lindsey Graham dismissed Democrats' calls to hold hearings with Special Counsel Robert Mueller or former White House Counsel Don McGahn.
"They just want to keep it going," Graham said Wednesday in an interview, talking about the Democratic requests after his committee's contentious hearing with Attorney General William Barr earlier in the day.
"My job, I thought, was to make sure Mueller could do his job. My job is not to empower their presidential campaigns. My job is not to give them a platform to keep slapping around Trump. My job was to make sure that the rule of law was allowed to work."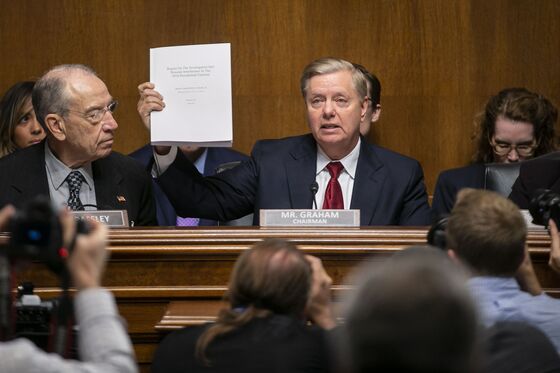 Three members of the committee are seeking the Democratic presidential nomination in 2020: Senators Kamala Harris of California, Amy Klobuchar of Minnesota and Cory Booker of New Jersey.
Graham, a South Carolina Republican and ally of President Donald Trump, said he has read Mueller's report and does not buy the Democrats' criticism that Barr misrepresented it. He did tell the committee he would write to Mueller and invite him to weigh in if he disputes Barr's testimony, leaving at least a window for an appearance by the special counsel.
He also said Wednesday he still doesn't understand Mueller's reasoning for not making a decision on whether Trump committed obstruction of justice while not exonerating -- which Mueller in his report tied in part to the Department of Justice's guidelines against indicting a sitting president, and even referenced the potential for impeachment or prosecution after Trump leaves office.
"I still don't understand it," Graham said, but making clear he's not particularly interested in exploring that further.
"He's made the decision not to exonerate or prosecute. I don't need to get into the inner workings of Bob Mueller's mind," Graham said. "I wanted him to have the time and resources to make a decision and he made a decision."
Graham said he looked at the 10 instances of possible obstruction of justice pointed out by Mueller and wasn't convinced by any of them. Democrats in particular have zeroed in on Trump's telling McGahn to have Mueller fired and to subsequently create a false record denying he did so. McGahn didn't carry out Trump's directives, according to the report.
"Attempted obstruction of justice where there is no underlying crime is absurd," Graham said. "The only thing that really mattered to me is did the Trump campaign work with the Russians, and if he had done that that would have been the end of his presidency.
"He didn't do it," Graham said.
Graham has already announced he plans instead to begin an investigation into possible anti-Trump bias at the FBI and the Justice Department.