Life on Milken's Edges: After-Parties, Yoga at Dawn, Puppies
(Bloomberg) -- Ivanka and Jared. Sun King splendor and SoCal chic. Soft breezes -- and hard numbers. Yes, this must be Milken Fest.
Each April, billionaires and mere multimillionaires flock to Beverly Hills to mingle, think deep thoughts and buff their platinum Rolodexes.
And so this week, the private jets returned again, carrying a Who's Who of Wall Street financiers, technorati and Washington insiders to the annual Milken Institute Global Conference.
As even mere mortals know, the after-party is where the real action happens. And so it is at the Davos of the West, where Michael Milken, once of junk-bond infamy, has presided in Hollywood splendor for more than two decades.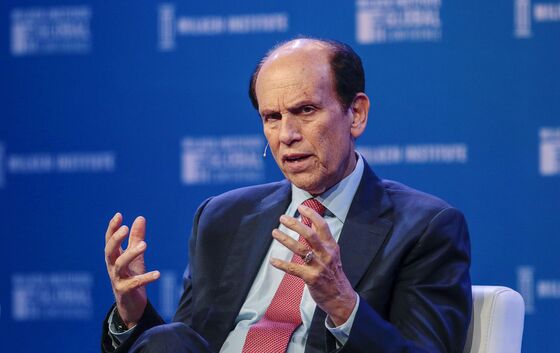 Some 4,000 masters of the universe -- and those cozying up to them -- have descended upon the conference, which runs through Wednesday. The days are filled with panels on reinventing the financial sector, navigating the impacts of Brexit, combating obesity in the workplace, dealing with cyber attacks by foreign governments and providing affordable housing in big cities.
During breaks -- for those stressed out by Brexit and cyber attacks -- there's yoga, massages and playtime with puppies.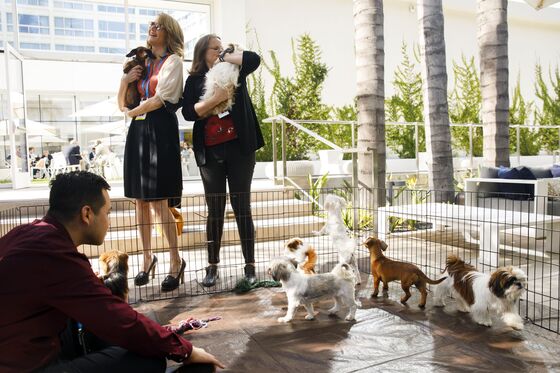 And then, of course, there's the networking. Plenty of schmoozing goes on in conference rooms and hallways, but a number of satellite parties -- some affiliated with Milken's institute, some not -- add to the exclusivity and what participants see as the value of the affair.
Entry-level tickets are listed for $15,000, but the hottest events require an additional invitation.
Some lucky attendees attended parties hosted by onetime super-agent Mike Ovitz, internet billionaire Sean Parker, hedge fund manager Steven Cohen and private equity investor Jonathan Sokoloff. About 700 people were invited to this year's official gatherings, with some having the chance to rub elbows with Milken himself -- he usually attends several of the dinners.
But others jump on the Milken bandwagon too. As he usually does the Monday night of the conference, Hyatt heir Tony Pritzker hosted a party at his Los Angeles home, while billionaire Ron Burkle hosted one at the Soho House in West Hollywood -- a good advertisement for the club-hotel chain, which he owns.
David Solomon, Goldman Sachs Group Inc.'s chief executive officer, had a more private dinner for local heavyweights, including L.A. Olympics organizer Casey Wasserman. Evan Spiegel, CEO and co-founder of social-media giant Snap Inc., is hosting a Tuesday-night party for Nicolas Berggruen at Berggruen's West Hollywood high-rise.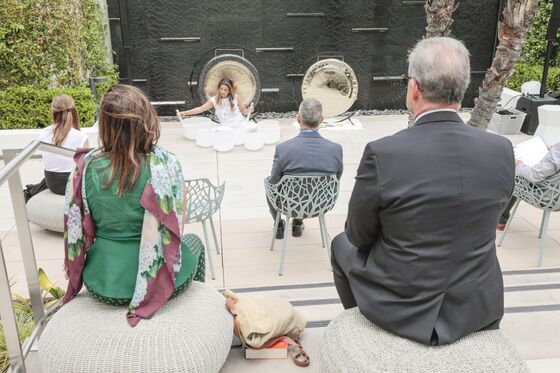 Arguably the hottest event was a Sunday dinner party with guests that included Ivanka Trump and husband Jared Kushner. It was held at Fleur de Lys, the $88 million estate of Russian-Israeli billionaire Yuri Milner, who let the institute use the property, according to a person with knowledge of the event. Fleur de Lys was sold in 2014 to a limited-liability company represented by a law firm based in a building that houses the Milken Institute, the Los Angeles Times reported at the time. Neither Milner nor any family member nor any entity affiliated with him or his relatives owns the property, and he wasn't present at the event, said Alice McGillion, a spokeswoman for the billionaire.
Also in attendance, according to people who were there: Apollo Global Management LLC co-founder Leon Black, Blackstone Group LP's Steve Schwarzman and Treasury Secretary Steven Mnuchin, who had to cut his stay short for a trip to China for trade talks.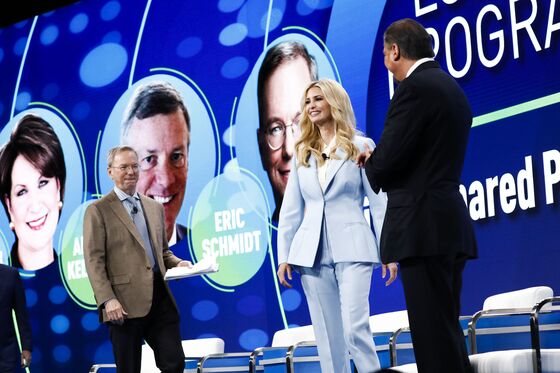 "We were trying to rush him out the door after dinner because we wanted him to get a good night's sleep before he traveled," another attendee, Joe Tsai, the billionaire co-founder of Chinese internet giant Alibaba Group Holding Ltd., said on a panel Monday. "He struck a very optimistic, very constructive tone."
The conference lures an unusual concentration of wealth, with at least 11 of its speakers listed on the Bloomberg Billionaires Index, with a combined net worth exceeding $100 billion -- Black and Schwarzman among them. In a year when billionaires are hot political targets, income inequality was on the minds of many speakers and attendees.
Some expressed concerns about the potential impact on the U.S. economy of the gap between the rich and poor.
"If you look at the right wing and the left wing, what's really coming is class warfare," Alan Schwartz, a Guggenheim Partners managing partner, said on a panel Tuesday.
Others defended the capitalist system and dismissed proposed solutions such as raising taxes on the wealthy.
"Soaking the rich doesn't work," Ken Griffin, the billionaire founder of investment firm Citadel, said Tuesday in an interview with Bloomberg Television from the conference.
Griffin himself has been the focus of a debate on taxing the wealthy. A proposed tax on so-called pieds-a-terre gained traction after Griffin, who lives in Chicago, purchased a 24,000-square-foot Manhattan penthouse for a record $238 million, making it the priciest U.S. home. The planned levy was eventually replaced by a one-time mansion tax that's considered a less-onerous alternative.
While societal issues are discussed, others come for business. Many companies sponsor events at hotels offsite and around the pool of the conference hotel, the Beverly Hilton, including accounting giant EY. And deals get done not just at the after-parties, but at the conference itself.
United Talent Agency CEO Jeremy Zimmer said he ended up forming a joint venture for TV show production with investor Todd Boehly after meeting him at the event one year, and later attending his regular Milken party.
New York venture capitalist Oliver Libby said he plants himself right in the middle of the lobby of hotel and waits for big panels to end.
"Then I just see this wave of old friends, and make new ones," he said.
For those who didn't get invited to the toniest parties or weren't busy making deals, the conference offers other perks.
Amy Dewhurst, a host in the wellness garden, said about 15 people each day attended the early morning yoga and meditation session Monday and Tuesday. "Fifteen doesn't sound like a lot, but it was at 6 a.m.," she said.
Masseuses, meanwhile, rubbed the shoulders and backs of tense attendees. And in the afternoons, crowds played with a dozen puppies in a wire pen.
Another popular attraction: sound healing with gong and bowls, which Dewhurst said "offers relief from digital fatigue. Our nervous systems haven't caught up with all the digital overload."