Libya Security Chief Says Russians Spearhead Tripoli Battle
(Bloomberg) -- The security chief of Libya's UN-backed government in Tripoli said Russian mercenaries backing eastern commander Khalifa Haftar are now spearheading a battle to capture the capital.
Fathi Bashagha, the interior minister for the Tripoli-based Government of National Accord, said fighters with the Russian Wagner group, headed by a confidant of Russian president Vladimir Putin, are leading the battle on the frontlines in Tripoli's outskirts, which has been accompanied by heavy shelling.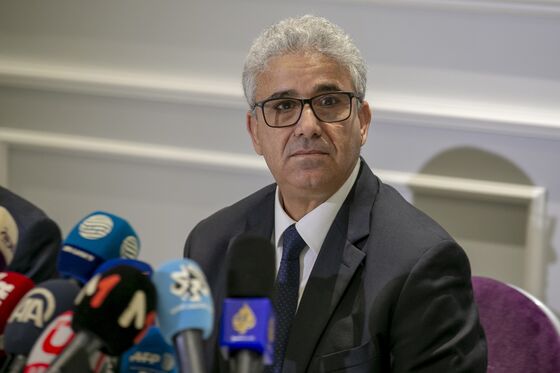 Western officials say more than 1,000 Wagner mercenaries have arrived since September to back Haftar's Libyan National Army in his nine-month offensive to capture Tripoli. The campaign, which has stalled at Tripoli's outskirts, has drawn intervention from the United Arab Emirates and Egypt on Haftar's behalf, while Turkey has assisted the Tripoli-based government.
Russia and Haftar's forces have denied that mercenaries are fighting in Tripoli.
"Our fighters report that all the attacks are now being done by the Russians," Bashagha told Bloomberg News in a phone interview. "They are fighting as infantry in the front lines."
Bashagha said the Russians have sophisticated drone-jamming technology and artillery. "Over two days, they launched 2,500 projectiles, whether mortar rounds or artillery," he said.
The U.S. has warned against Russia's growing role in the conflict, which it blames for an increase in civilian casualties. Russian mercenaries or Haftar's forces downed an American surveillance drone in November near Tripoli, according to the U.S.
"The United States is concerned by the Government of National Accord's request for military support, and by the LNA's threat to use foreign-supplied air assets and mercenaries to attack Misrata," State Department spokeswoman Morgan Ortagus said in an emailed statement. "The United States is prepared to work with the UN and all the parties to initiate political negotiations."
"The recent inclusive U.S.-Libya Economic Dialogue in Tunis demonstrated constructive progress is possible if external actors give Libyans the time and space to engage with each other," Ortagus added.
Bashagha's comments followed the Turkish parliament's approval on Saturday of a defense pact with his government, which is expected to lead to further military assistance and possible personnel deployment. Turkey has already provided the Tripoli-base government with armed drones to counter the UAE's small fleet of drones that have been deployed on Haftar's behalf.
Bashagha said his government has asked for assistance from several countries, including the U.S.
"The Government of National Accord has an obligation to defend Tripoli's residents," he said. "A few days ago planes we believe are Emirati struck Misrata, this is foreign intervention. It is the Government of National Accord's right to search for ways it can end this aggression."
The deal with Turkey, which was accompanied by a maritime agreement in the Mediterranean, has especially angered neighboring Egypt, which has traded barbs and threats with the Tripoli-based government.
Bashagha said his government wishes for good relations with the Arab regional power. "We are keen on cooperating with Egypt, but we won't allow Haftar to rule by force," he said.