Libya's Haftar Offers Ramadan Truce Amid Power Grab Blowback
(Bloomberg) -- Libyan militia commander Khalifa Haftar ordered his forces to freeze operations during the Muslim holy month of Ramadan, as criticism mounts over his bid to consolidate power in the oil-rich east.
The cessation is a response to international calls for a humanitarian reprieve for the war-ravaged nation, Ahmed al-Mismari, spokesman for Haftar's Libyan National Army, said late Wednesday in a televised briefing. Haftar has been waging a campaign to seize the capital, Tripoli, from the internationally recognized government of Prime Minister Fayez al-Sarraj for over a year.
While Haftar has largely brushed aside repeated international attempts to broker an end to fighting, his forces, which control the OPEC member's east and south, have suffered a series of losses around Tripoli in recent weeks. Backed by Turkey, Sarraj's Government of National Accord has seized key western towns from Haftar, who's supported by Egypt, the United Arab Emirates and Russian mercenaries.
The GNA rebuffed the proposal Thursday, saying any mutual pause in military action would require international monitoring and guarantees, and that it would continue to defend itself. Fighters loyal to the Tripoli government earlier said they'd launched an attack on Haftar's forces on the outskirts of Tarhouna, a city south of the capital that's one of his final bastions in the area, Libya Al-Ahrar TV reported.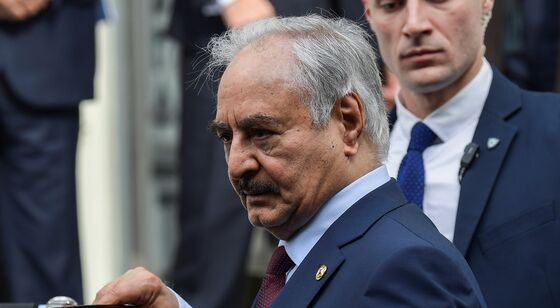 Haftar is facing an international backlash after this week ditching a 2015 political agreement that created the Presidency Council headed by Sarraj and the advisory State Council while allowing for the continuation of the rival legislature in the eastern city of Tobruk.
Haftar also said he was accepting a popular call from Libyans to rule directly -- a move interpreted by many as a soft coup against the eastern parliament that helped elevate him to power.
"Haftar's decision to formalize his direct control of eastern Libya is a sign of his rising desperation in the face of GNA successes" in the country's west, Hamish Kinnear, a Middle East and North Africa analyst at consultancy Verisk Maplecroft, said in a report this week.
"By sweeping aside the authority of the House of Representatives and electing himself as undisputed leader in the east, Haftar is making himself central to any negotiated solution to the civil war."
Libya has been crippled by turmoil since the 2011 NATO-backed ouster and killing of Moammar Qaddafi. Political wrangling and conflict has left Libyans struggling to survive and triggered a 90% plunge in oil production, the country's chief source of foreign revenue. Both sides have been accused of flouting cease-fires and ignoring an arms embargo, according to the United Nations.
There's already been international fallout from Haftar's moves in the east. The U.S. and France have criticized what they described as an attempt to reshape the political framework and urged an adherence to internationally brokered efforts to end the conflict.
Mismari said Wednesday that the LNA would issue a constitutional declaration laying out the coming political blueprint. He didn't provide details.
In dismissing the 2015 deal and saying he would lead, Haftar has created rifts in the east. He ignored a political road map outlined by Agila Saleh, head of the Tobruk-based parliament, that called for the reshaping of the ruling Presidency Council -- a bid that offered a compromise approach to ending the conflict and mending the country's fault lines.
The Obeidat tribe, the largest in the east and from which Saleh hails, said in a statement Wednesday that while it supported the LNA's fight against "terrorism" and opposed Turkish interference in Libya, it saw Haftar as a military commander rather than the leader of a nation.
Tribal support is key in Libya, where power politics is often determined on a city and regional level and alliances are necessary for the success of any peace deal.