Le Pen Says Putin's U.S. Critics Out of Touch With Modern Russia
(Bloomberg) -- French nationalist Marine Le Pen said U.S. politicians who characterize Moscow as a threat are "backward" and they need to accept that 21st century Russia is "modern and safe."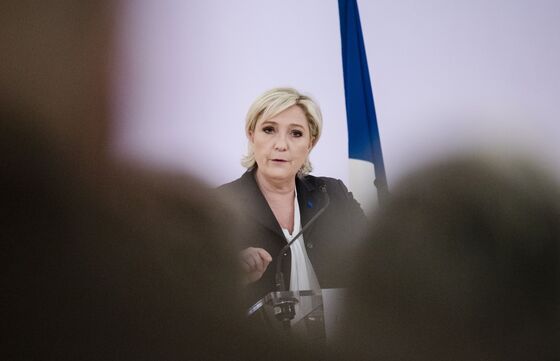 The euroskeptic firebrand has been a vocal supporter of Russian President Vladimir Putin and her ties with Moscow have been under scrutiny for years. During her unsuccessful 2017 presidential campaign she traveled to Moscow to discuss security with Putin, though she swore he offered no advice on domestic policy. In 2014 she secured a loan from a Russia-backed bank to fund her political campaigns.
Putin's meddling in western politics is in focus this week after U.S. President Donald Trump came under fire for questioning his intelligence agencies conclusions about interference in the 2016 election. Trump subsequently corrected himself.
"I think that in one of the two statements he told the truth, the question is to know in which one!" Le Pen said with a laugh.
In the midst of the French election campaign in January last year, Le Pen visited Trump Tower in New York and met with Trump's advisers, failing to get a meeting with the then-president-elect himself.
Le Pen last week called for Russia to be invited to join the North Atlantic Treaty Organization, the western military alliance formed to contain the Soviet Union.
"NATO should have a new mission: to fight Islamist terrorism," she told CNews television, adding that it"would be wise" to include Russia in the alliance.