Candidate Feared by Investors Widens Lead in Peru Polls
(Bloomberg) -- Peru's sovereign bonds dropped after the candidate feared by investors, Pedro Castillo, extended his lead over Keiko Fujimori ahead of the country's presidential runoff on June 6.
Two polls over the weekend showed Castillo's lead widening. A survey by IEP published by La Republica newspaper showed Castillo with 44.8% of potential voters, compared to 34.4% for Fujimori.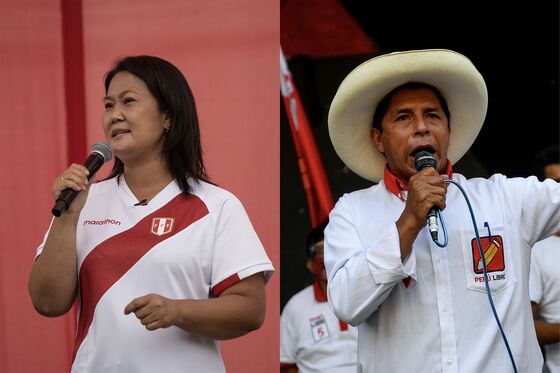 Another poll, by Ipsos, had Castillo receiving 52.6% of valid votes, compared to 47.4% for Fujimori.
Peru's bonds and currency have been whipsawed in recent weeks by swings in poll numbers. Earlier in the month, Castillo's lead narrowed to within the margin of error, but is now surging again.
In absolute terms, support for both candidates increased as more undecided voters made up their minds, though Castillo gained more than his rival.
"The wider his lead becomes, the stronger could be his mandate to move forward with his agenda," Barclays economist Alejandro Arreaza wrote in a note. "We are of the view that institutional checks in Peru might not be strong enough to contain the implementation of Castillo's radical government plan."
Castillo, who unexpectedly won the first-round election in April is a former school teacher and union leader. He's pledging greater spending on education and health, more state control over strategic industries and higher taxes from multinationals.
The nation's dollar-denominated bonds due in 10 years fell 0.3% to trade at the lowest in three weeks, and the nation's benchmark stock index headed to close at the lowest level since May 7. The cost of insuring the country's debt against default over the next five years has jumped by more than 11 basis points in the last two trading sessions, based on CMA pricing.
Both pollsters interviewed about 1,200 people and have a margin of error or 2.8 percentage points. IEP's survey was carried out between May 20-21 while Ipsos's took place on May 21.
Fujimori, the daughter of jailed former President Alberto Fujimori, has presented herself as pro-business candidate, promising to maintain investor confidence and use her experience to find consensus in a divided congress.