Warren-Sanders Peace Pact Faces Test at Tonight's Crucial Debate
(Bloomberg) -- The longstanding nonaggression pact between Elizabeth Warren and Bernie Sanders will be under strain at the seventh Democratic presidential debate Tuesday night after recent reports that Sanders has questioned whether a woman could get elected president.
With a winnowed slate of six candidates on stage that also includes Joe Biden, Pete Buttigieg, Tom Steyer and Amy Klobuchar, the jostling between Sanders and Warren is just one of the possible match-ups likely to highlight the Des Moines Register/CNN debate in Des Moines beginning at 9 p.m. Eastern Time.
And with the Iowa Caucuses less than three weeks away, elbows are getting sharper.
Biden could face renewed questions about his support for the Iraq War following President Donald Trump's decision to kill an Iranian general. Warren has also telegraphed a line of attack on Biden's support for pro-business bankruptcy laws in his home state of Delaware. And big spending by self-financing billionaires in the race could put Steyer on the spot.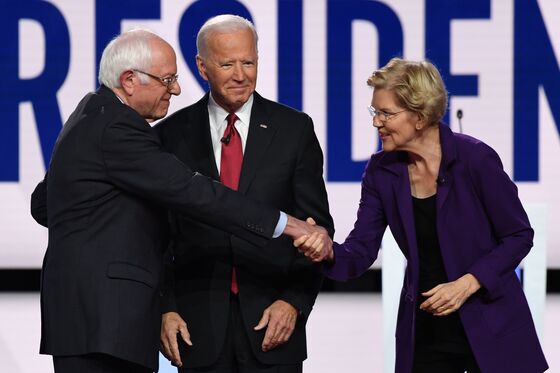 Buttigieg and Klobuchar will also look for opportunities to stand out among bigger-name candidates.
But the most-watched dynamic will be between Sanders and Warren, who had refrained from attacking each other so as not to weaken the progressive wing of the party.
That alliance has been beset in recent days by tensions that could spill over to the debate stage. On Monday, Warren said Sanders told her at a private meeting in 2018 he didn't think a woman could win against Trump. Sanders had earlier denied making the comment after CNN reported the exchange.
"I thought a woman could win; he disagreed," Warren said in a statement, adding that she and Sanders remained "friends and allies."
Late last week, Politico reported that the Sanders campaign gave talking points to volunteers criticizing Warren as the candidate of "highly-educated, more affluent people," suggesting she couldn't bring new voters into the party. She fired back over the weekend that she was "disappointed" that he had instructed his campaign to "trash" her to voters.
Also looming over the debate: Next week's scheduled impeachment trial of Trump in the Senate, raising the stakes for the three senators on stage -- Sanders, Warren and Klobuchar -- to appeal to voters before being taken off the campaign trail to serve as jurors.
For Biden, the debate is a chance to affirm his status as presumed front-runner in a state that has tripped up his path to the nomination in previous presidential runs. Buttigieg, lagging in national polls but in the top three in Iowa, has been increasingly aggressive in debates and could break out with a strong finish in the state.
The debate will be the first since Trump ordered the killing of Iranian General Qassem Soleimani, sparking Iranian reprisals and increasing tensions in the Middle East. Those events are likely to refocus the debate on foreign policy and highlight Biden's past support for the war on terror and the invasion of Iraq.
After beginning seven months ago with an unwieldy field that once split 20 candidates over two nights of debates, the slimmed-down panel of six ensures more television time for each.
At least three candidates lead the pack in Iowa going into the Des Moines debate, according to recent polls: Biden, Sanders and Buttigieg.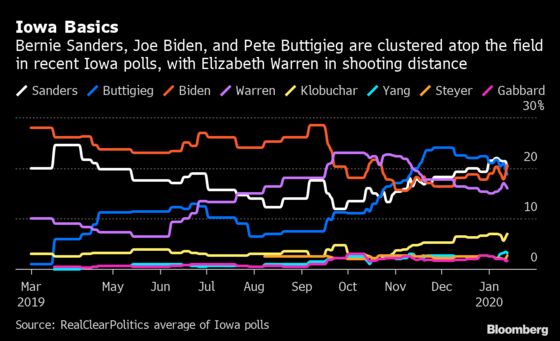 Warren is just outside the top three, while Klobuchar has been gaining ground. Steyer also qualified for the Iowa debate after an ad spending spree in South Carolina and Nevada gave him a polling boost in two other early nominating states.
The winnowing field has come at the expense of diversity. Asian-American businessman Andrew Yang remains in the race but did not qualify. Julian Castro, Marianne Williamson and Senator Cory Booker of New Jersey all dropped out of the contest this month as it became clear they would not qualify for the debate. Castro was the only Latino candidate in the race, and Booker's departure leaves Deval Patrick, who entered late, as the only African American.
Samoan-American Representative Tulsi Gabbard of Hawaii also remains in the contest and did not qualify for the debate.
Under Democratic National Committee rules, participating candidates needed at least 5% support in four qualifying state or national polls, or 7% in two early state polls. They also needed at least 225,000 unique donors, with at least 1,000 donors in 20 states.
Former New York Mayor Michael Bloomberg is skipping Iowa and New Hampshire and did not qualify for the debate because he's self-financing his campaign. Bloomberg is the founder and majority owner of Bloomberg LP, the parent company of Bloomberg News.
Historically, the Des Moines Register debates have been some of the most memorable of the primary season. The 2015 debate featured Sanders complaining to Hillary Clinton that "the American people are sick and tired of hearing about your damn emails."