Laschet Praises U.S. Return to Multilateralism in Echo of Merkel
(Bloomberg) -- Armin Laschet, the head of Angela Merkel's party, welcomed U.S. President Joe Biden's trip to Europe, saying the world's problems can only be solved with a multilateral approach.
Laschet, who is bidding to succeed Merkel after September's elections, echoed the chancellor's broad line, saying that Germany needed to pursue its interests through the European Union and international institutions, rejecting a national approach.
Still, he challenged the U.S. and its criticism of the Nord Stream 2 pipeline that directly links Germany to Russia, which is also in line with Merkel.
"You build pipelines so that gas flows," he said on Thursday in a Bloomberg webinar, adding that Ukraine's geopolitical position needs to be considered in Germany's energy relations with Russia.
With little more than three months before national elections, the 60-year-old leader of the Christian Democratic Union has cemented his place as the clear front-runner to lead Europe's largest economy. The consensus-oriented moderate has vowed to continue Merkel's approach in a bid to counter the Greens and their candidate Annalena Baerbock.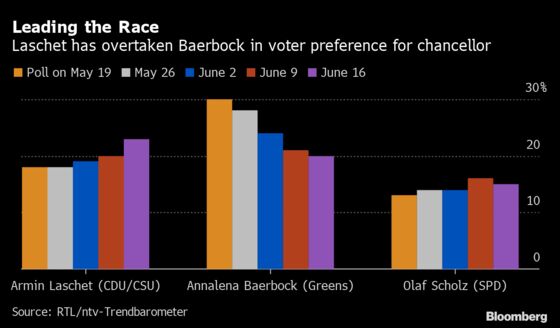 After a messy power struggle between Laschet and Bavarian ally Markus Soeder over the candidacy, the bloc's support has rebounded. In recent polls, the CDU/CSU has opened up a lead of as much as eight percentage over over the second-placed Greens -- the most likely partner for a new government.
Despite the recovery, the conservatives are still below their historically-low results from the 2017 election, a sign of Germany's unsettled political landscape as the 16-year Merkel era draws to a close.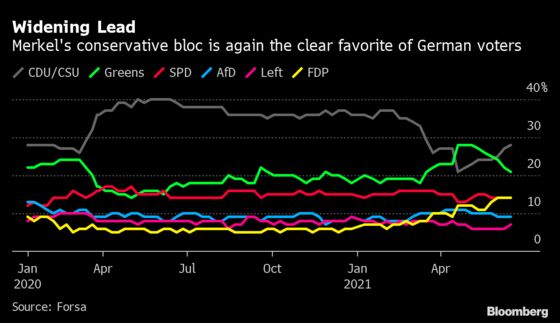 The Social Democrats -- traditionally the second-strongest force in Germany -- have faded along with other center-left movements in Europe, and the far-right Alternative for Germany has established a presence, especially in the former communist East.
Laschet -- the premier of North Rhine-Westphalia, Germany's most populous state -- is pitching a continuation of Merkel's centrist approach, aiming to position himself and the conservative bloc as the anchor of stability in uncertain times.