Laschet's Grip on Merkel Bloc Slips in German Poll Backlash
(Bloomberg) -- Armin Laschet appeared to be losing his grip on Angela Merkel's conservative bloc, as the fallout from Sunday's crushing election defeat risked boiling over into an open power struggle.
Laschet agreed to step aside as premier of Germany's most populous state, pressured to commit early by regional lawmakers. He also faced resistance to a plan to install a caucus leader temporarily in case he wanted to take the job himself later on, but managed to fend it off for the time being.
Laschet is struggling to maintain authority after the conservative bloc tumbled to its worst-ever election result. While the 60-year-old CDU chief continues to hold out hopes of forming a coalition, he's under growing pressure from allies and is losing room to maneuver.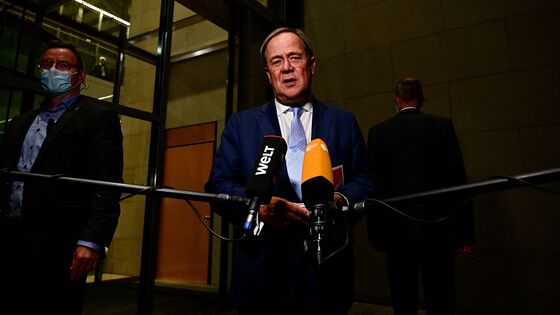 A power vacuum in the conservative camp could strengthen the SPD's hand as it seeks to hammer out a deal with the Greens and the FDP. Initial discussions between all parties have started.
Markus Soeder, chief of the CDU's Bavarian CSU sister party, again poured cold water on Laschet's hopes of securing the chancellorship.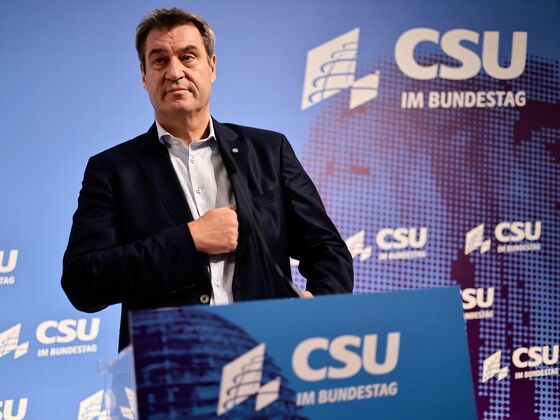 The 54-year-old, who challenged Laschet for the candidacy in April, said the Social Democrats have the right to pursue coalition negotiations with the Greens and the pro-business Free Democrats after securing the most seats in German parliament. A conservative-led alternative has a "small chance" if those talks fail, he said on Tuesday.
"It's important to accept an election result," said Soeder. "It's simply impossible to interpret this result as a moral legitimation to form a government."
He said that Olaf Scholz "clearly has the best chances" to succeed Merkel as chancellor. The Bavarian premier also congratulated the SPD candidate, an indirect swipe at Laschet who hasn't yet done the same.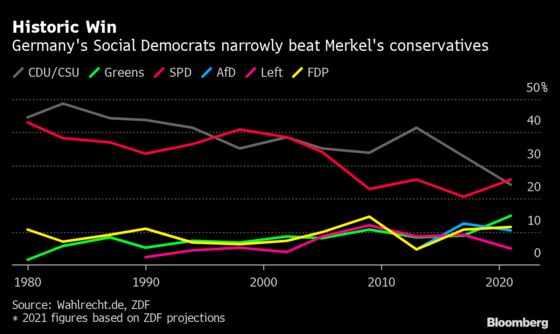 At a meeting in Dusseldorf late Monday, Laschet told party officials that he would resign as North Rhine-Westphalia's leader at the end of October.
He agreed to accept Hendrik Wuest, the state's transport minister who he had previously opposed, as his successor. The SPD also beat the CDU in North Rhine-Westphalia in the election, a troubling sign ahead of a regional vote next year.
While Laschet was expected to stand down as leader of his home state, he had looked to retain more control over the transition. At a press conference in Berlin on Monday, he indicated he would continue in his role as state premier even during potential coalition talks.
At Tuesday's caucus meeting, Ralph Brinkhaus initially wanted to be re-elected for a full one-year term. But Laschet sought to persuade lawmakers that the mandate should be limited because he wants to retain the option of seeking the job for himself if he fails in his bid for the chancellery, according to an official familiar with the discussions. 
The parties said they'd reached a compromise to extend Brinkhaus's leadership for six months. Lawmakers approved the extension by 85%, while no other candidates stepped forward to challenge Brinkhaus. 
"There were many very disappointed people in the room," Brinkhaus told reporters after the meeting, adding that the discussion was "substantive." 
If Scholz fails to agree a coalition with the Greens and FDP, the CDU/CSU could step in. However, they may want someone other than Laschet to serve as chancellor, with Soeder best-placed.
"We are open to talks, but we will not ingratiate ourselves," the Bavarian premier said.