Largest Central Asian Nation Goes to Polls in Test of New Leader
(Bloomberg) -- Uzbekistan holds parliamentary elections on Sunday that are a test of President Shavkat Mirziyoyev's commitment to opening up central Asia's most populous country and making it more attractive to foreign investors.
Five parties will compete for the 150 seats in the Oliy Majlis after a three-month campaign that has included the first televised debates and a barrage of TV advertising encouraging people to vote. Still, critics say voters lack an opportunity to support genuine opposition parties in the first parliamentary elections since Mirziyoyev became president in 2016.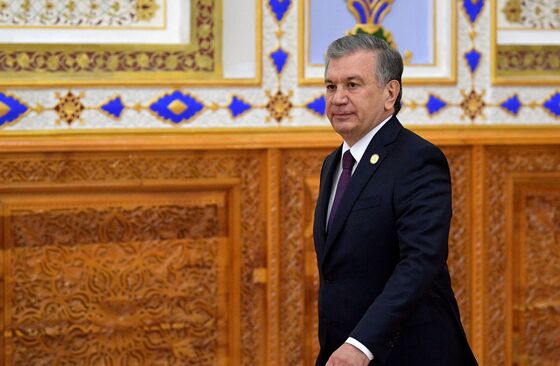 "Our parliament is not a true parliament and it will vote for what it is told to," said Yuliy Yusupov, director of the Tashkent-based Center for Economic Development. "The election will not be free and lists of candidates came from on high but they were at least allowed to debate."
After succeeding the late Islam Karimov, who ruled with an iron fist for more than 27 years until his death in 2016, Mirziyoyev has eased political repression and moved to liberalize the economy of the former Soviet republic of 33 million people.
Uzbekistan broke into international markets after more than two decades of isolation to sell $1 billion of Eurobonds in February, and set out plans this month to woo investors with about $6 billion in bond sales and privatizations of state companies over the next five years.
Russia and the U.S. regard Uzbekistan, an exporter of gas, gold and cotton, as critical to maintaining stability against rising Islamist militancy in central Asia, whose energy reserves make it a region of strategic importance.
The elections taking place under the slogan "New Uzbekistan - New Elections" are "presented as a milestone in the country's ambitious Development Strategy" aimed at strengthening the role of parliament and political parties as well as civil society and the rule of law, the Organization for Security and Cooperation in Europe wrote in a Dec. 13 interim report. It has sent a full observer mission for the first time to monitor the elections.
Still, there are "significant limitations" on peaceful assembly, freedom of expression is "constrained," and registration of political parties remains "burdensome and open to arbitrary application," it said.
Parties that all held seats in the previous parliament are contesting the election; the Liberal Democratic Party of Uzbekistan, the People's Democratic Party of Uzbekistan, Adolat ("Justice") party, Milly Tiklanish ("National Revival") party and the Ecological Party of Uzbekistan.
Mirziyoyev has overseen changes that included lifting currency controls and encouraging tourism by easing travel restrictions. Uzbekistan also unblocked the websites of foreign media and human rights organizations in May that had been off limits since hundreds of people were massacred by security forces in 2005 during unrest in the city of Andijan.
The president "has taken some steps for reform, including to improve the country's human rights record," Human Rights Watch said in a Dec. 16 report. "Nevertheless, Uzbekistan's political system remains largely authoritarian."
While the parties received campaign funding and free advertising spaces from the authorities, Central Election Commission chief Mirzo-Ulugbek Abdusalomov said last week that voters in some areas had complained about a lack of visible campaigning. An opinion poll conducted at the start of the campaign found a third of voters unaware an election had been called.
"Parliament doesn't keep the executive in check now and I hope after this election its influence on decision-making will grow," said Yusupov, of the economic development center. "Parties will now start realizing that they should compete against one another to justify their existence."