Brussels Edition: Truce Offerings to Trump
(Bloomberg) -- Welcome to the Brussels Edition, Bloomberg's daily briefing on what matters most in the heart of the European Union.
The European Union's trade and foreign affairs chiefs will be in Washington today, trying to soothe transatlantic ties in visits abruptly announced late yesterday. The EU is seeking to salvage a 2018 commercial truce that has been fraying amid renewed U.S. tariff threats. Trade Commissioner Phil Hogan may need clearer signals about what the Americans would accept before making an outright peace offer, especially after U.S. officials signaled that EU plans to ease imports of foods such as shellfish won't cut it. His second trip to the U.S. capital in less than a month may pave the way for a White House visit by European Commission President Ursula von der Leyen. Foreign-policy supremo Josep Borrell won't have an easier time in view of the EU-U.S. divide over Iran and his rejection of Donald Trump's Middle East peace plan.
Unholy Alliance | Germany's political establishment is in disarray after Chancellor Angela Merkel's party lined up with the far right for the first time ever to elect a German state leader. The political reverberations bruised Merkel's heir-apparent and threaten to push her coalition with the SPD to the breaking point, the latest clash in the last two years that has driven a wedge between the governing parties.

Christine's Troubles | Trump's persistent tariff threats and the spread of coronavirus are just some of the issues on the mind of ECB President Christine Lagarde, who appears before European Parliament lawmakers this morning. She's also likely to address her big task for this year — the central bank's strategic review, which could lead to a change in its inflation goal — and her plan to include the fight against climate change in monetary policy.
Financial Rules | Freed from British influence, European authorities are hatching an offensive to weaken the Brexit-addled City of London. Officials in Berlin, Brussels and Paris are looking to amend the post-crisis financial rulebook known as MiFID II by walking away from concessions they made to the U.K. in the six years it took to complete the regulations.
Polish Stakes | Poland will hold a presidential election on May 10 that will likely determine whether the country's revolt against the EU's democratic standards continues. The announcement comes a day after the president ratified a law slapping penalties on judges who are critical of the government's justice-system changes. 
Romanian Elections | Romania's minority government was ousted just three months after taking power in a move that pushes the Black Sea nation closer to early elections. The lost confidence vote in parliament was a calculated step by Liberals, who want to capitalize at the ballot box on their high polling scores.
Clean Data | Data centers should be made more energy efficient and be carbon neutral by 2030, the EU urges in a draft digital strategy plan to be unveiled later this month. The paper, prepared by the European Commission and seen by Bloomberg, promises action on Internet giants later this year, saying "regulatory responses" might be needed where online platforms have effectively become "large private gatekeepers and rule setters."
Circular Economy | Recycling is rising on the agenda in the EU, with officials drafting more than a dozen laws to strengthen a "circular economy" that will use more of its discarded fibers, metals and plastics. Some 40 regulatory initiatives are due to be published on March 10. 
Papal Request | Pope Francis urged the International Monetary Fund chief and several finance ministers to help alleviate the debt burden of struggling countries, calling for "a new financial architecture" to ensure social justice. Francis has made global inequality and climate change cornerstones of his papacy. 
Bulgarian Graft | Bulgaria's president and prime minister are trading accusations in an escalating dispute over corruption that's threatening the nation's push to adopt the euro and join Europe's passport-free Schengen zone, Slav Okov reports from Sofia.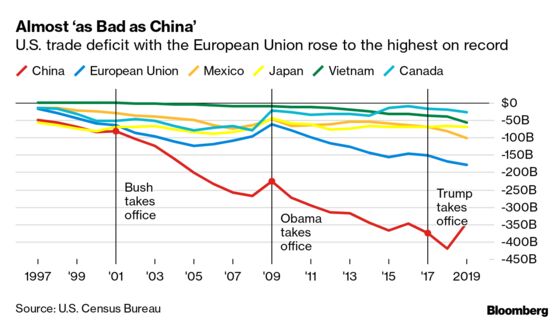 The EU's trade surplus with the U.S. hit a record high in 2019, a milestone the bloc probably doesn't want noticed too widely in Washington, given upcoming talks with an American president who's intent on fixing what he sees as economic imbalances.
9 a.m. EU lawmakers hold monetary discussion with Lagarde in Brussels
7:30 p.m. EU financial services chief Valdis Dombrovskis speaks at event in in Paris
EU foreign policy chief Josep Borrell meets Secretary of State Mike Pompeo, House Speaker Nancy Pelosi, National Security Adviser Robert O'Brien and Senior Adviser to the President Jared Kushner in Washington
EU Council President Charles Michel meets with EU leaders ahead of summit to discuss bloc's budget
EU economy chief Paolo Gentiloni meets Greek premier Kyriakos Mitsotakis in Athens