A Small Group of Labour Politicians Could Quit the Party Over Brexit Tensions
(Bloomberg) -- A small group of Labour politicians could quit the party as soon as Monday, over deep divisions with the opposition leader Jeremy Corbyn on issues including Brexit.
Speculation of a break-away intensified on Monday when it emerged that some Labour members of Parliament will be holding a joint event on the future of British politics in London.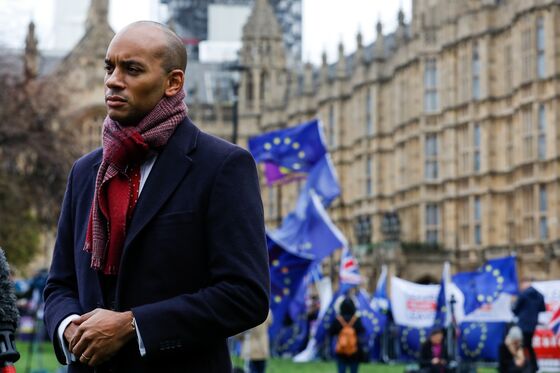 Politicians touted in the media as being on the verge of quitting the party include Chuka Umunna, Chris Leslie, Angela Smith, and Luciana Berger. Backbench lawmaker Stephen Kinnock said on BBC Radio late Saturday a Labour split was almost inevitable.
"The talk has been going on so long that I say with great regret that yes, there probably will be some kind of splintering," said Kinnock, whose father was leader of the Labour Party in the 1980s and 1990s. "It just seems to have been in the rumor mill so long that it's unlikely that wouldn't be the outcome."
With just over a month to go before Britain leaves the European Union, the U.K.'s two biggest political parties have been struggling to retain unity.
Prime Minister Theresa May's Conservatives are divided, with a pro-Brexit caucus refusing to back her deal with Brussels until it's overhauled. In the Labour Party, pro-EU lawmakers are dismayed at leader Jeremy Corbyn's unwillingness to push for a second referendum.
Tensions over Europe have triggered a split in Labour before. In 1981, four moderate party members, including two parliamentarians, broke away to form the Social Democratic Party because they felt Labour had been seized by the militant left. The party had just committed to a withdrawal from the EU's predecessor, the European Economic Community. It scarred the party, and its memory had helped keep Labour together on Brexit.
In a further sign of the tensions in Labour, Sky News said deputy leader Tom Watson had pulled out of a scheduled interview this morning.
"I don't see any need for anybody to split from the party," Labour's finance spokesman, John McDonnell, told the BBC on Sunday. The party was keeping the option of a second referendum on the table, he said, adding that politicians who left the party now risked handing an inevitable victory to the Conservatives in future elections.
"I don't think any of the people who have even been mentioned around this split would want that," he said.