Labour Plans to Reject Brexit Deal, Piling Pressure on May
(Bloomberg) -- Sign up to the Brussels Edition, a daily morning briefing on what matters most in the heart of the European Union.
The U.K. opposition Labour Party is preparing to vote down Theresa May's deal with the European Union, and is keeping all options open on Brexit including a second referendum and the choice to stay in the bloc.
"Nothing is being ruled out -- including the option of remain," Labour's Brexit spokesman, Keir Starmer, told the BBC Tuesday. "We the Labour Party are going to vote down a bad deal, and we're going to vote down 'no deal' because that is not good for our country."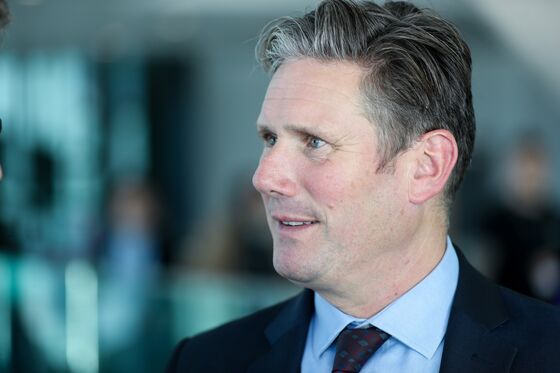 Starmer's comments add to pressure building on May ahead of a showdown at her Conservative Party's annual conference in Birmingham next week. Not only has the EU rejected key parts of her Brexit proposal, she's also struggling to win over Tory lawmakers pushing for a cleaner break from the bloc.
In a speech to Labour's conference later Tuesday, Starmer -- who told the BBC he'd vote to remain in the EU in a new referendum -- will tell delegates May won't be able to rely on Labour support for a step "into the unknown."
"If Theresa May brings back a deal that fails our tests -- and that looks increasingly likely -- Labour will vote against it. No ifs, no buts," Starmer will say in Liverpool, according to extracts of his speech released by his office. "And if the prime minister thinks we'll wave through a vague deal asking us to jump blindfolded into the unknown, she can think again."
If enough Tory rebels were to side with Labour, May's deal could be defeated in Parliament, throwing the Brexit process into chaos. Labour argues that if that happens, there should be a general election as it would mark May's failure on the most important issue facing Britain.
Labour set six tests for any deal for leaving the bloc, including demands that it should deliver the benefits of the single market and customs union, ensure fair migration, defend workers rights and secure future cooperation with the EU. While senior party figures have hinted they will not be met, Starmer's is the clearest rejection yet of May's proposal.
An analysis of May's performance against the tests shows that she is on course to fail to meet Labour's demands, Starmer's office said.
"A Tory civil war that has gone on for years now threatens our future prosperity," Starmer will say. "I've got a message for the prime minister. If your party wants to tear itself apart, that's fine, but you're not taking our country with you."
While the Conservative Party accused Labour of "playing political games," it's possible May could be helped by Starmer's announcement.
Party fixers trying to bring rebellious Tory lawmakers into line will be able to warn them that voting alongside Labour lawmakers could threaten May's government and increase the risk of opposition leader Jeremy Corbyn taking over talks with Brussels.
Labour delegates in Liverpool will debate a motion on Tuesday that would keep open the option of pushing for a second Brexit referendum if May refuses to start the process that would lead to a general election.
"If we cannot get a general election, Labour must support all options remaining on the table, including campaigning for a public vote," the motion says. "If the government is confident in negotiating a deal that working people, our economy and communities will benefit from, they shouldn't be afraid to put that deal to the public."
John McDonnell, Labour's economy spokesman, insisted on Monday that any referendum would be on the terms of the deal and would not offer voters the option to stay in the bloc, setting up an argument with delegates on Tuesday.
"We've said we'll respect the referendum result," McDonnell told Bloomberg TV. "We'll campaign for a people's vote and in that people's vote they'll be able to make a decision on the deal that the government has brought back."
Chuka Umunna, an outspoken critic of the party leadership's position on Europe, was scathing about McDonnell's comments. "Trying to sell a final vote without a Remain option would be like selling a car without a reverse gear," he said in an article for the Independent website.
There is no guarantee that all Labour lawmakers will back the party line and vote against May's deal. While some, like Kate Hoey, are committed to Britain leaving the EU, others, like Lisa Nandy, say their constituents are desperate for certainty.
"There are thousands of people around the country whose jobs depend on having clarity," Nandy told Sky News.
The party fought last year's general election straddling the divide on Brexit and is acutely aware that it can't risk alienating either side if it wants to win next time. Corbyn said on Sunday that 60 percent of Labour voters backed remain while 40 percent voted leave -- and he will need them all.