Labour Lawmaker Open to Backing May as No-Deal Brexit Looms
(Bloomberg) -- Some members of the U.K.'s opposition may back a Brexit deal negotiated by Prime Minister Theresa May if the alternative is crashing out of the European Union without new arrangements.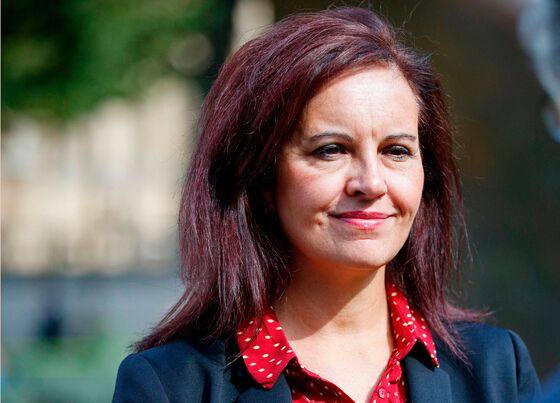 "Those of us who want to get a deal are sometimes stuck between a rock and a hard place -- between hardline Brexiteers who think we can waltz off without a deal and some hardline Remainers who, for their own reasons, don't want a deal because they want to overturn the referendum results," Labour lawmaker Caroline Flint said Sunday on Sky News. "If a reasonable deal is on the table, the question is, why wouldn't you support it?"
Support from the opposition may become crucial for the government when getting Parliament to agree on the future trading relationship with the EU. The prime minister's majority is razor thin, and some in her Conservative Party have said they oppose her plan to stay in the EU's customs union, which would avoid border checks between Ireland and the U.K.
Northern Ireland's Arlene Foster, whose Democratic Unionist Party is propping up May's government, thinks Britain is probably going to leave next year without a deal, the Observer newspaper reported. Officials are trying to hammer something out this weekend for a public announcement on Monday and an EU summit on Wednesday in Brussels.
EU leaders are also considering holding a crisis summit in November to draw up contingency plans in case the U.K. crashes out of the bloc without a deal, EU diplomats said. Leaders will meet this week in Brussels and if "decisive progress" isn't made on a deal, a meeting next month would become a highly visible discussion about a messy U.K. withdrawal, they said.
Foster, who's scheduled to meet Irish Prime Minister Leo Varadkar on Monday, has said she'd reject any proposal in which Northern Ireland is treated differently from the rest of the U.K. At the same time, supporters of cutting ties with the bloc in May's party have balked at any backstop arrangement that could lock the country for longer into accepting EU regulations without having any say in their makeup.
Another Labour politician, Emily Thornberry, on Sunday argued that it's a false choice between whatever May negotiates with Brussels and no deal altogether.
"If she comes back with something that's just a fudge, we won't vote for it," Thornberry said on the BBC. "The government are playing chicken on this. They're saying agree on this or there's no deal. No, we're saying -- agree on something meaningful."
Former Brexit Minister David Davis, writing in the Sunday Times, urged senior ministers to rebel against May's "flawed" plan to keep the nation in the customs union with the EU.
Iain Duncan Smith, another former Conservative minister and pro-Brexit campaigner, said that cabinet minsters should make their voices heard, but that now isn't the time to turn on the prime minister.
"I don't want to see a leadership change, I want to see a leadership change her mind and go in a different direction," Smith said in an interview with Sky News.
Meanwhile, the Telegraph reported that 63 Tory lawmakers, including Davis and Jacob Rees-Mogg, signed an open letter attacking the government's behavior before the backstop decision. The group's concerned that voters will rebel at the ballot box -- it thinks there could be few of the mooted benefits of quitting the EU by the time of the next election in 2022.