Labour Embraces Brexit Fudge That Means All Things to All People
(Bloomberg) -- Labour's brief debate on Brexit may have been carried out in what Keir Starmer described as "a united Labour Party way" on Tuesday morning -- but it certainly allowed a lot of space for disunity.
Starmer, the party's Brexit spokesman, ad libbed in a speech that Labour was not ruling out giving voters the option to stay in the European Union if there's a second referendum on Brexit -- gaining a standing ovation from about a quarter of a packed conference room.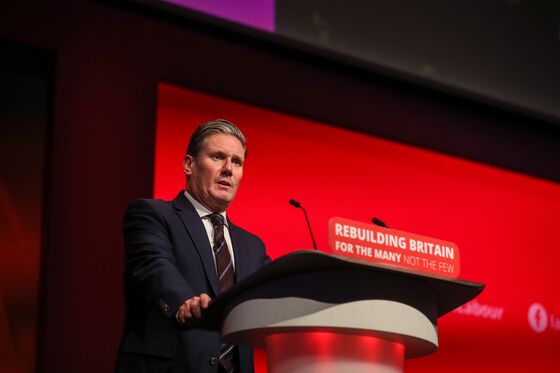 It soon became apparent other influential members of the party disagree as the off-the-cuff remark threatened the fragile truce that has allowed the party to straddle both sides of the Brexit divide.
"We need to heal the wounds of Brexit, not reopen them," said Steve Turner, from the trade union Unite, telling delegates any vote should only be on the terms of Britain's divorce from the EU. And he also won significant applause.
So where does the party stand?
Despite their differences, both Starmer and Turner said they'd support the party's motion on Brexit, thrashed out as a compromise over five-and-a-half hours on Sunday night. It had something for everyone and was vague enough to win support from all sides. Its goal was not to tie the leadership's hands and to keep all options on the table.
Delegate Gemma Bolton also backed the motion after telling the hall that there should be no second referendum at all. "We all know how divisive the first referendum was, do you think a second one would achieve anything different?"
All delegates did unite over the fact that they want a general election, something that is not in the party's gift but comes after a vote in parliament and before a people's vote in the sequence of events laid out in the motion.
To add to the melange of positions on Brexit, David Mallon, a delegate from Blyth, northeast England, denounced the EU as "a capitalist club for the few not the many" and said voters in his area were right to vote to leave because they had been marginalized.
But he also appeared to support the motion, which was passed overwhelmingly later on Tuesday, because it calls for an election that would allow party leader Jeremy Corbyn to negotiate with Brussels.
The young delegate appeared overcome by emotion and Corbyn rose from his seat on the stage to give him a hug.
This was significant, and not just because it showed Corbyn's common touch. Mallon's views on the iniquities of the bloc were very close to those of Corbyn himself before he became party leader.