Rittenhouse Acquitted in Case Highlighting Political Divide
(Bloomberg) -- Kyle Rittenhouse, the teenager who shot and killed two men at a chaotic Black Lives Matter protest in Wisconsin last year, was acquitted of all charges in a case that became a touchstone for the nation's sharply divided political left and right.
After a two-week trial, a jury in Kenosha on Friday found Rittenhouse not guilty of two counts of homicide, one of attempted homicide and two of reckless endangerment. Rittenhouse, who broke down on the witness stand, had argued that he fired his AR-15-style semiautomatic rifle in self-defense as he tried to protect businesses from rioting. Preparing for possible unrest after the verdict, Wisconsin Governor Tony Evers had authorized 500 National Guard troops for Kenosha. 
"We're thankful that the jury finally got to hear the true story," defense lawyer Mark Richards said at a news conference. Richards said he was afraid the jury would "compromise" and that "there would be some horse-trading" leading to a conviction on one or more of the charges. "You're playing with an 18-year-old kid's life," he said, adding: "I wish nobody died. I wish I never met Kyle Rittenhouse." 
Rittenhouse collapsed in tears as the verdict was read out. His lawyers helped him stand as his mother sobbed in relief. The judge thanked the jurors, and the prosecution quickly filed out of the courtroom. Cameras captured a few dozen protesters and reporters outside the courthouse.
"A clean sweep is rare, so it's a huge win for the defense, and a huge blow to the government," Paul E. Bucher, who served as a district attorney or assistant DA in Wisconsin for more than three decades, said in an interview.
Bucher said he didn't believe Rittenhouse was "looking for trouble" that night but that he expected the jury to convict him on at least one of the lesser charges and for him to spend three to five years behind bars. He said he thought the government underestimated the strength of the self-defense case. 
The August 2020 shootings, captured in large part on cell-phone video, came during a summer of social upheaval across the U.S. following the murder of George Floyd. Rittenhouse became a hero in some conservative circles, with several groups raising money for his defense. To liberals he was a symbol of vigilante justice, and then-candidate Joe Biden included his image in a September 2020 video about Donald Trump failing to disavow White supremacists. 
"While the verdict in Kenosha will leave many Americans feeling angry and concerned, myself included, we must acknowledge that the jury has spoken," President Biden said in a statement on Friday. He added that "we're not going to heal our country's wounds overnight" but that he remained committed to "ensure that every American is treated equally, with fairness and dignity, under the law."
Trump praised Rittenhouse in a statement from Save America, his political action committee, with a link for donations to the PAC.
"Congratulations to Kyle Rittenhouse for being found INNOCENT of all charges," he said. "It's called being found NOT GUILTY. And by the way, if that's not self defense, nothing is!"
'Weaponize' Public Spaces
Rittenhouse, then 17, traveled about 20 miles (32 kilometers) from his home in Antioch, Illinois, to Kenosha on Aug. 25 of last year. Protesters in the city had gathered after a White police officer shot Jacob Blake, a Black man, paralyzing him from the waist down. Rittenhouse said his purpose was to guard property from arson and destruction and tend to the injured.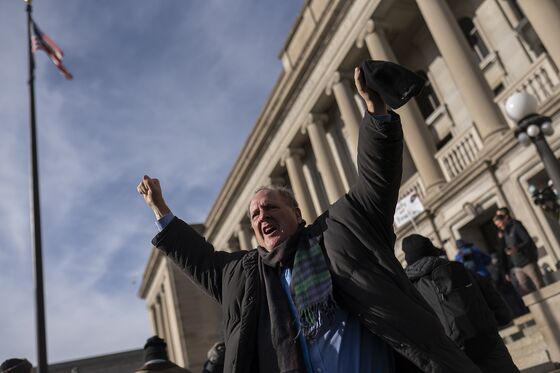 "I am afraid that as people are empowered by this verdict to weaponize the public spaces, we will see more fatalities, and the 'reasonable person' test that underlies self-defense law will become the 'reasonable gun toting vigilante who is afraid of having his gun taken away' test," Cheryl Bader, a former federal prosecutor and now a law professor at Fordham University, said in a statement.
The defense's surprise decision to put Rittenhouse on the stand was probably "crucially important" to his victory, Harvard Law School Professor Alan Dershowitz said in an interview.
"I don't think you can win a case of self-defense like this without looking the jury in the eye and persuading them that you were really scared," said Dershowitz, who helped defend Trump in his first impeachment. "Videos don't do that. They set the parameters, but it was essential for him to take the stand." He added that the state didn't appear to be well prepared to cross-examine Rittenhouse.
Dershowitz said the verdict probably wasn't a surprise to people who watched the trial live on television, while those who observed it through the "filter" of cable news were "shocked." 
Rittenhouse was charged in the deaths of Joseph Rosenbaum and Anthony Huber and the wounding of Gaige Grosskreutz. He faced five counts after the judge dismissed a weapons possession charge and a count of violating a curfew. All of the main figures in the case were White.
The families of the shooting victims still have a chance to get financial compensation through civil lawsuits. Suits filed by Grosskreutz and by Huber's estate allege that Kenosha County and the city's police chief are liable for creating a situation in which Rittenhouse was free to menace protesters with his weapon.
Assistant District Attorney Thomas Binger told the jury in his closing statement on Monday that Rittenhouse chose to put himself in a volatile situation at the protest that night despite warnings from city authorities to stay away. He said the teenager was among a group of armed "chaos tourists" and "wannabe soldiers acting tough" who claimed to be guarding property from vandals.
"This isn't a situation where he was protecting his home or his family," Binger said, adding: "You cannot claim the right to self-defense for a danger you create."
Richards, in his own closing, told the panel his client "feared for his life" if he should be disarmed as he was attacked by rioters. Video evidence showed that Rittenhouse was chased by the men he shot at, including some who tried to take his gun from him or knock him out, Richards said.
Kevin Diaz, 57, moved from Kenosha to Racine, Wisconsin, following the 2020 protests because he was "upset with the governance" of the city.
"I thought the mayor was inept," Diaz said outside the courthouse. "He did not do enough to control the police force. They in essence welcomed Rittenhouse into this community, so in my opinion they're just as much at fault as he is for allowing young men who are armed to cross the border into the city."
Former Milwaukee County Sheriff David Clarke, an outspoken Trump supporter who raised money for Rittenhouse's defense, said his first reaction, after watching the teenager's emotional response to the verdict on television, was that "the persecution is over."
"This was never a prosecution," but a "politically motivated" attack, said Clarke, who worked on hundreds of murder cases as sheriff and was involved in numerous criminal trials. "I know what it takes to secure a conviction, and I didn't see that here."