Kyle Rittenhouse Defense Outdid the State, Ex-Wisconsin DA Says
(Bloomberg) -- Kyle Rittenhouse's defense outshone the prosecution in the trial of the teenager, who shot and killed two men at a chaotic Black Lives Matter protest last year, a former Wisconsin prosecutor said. 
Paul E. Bucher, who served as a district attorney or assistant DA in the state for more than three decades, said he thought the government may have underestimated the strength of the self-defense case. In addition, the extensive video played at the trial worked better for the defense because it showed the chaos surrounding Rittenhouse, Bucher said.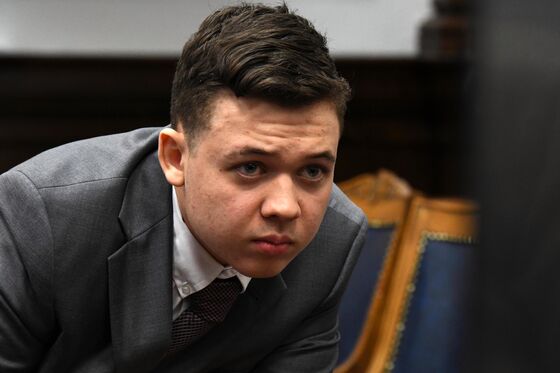 Bucher thinks Rittenhouse, 18, will probably be acquitted of the most serious charge, first-degree intentional homicide, which carries a mandatory life sentence, and is likely to be convicted on one or more of the other four counts. He'll probably serve no more than three to five years in prison, Bucher said, citing the defendant's youth. But he won't walk away, he said.
"The jurors should not be considering what's going on outside, but I'd be naive to say that they're not," said Bucher, who is now in private practice. "Kenosha burned down once already, and I'm sure that's clearly in their mind."
Prosecutors appeared to score some important points of their own during the two-week trial. Assistant District Attorney Thomas Binger told the jury in his closing statement on Monday that Rittenhouse chose to put himself in a volatile situation despite warnings from city authorities to stay away. Binger said the teenager was among a group of armed "chaos tourists" and "wannabe soldiers acting tough" who claimed to be guarding property from vandals, but that Rittenhouse was the only one who killed anyone that night.