Kurz's Party Drops in New Austrian Poll Showing Hit From Scandal
(Bloomberg) -- The corruption investigation that forced Austria's Sebastian Kurz to resign as chancellor has wiped out his lead against his closest rival.
Support for the People's Party dropped to 26% from 33%, putting it almost on par with the Socialist Party, which stood at 25%. That is according to a survey conducted by the IFDD pollster as the political turmoil unfolded last week. The results were published in the Kronen Zeitung newspaper Tuesday.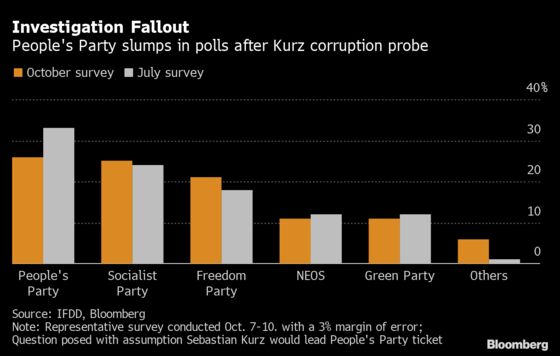 People were asked in the survey to weigh on the party assuming Kurz would be leading it in the next elections. It's an open question what kind of support the conservative ruling party can claw back with the appointment of Alexander Schallenberg, a career diplomat and political novice, as chancellor.
The far-right Freedom Party, which partnered with Kurz in his first government, polled at 21%.