Investors Could Be Underestimating Sweden's Election Risks
(Bloomberg) -- Investors are underestimating Sweden's political risks and swings in the krona will get larger in the run-up to September's election and Riksbank meeting, according to Danske Bank A/S.
While implied volatility in the one-month tenor of dollar-krona options, which cover both events, surged to an almost 16-month high on Monday, it has been caused more by moves in the greenback rather than the Swedish currency, according to Stefan Mellin and Morten Helt, analysts at the Danish bank. Risks surrounding the Sept. 9 vote and the central bank decision a few days earlier may be higher than normal and not fully priced in by markets, they said.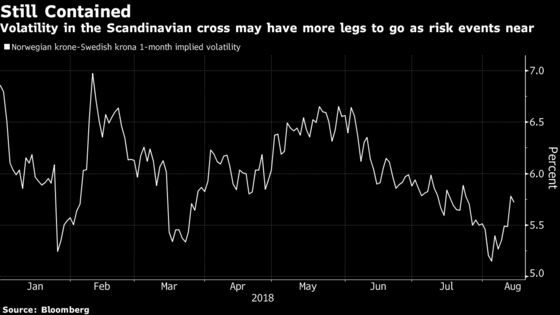 Polls suggest that neither of the country's main two political blocks will secure a majority in the Sept. 9 election. Combined with the fact that all traditional parties have pledged to not cooperate with the rising anti-establishment Sweden Democrats, this adds to the risks that Sweden may be facing a long time without a government. Furthermore, core inflation slid in July, adding to doubts that the Riksbank will be able to follow through on a plan to raise interest rates toward the end of the year.
"Given that it's a long time since we were so close to a signaled rate hike, and that the election is set to be very messy, one could argue for some upward pressure on volatility in the coming weeks and months," Mellin and Helt said.
Danske Bank recommends buying a one-month Norwegian krone-Swedish krona straddle or strangle as "it appears as the cheapest way to hedge the krona risk heading into the events."
Nordea AB agrees with the prospect of a hung parliament and sees value in three to six-month euro-krona straddles, or at-the-money calls, analysts Mats Hyden and Martin Enlund said in a note.
The Riksbank's next policy announcement is due on Sept. 6.