New Army in Europe's Most Volatile Region Raises Balkan Stakes
(Bloomberg) -- Kosovo lawmakers adopted a set of laws to upgrade its lightly armed troops into a formidable force, which neighboring Serbia sees as security threat and an obstacle to normalizing ties between the two Balkan nations.
Serbian Foreign Minister Ivica Dacic demanded an urgent meeting of the United Nations Security Council after the Kosovo's parliament ignored objections from ethnic Serb representatives in the landlocked state of 1.8 million people. Kosovo unilaterally declared independence from Serbia in 2008, but both need to resolve disputes to qualify for European Union membership.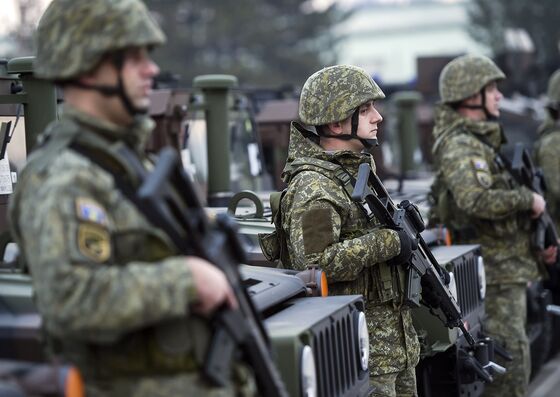 Kosovo's Western allies, which backed its secession from Serbia, have called for caution in adding muscle to the 4,000-strong Kosovo Security Force. The laws allow its expansion to 5,000 active soldiers and 3,000 reservists, along with investments in weaponry. Serbian Prime Minister Ana Brnabic has warned the units may be used against the Serb minority in Kosovo, which could trigger a response.
Kosovo, unlike Serbia, is also seeking membership of the North Atlantic Treaty Organization, whose Secretary General Jens Stoltenberg said the lawmakers ignored concerns by the alliance, which "will now have to re-examine the level of NATO's engagement with the Kosovo Security Force."
"I regret that this decision was made despite the concerns expressed by NATO," he said in an emailed statement. "While the transition of the Kosovo Security Force is in principle a matter for Kosovo to decide, we have made clear that this move is ill-timed."
"Like NATO, the EU continues to share the view that the mandate of the KSF
should only be changed through an inclusive and gradual process in accordance
with Kosovo Constitution," EU spokeswoman Maja Kocijanci said in a tweet.
Kosovo Premier Ramush Haradinaj said the troops won't be used against minorities and urged members of the 120,000-strong Serb community in Kosovo to enlist.
U.S. ambassador to Kosovo, Philip Kosnett, tweeted that security depends on "peaceful, mutually beneficial relations with its neighbors -- as much as on the strength and professionalism" of the armed forces.
EU-mediated talks between Serbia and Kosovo have stalled and relations further deteriorated after Serbia lobbied against Kosovo's attempt to join Interpol. In return, Kosovo slapped a 100 percent tariff on imports from Serbia.
Serbia still regards Kosovo as its southern province, backed by Russia and China in preventing Kosovo from joining the United Nations. Some 4,500 peace-keepers led by NATO have been deployed in Kosovo since the 1998-99 war that ended with NATO bombing, which drove out Serb forces.
In another sign of the international concern about the latest move, Farhan Haq, a spokesman for United Nations Secretary-General Antonio Guterres, issued a statement late on Friday calling "on all parties concerned to exercise restraint and refrain from actions that could raise tensions."