Koch Network Contemplates Era When Neither Brother Leads the Fight
(Bloomberg) -- As billionaire Charles Koch spoke earlier this year to donors who back the conservative political empire he built with his brother, someone alerted him that an audience member had just turned 90. "That's what I'm gunning for," the 82-year-old shot back.
Since then, Koch has gotten a pointed reminder that time is short. In June, he told more than 120,000 employees at the conglomerate he runs that his 78-year-old brother, David, is stepping down from leadership posts in the family business and political operation because of declining health.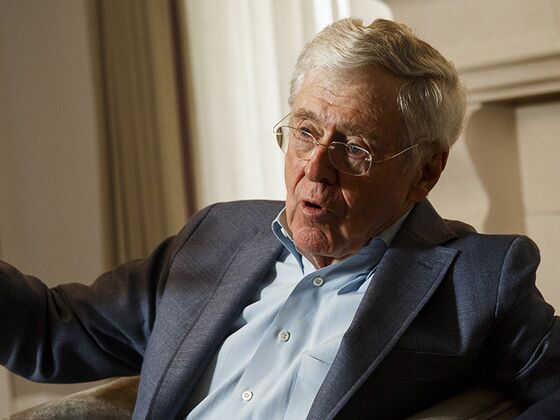 This weekend, as hundreds of Koch donors convene for the first time since that news, the network's future is certain to be on their minds as they mill about at a luxury Rocky Mountain resort. But liberals and other Koch critics looking forward to a time when the brothers no longer exert major influence on U.S. politics may be waiting a long time.
"Everything they have done has been so that this whole thing will endure," said Daniel Schulman, author of a 2014 book about the Koch dynasty. "Their legacy is having created this massive political organization that in many ways rivals the Republican Party itself."
Charles Koch has been the network's visionary and top leader in recent years, so his brother's retirement isn't expected to have a major impact on day-to-day operations. But David Koch was chairman of a foundation that supports Americans for Prosperity, the network's primary political vehicle.
"Having that ability to move on to the next generation is always a tough challenge, and the bigger the organization, the bigger the challenge," said Frayda Levin, a New Jersey donor who serves on the Americans for Prosperity board.
The network, with more than 700 donors who give at least $100,000 per year, has convened gatherings like this weekend's twice annually since 2003. Its January meeting in California attracted at least two U.S. senators, one U.S. House member, two governors, a state attorney general and a state supreme court justice.
The full list of officials expected this weekend hasn't been disclosed, but a person with knowledge of the invitees who wasn't authorized to release the schedule said they include Governor Rick Scott of Florida, who's running for U.S. Senate, Kentucky Governor Matt Bevin, Senator Mike Lee of Utah, and Nevada Attorney General Adam Laxalt, who's running for governor. All are Republicans.
The donors are convening as the network finds itself clashing with President Donald Trump, who's wielding and threats of tariffs run counter to the free-trade views of the Kochs. The group also tends to object to government subsidies, such as the $12 billion the president has pledged in farm aid.
Keeping the network happy is especially important for Republicans in an election year.
Plans call for it to spend about $400 million on state and federal policy and politics during the two-year cycle that culminates with November's balloting, a 60 percent increase over 2015-16. In addition to trying to influence electoral politics, the network is involved in pushing changes to the criminal justice and education systems and promoting workforce development.
Donors say they're not overly concerned about the day when Charles Koch will no longer lead their movement.
"He's a major figure, but the donors within the organization are not wimps and they are very dedicated to the mission," said Chris Rufer, a libertarian-leaning donor who owns the Morning Star Company, a major tomato processor in California's Central Valley.
Charles's son, Chase, is likely to eventually play a top leadership role in the network and has already made appearances at the donor conferences. "Chase is already very involved," Levin said.
Brian Hooks, president of the Charles Koch Foundation and Charles Koch Institute, has also played a prominent role and often joins his boss on stage at donor conferences. Mark Holden, chairman of Freedom Partners Chamber of Commerce, the hub group for top Koch donors, is also viewed as a senior official.
Hooks and Holden weren't available for interviews, said James Davis, a spokesman for the network. The men serve as co-chairmen of the semi-annual donor gatherings that are formally called the Seminar Network.
"There will only ever be one Charles Koch," Davis said in a statement. "Fortunately, he's still going strong. But you better believe he's built this network to last, just like he's done with his business."
The massive wealth held by the Koch brothers is the top reason they may have a legacy of influence on American politics for decades to come.
Each brother has a net worth of about $47 billion in the Bloomberg Billionaires Index, tied at 12th among the world's richest people. David Koch, who resides on New York's Upper East Side, is the city's wealthiest person. Charles Koch, not surprisingly, holds that title in his home of Wichita, Kansas.
The brothers derived most of their wealth from a 42 percent stake in Wichita-based Koch Industries, which has an annual revenue of about $100 billion and is the nation's second-largest closely held company.
The Charles Koch Foundation, which has grown significantly in recent years, listed assets of almost $700 million at the end of 2016, its most recent Internal Revenue Service filing shows. It gave to dozens of universities and other entities, including libertarian think tanks and groups aligned with the views of its namesake.
Charles Koch, who is known for his long-term planning, told Forbes in 2012 that preparations were already under way for his eventual exit from Koch Industries.
"We have the best leaders and the most depth of leadership we've ever had," he said in a rare interview. "If I get hit by a truck, maybe it would get me out of the way and it would go better."
Chase Koch, who's in his early 40s, has been schooled in his father's libertarian views. During an appearance before a Rotary Club in Wichita in November 2016, he noted how his father insisted that he and his sister take economics and philosophy lessons from him every Sunday.
"This dates back to when I was six years old," he said, according to a report in the Wichita Eagle newspaper. "We'd listen to books on tape from Milton Friedman."
When he was 15, Koch told the audience, he was sent off to his first summer job at a smelly company cattle feedlot in western Kansas. He's now president of a subsidiary, Koch Disruptive Technologies, that helps build and invest in high-growth technology companies, according to a Koch Industries biography.
Levin, the donor from New Jersey, said she thinks the network will remain popular with conservatives even after both brothers are gone, so long as it remains exclusive.
"They just want to be connected to this super-powerful, elite thing," she said. "If I weren't in, I would certainly would want in."