Amy Klobuchar Stakes Her 2020 Candidacy on a Narrow Path in Iowa
(Bloomberg) -- Even though Amy Klobuchar is languishing in the low single digits in national polls, she insists she still has a path to winning the Democratic presidential nomination with a strong showing in the Iowa caucuses.
The Minnesota senator has endured as higher-scoring rivals such as Beto O'Rourke and Kamala Harris have dropped out. Now she's betting that the nation's first nominating contest on Feb. 3 will give her the momentum for the primary races that follow.
"The ultimate compliment in Iowa is: 'You're in my top three,'" Klobuchar said at a campaign event in Des Moines last week. She ended on a plea to those who haven't committed to her: "One of my arguments I'll make as I close the case is, 'It's time to decide.'"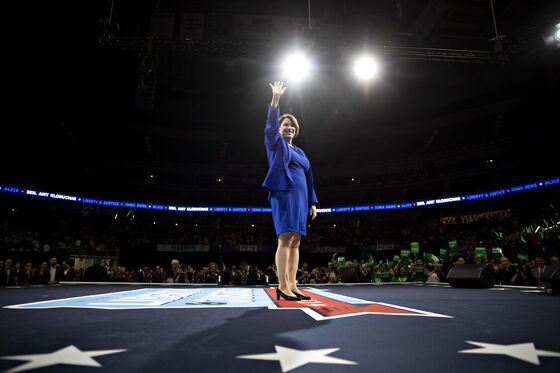 Since mid-October Klobuchar's support in Iowa has more than tripled to 6.5% from 2%, though she still is far behind Pete Buttigieg, who leads with 22.5%, or Bernie Sanders, Elizabeth Warren and Joe Biden, whose support is between 16% and 19%, according to the RealClearPolitics average of polls.
Possibly in her favor is that Iowans are known for being late deciders, many voters making up their minds only weeks before the caucuses. A November poll from the Des Moines Register and CNN found that more than two-thirds of Iowans could be persuaded to change their vote or had no first-choice candidate.
Klobuchar, 59, is building her candidacy on a record of bipartisanship in her three terms in the Senate and presents herself as a moderate who can win over Midwestern blue-collar voters who voted for Donald Trump in 2016. She won re-election in 2018 with 60% of the vote in a state that only very narrowly went for Hillary Clinton two years earlier.
The campaign is showing other signs of momentum in Iowa. Klobuchar plans to double her field offices to 20 by the end of December and says she will add to the 60 staffers currently in the state. That compares with more than 100 staffers for Joe Biden, Pete Buttigieg and Elizabeth Warren. Last week, she announced the hiring of former executive director of the Iowa Democratic Party, Norm Sterzenbach, as Iowa Caucus adviser.
Klobuchar, who has spent 47 days in Iowa, more than any candidate except John Delaney, is at home in the state that borders her own, poking fun at Iowans last week for their lack of snow compared with the 22 inches in parts of Minnesota.
She has gained endorsements from some prominent Iowans, including Ruth and Scott Thompson, Democratic activists known as the "caucus couple." The Thompsons introduced Klobuchar to the 200-person crowd in Des Moines and said she wasn't initially in their top three or even on their list. But after following her for a few months, Scott is so sure of her that he gave his mobile phone number to the crowd and asked people to call him if they had doubts.
But even if a rosy scenario of a top-three finish in Iowa were to play out, the road beyond is far dicier. One of her biggest hurdles is name recognition: 40% of Democratic voters nationwide had not heard of her in an Economist/YouGov poll released last week.
Klobuchar acknowledged this shortcoming in an interview, but said her appearance in all five Democratic debates to date helps her, and as the primaries get closer she plans to run more ads in the early states. The campaign is working to ramp up its operations in states with early decisions, doubling its staff in New Hampshire this month and hiring aides in Nevada in late November.
"I literally have thought about telling people they should call anyone in my state," Klobuchar said. "Now, there will be people that didn't vote for me, more have than not, but they'll say 'She works hard. She gets things done.'"
Klobuchar is only polling at 2.5% nationally, according to the RealClearPolitics average, far behind front-runner Biden at 28.5%, or Sanders at 17.8% and Warren at 15.3%. Unlike candidates such as Cory Booker, she's already qualified for the Dec. 19 debate in Los Angeles and has the cash to keep going. Harris exited the race Dec. 3 as her campaign bled cash; Klobuchar's campaign reported $3.7 million on hand at the end of the third quarter.
"If this race has tortoises and hares, Kamala might have been the hare, Amy could be the tortoise," said Democratic consultant Hilary Rosen. "She's kept her operation lean enough so that she can continue to sustain it without a huge budget spend and that's important at this point."
Klobuchar has sought to distinguish herself as a moderate in clashes with progressives such as Warren and Sanders over their support for Medicare for All, which would create a government-run health care system that abolishes private insurance.
Like Biden and Buttigieg, Klobuchar has said she supports a system that would build on Obamacare and include a public option. In the October debate, Klobuchar repeatedly pressed Warren on how she would pay for Medicare for All. "The difference between a plan and a pipe dream is something that you can actually get done," she said. "And we can get this public option done."
Klobuchar's core argument to voters rests on her record: She's won passage of more than 100 bills in Congress and had 33 enacted -- seven of which Trump signed into law. In Iowa last week she peppered in examples of bipartisan achievements such as working with the state's Senator Chuck Grassley on introducing a bill to lower prescription drug costs.
A big hurdle on her post-Iowa path is her low support among African American voters, a key Democratic constituency. In a late-November Quinnipiac University poll of South Carolina, the first primary state with a majority-African American Democratic electorate, Klobuchar polled at virtually 0%.
If she makes it to the general election, Klobuchar's promise is to "win big" in Michigan, Pennsylvania, Wisconsin, Ohio and Iowa, bringing along state and local candidates with her.
"You know what I want to do? Build a blue wall around those states and make Donald Trump pay for it."
(Michael Bloomberg is also seeking the Democratic presidential nomination. Bloomberg is the founder and majority owner of Bloomberg LP, the parent company of Bloomberg News.)