Kim Promises 'Shocking' Action and Says He Has New Weapon
(Bloomberg) -- Kim Jong Un declared he was no longer bound by his pledge to halt major missile tests and would soon debut a "new strategic weapon," adding to President Donald Trump's foreign policy concerns in a politically charged election year.
The North Korean leader told a gathering of party officials in Pyongyang that U.S. actions left him no choice but to reconsider commitments that underpinned three unprecedented meetings with Trump over the past 18 months, the state-run Korean Central News Agency said Wednesday. Kim called for "shocking actual action" to make the U.S. "pay for the pains" suffered by North Korea under the Washington-led sanctions regime, KCNA said.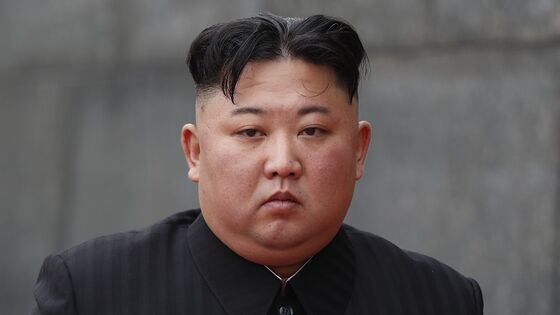 "The world will witness a new strategic weapon to be possessed by the DPRK in the near future," Kim said, referring to the country's formal name. The speech came during an unusual four-day party meeting and appeared to replace the televised address Kim has delivered every New Year's Day since 2013.
Trump's immediate reaction was muted, with the president repeating his past assertion that Kim had agreed to denuclearize. "We're going to find out, but I think he's a man of his word," Trump told reporters in Florida.
Former National Security Adviser John Bolton said in a tweet on Wednesday that the U.S. should "fully resume" military exercises with South Korea in response to Kim's threat. "Hold congressional hearings on whether U.S. troops are truly ready to 'fight tonight,'" he said.
Kim's threats were broadly in line with expectations that he would attempt to ratchet up pressure on Trump after North Korea's year-end deadline passed without a breakthrough in nuclear talks. Kim is seeking sanctions relief and security guarantees that the Trump administration has so far refused to provide without a disarmament commitment from Pyongyang.
Major weapons tests would renew the threat of war on the Korean Peninsula and undermine Trump's efforts to tout his diplomatic outreach with Kim as he seeksreelection. While North Korea fired off a record number of ballistic missiles in 2019, it has refrained from testing nuclear bombs and intercontinental ballistic missiles that could deliver them to the U.S. for more than two years.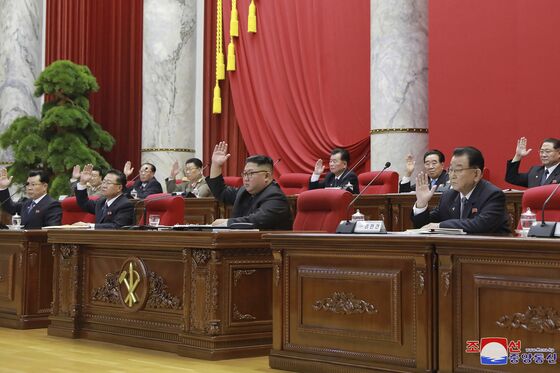 Kim said that recent U.S. actions, including continued military cooperation with South Korea, had forced him to reconsider his pledge. "Under such condition, there is no ground for us to get unilaterally bound to the commitment any longer," Kim said, according to KCNA.
"I'd expect this announcement to be followed by a test rather quickly," said Ankit Panda, a specialist on North Korea's weapons and an adjunct senior fellow at the Federation of American Scientists. "They may seek to do something truly dramatic to awaken the United States into appreciating the costs of the failed bout of diplomacy in 2018 and 2019."
Kim left some room for negotiations by avoiding direct criticism of Trump and not explicitly calling off talks or announcing new weapons tests. The threat to revive tensions could put Kim's own recent diplomatic gains at risk, alienate supporters such as China and Russia and increase international support for more sanctions.
"We hope that Chairman Kim will take a different course," U.S. Secretary of State Michael Pompeo told Fox News after the KCNA report. "We are hopeful that Chairman Kim will make the right decision and he will choose peace and prosperity over conflict and war."
North Korean state television showed clips of missiles rocketing into the sky over a looped hour-long video of Kim's remarks Wednesday morning. Weapons featured included missiles fired from mobile launchers and a rocket lifting off from what appeared to be an underwater platform. One image showed a view of the Earth from space.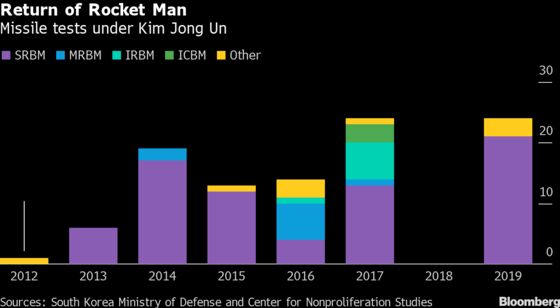 Kim didn't specify what his "new strategic weapon" was, or when it might be deployed. He has made more specific threats in past new year's addresses, such as when he previewed a run of successful ICBM tests in 2017.
"We avoided the worst scenario, which would have involved Kim declaring a resumption of ICBM and nuclear testing and the suspension of talks with the U.S.," said Rachel Minyoung Lee, a specialist on North Korea at the Seoul-based NK News.
Still, Kim had some ominous words for the U.S. North Korea "will never allow the impudent U.S. to abuse the DPRK-U.S. dialogue for meeting its sordid aim but will shift to a shocking actual action to make it pay for the pains sustained by our people so far and for the development so far restrained," Kim said, according to KCNA.
Panda, of the Federation of American Scientists, said the comment suggests that North Korea might seek to go further than 2017, when it lofted three ICBMs into the waters between the Korean Peninsula and Japan.
"A fourth one is perhaps not likely to meet the North Korean bar for 'shocking,'" Panda said. "The possibilities, then, are uncomfortable."