The Prosecutor Digging Into the Trump Organization Once Faced Fallout From Goldman
(Bloomberg) -- Robert Khuzami, the federal prosecutor in Manhattan who's digging into Donald Trump's family business, has shown how to approach a powerful target: Follow the leads now. Deal with the fallout later.
Back when he was running the Securities and Exchange Commission's enforcement division, he took on Goldman Sachs Group Inc. His 2010 lawsuit was one of the first cases to fault banks for the products at the heart of the financial crisis. Khuzami filed it during morning trading with no warning to the bank, causing Goldman shares to shed about $10 billion in market value that day.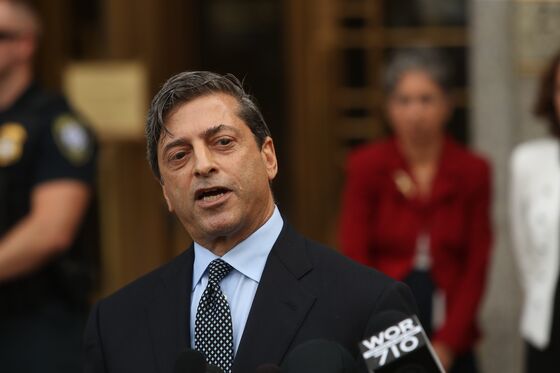 Bank executives were still smarting three years later, as Khuzami was leaving the agency. So Goldman, one of Wall Street's most powerful banks, told its outside law firms that they might lose its business if they hired him, according to five people familiar with its position at the time.
A Goldman Sachs spokesman declined to comment on the case or whether it warned law firms to steer clear of him. A spokeswoman for the U.S. Attorney's office also declined to comment.
Now Khuzami is looking into whether people at the Trump Organization were aware of campaign-finance violations. The jumping off-point for that probe was an admission by Trump's former personal lawyer, Michael Cohen, that he broke election laws by arranging payments -- as directed by his boss -- to suppress a potentially damaging story about a Trump tryst.
Trump reacted furiously when the feds in New York raided Cohen's office -- calling it a disgrace, a new level of unfairness and "an attack on our country." So far, though, the president hasn't singled out Khuzami, and much of the public speculation concerns whether Trump will try to tamp down Special Counsel Robert Mueller's investigation into Russian election interference, or seek to remove Mueller's overseer, Deputy Attorney General Rod Rosenstein.
People who've worked with Khuzami say he has the constitution to weather any direct attacks from Trump. "He's schooled in the view that the job is to do justice," said George Canellos, who worked with Khuzami at the SEC as well as at the Manhattan U.S. attorney's office, where Khuzami previously worked for 12 years.
As a top federal prosecutor in Manhattan, Khuzami has much in common with Mueller.
Both are Republicans with a long history of public service. Both came to the Trump-world cases after their Trump-appointed bosses recused themselves. (In Khuzami's case, U.S. Attorney Geoffrey Berman, who runs the Manhattan office, stepped aside from the investigation into Cohen and let his No. 2 take over.) And Khuzami, like Mueller, is known to colleagues for his sense of duty and justice, regardless of where the facts in any case might lead.
"What motivates him is to do the right thing," said Mary Jo White, a former Manhattan U.S. attorney and SEC chairwoman, who was Khuzami's boss at both agencies.
Although Khuzami has no connection to Trump world, he held senior positions in the legal department of Deutsche Bank between 2002 and 2009. At that time, the German lender helped fund the Trump International Hotel and Tower in Chicago. When the financial crisis hit and Trump couldn't make timely payments on those loans, he sued Deutsche Bank AG and his other lenders. Deutsche Bank countersued, and both parties eventually settled. Deutsche Bank is the subject of a federal investigation, which is being handled by the Justice Department in Washington D.C., over whether it enabled billions to be laundered out of Russia.
Unlike the understated Mueller, who handpicked a team of all-stars to investigate Russian election interference and has let others do the talking, Khuzami has wound up being the public face of his up-and-coming band of litigators in New York. For decades, that office has been a proving ground for talents who tackle the most complex financial crimes, public corruption and terrorism cases, as Khuzami did himself in the 1990s.
Described as a superb mentor and coach, Khuzami, 62, tends to give his people room to run. "I have repeatedly watched him bring out the best qualities in the people he supervised," said Richard Owens of Latham & Watkins, who was one of Khuzami's fellow federal prosecutors in Manhattan.
Born in Brooklyn and raised in Rochester, New York, Khuzami worked in the Manhattan federal prosecutor's office from 1990 to 2002 as it handled some of the nation's most far-reaching prosecutions. He ran some of the office's biggest cases of his era, including the trial of Sheikh Omar Abdel-Rahman on terrorism charges and another examining organized crime infiltration of Wall Street. He rose to become chief of the securities fraud unit.
"Any complicated case with challenges is what he's the best at," White said. "He's drawn to things with a lot of moving parts. He likes the cases when they're hard."
In 2010, as director of enforcement at the SEC, Khuzami filed a case against Goldman Sachs case that became a defining moment of the financial crisis. The SEC said the bank and one of its traders, Fabrice Tourre, created a collateralized debt obligation, Abacus, that was designed to fail. The bank sold Abacus to investors as a money-maker without disclosing that it had been assembled so another client of the firm, hedge fund manager John Paulson, could bet against it.
While the bank was aware of the SEC's investigation, Khuzami broke with tradition and announced the case early in the trading day -- rather than after the market closed -- and with no heads up to the bank, according to an SEC review of the matter. Goldman Sachs shares fell 13 percent. The bank described the SEC's charges as "unfounded" and said it would "vigorously contest them and defend the firm and its reputation."
Three months later, the bank paid $550 million to settle the probe, the largest penalty in history assessed by the SEC against a financial services firm. Separately, Tourre was found liable for fraud after a jury trial.
When Khuzami left the commission in 2013, Goldman warned its outside law firms that the bank might cut them off if they hired him. Six months after leaving the SEC, Khuzami landed a prestigious partnership at Kirkland & Ellis, living in his adopted hometown of Washington. The firm didn't respond to requests for comment.
Back again at the Southern District of New York, he's renting an apartment in lower Manhattan near one rented by Berman, his longtime friend, who keeps a home in New Jersey. Khuzami is overseeing all aspects of the Cohen case -- which has encompassed, according to ABC, recent interviews of Cohen by Mueller's office, with questions in issues including Trump's financial and business dealings with Russia.
It's unclear whether Khuzami will file additional charges in the campaign-finance probe. While at the SEC, he championed the idea of recognizing not just investigators and lawyers who brought big cases, but also those who thoroughly scrutinized cases and decided charges weren't warranted.
But Khuzami has already chosen a strategic moment to underscore his office's independence -- delivered outside the federal courthouse in downtown New York on the day Cohen entered his guilty plea. "The rule of law applies," Khuzami said into a bank of television cameras. "We are a nation of laws."