Poll Strengthens Lofven's Hand in Swedish Political Talks
(Bloomberg) -- Social Democratic leader Stefan Lofven is picking up support among voters as he seeks to lure over key opposition parties to form a viable government almost three months after the nation's inconclusive election.
A benchmark semi-annual poll released by the nation's statistics office showed Lofven's Social Democrats would get 30.5 percent of the votes if an election was held today, up from 28.3 percent in the September vote. The four-party center-right opposition lost support.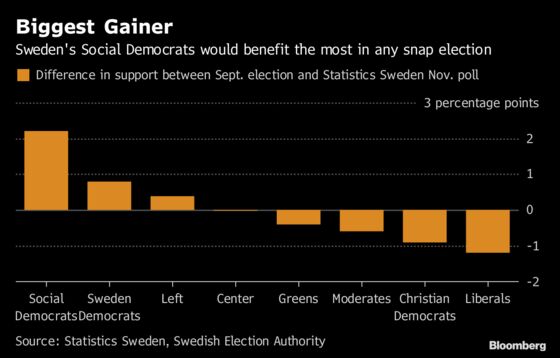 Lofven is working toward a Wednesday deadline to form a coalition and will then likely face a vote in parliament either this week or next week. The acting premier was given more time on Sunday, suggesting he's making some progress in his attempts to lure over the Center Party and the Liberals from the opposition.
The election in September failed to produce a majority for either of the center-left or center-right blocs, with the nationalist Sweden Democrats becoming the third largest party. A potential vote on Lofven would be the second after opposition leader Ulf Kristersson lost in his bid to form a narrow conservative government. Four such votes need to be held before a snap election can happen.
Lofven will need to find a way of combining his center-left policies with the more free-market and tax cutting agenda of the Center and Liberals. But he can't move too far to the right or he would likely lose the support of the Left Party, which he also needs for a majority.
The survey strengthens Lofven's hand in the negotiations, according to Jonas Hinnfors, a professor in political science at Gothenburg University.
"This poll could give them fuel not to sell out too easily to the right in the ongoing discussions," he said. "The outlook for a snap election doesn't maybe look as dramatic for the Social Democrats anymore."
The poll also shows a clear interest for the Liberals and the Greens to avoid a snap election since they are dangerously close to the 4 percent barrier needed to remain in parliament.