Key Poll Predicts Majority of 28 for Boris Johnson in U.K. Election
(Bloomberg) -- Prime Minister Boris Johnson's lead in Britain's general election was slashed by more than half in a hotly anticipated opinion poll released two days before the vote. The pound fell as much 0.4% on the news.
The Tories will win 339 of the 650 seats in the House of Commons, Labour 231, the Scottish National Party 41, and the Liberal Democrats 15, according to a YouGov forecast on Tuesday.
If the research is accurate, it suggests the race for Number 10 is tightening significantly ahead of Thursday's election. Johnson gambled on an early vote in an attempt to win a majority so he can force his Brexit deal into law and take the U.K. out of the European Union by the end of January.
If Labour continues to close in on the Conservatives, he could fall short of a majority, throwing British politics and the country's future relations with the EU into fresh turmoil.
"The margins are extremely tight and small swings in a small number of seats, perhaps from tactical voting and a continuation of Labour's recent upward trend, means we can't currently rule out a hung Parliament," Chris Curtis, YouGov's Political Research Manager, said in a statement. "As things currently stand, there are 85 seats with a margin of error of 5% or less."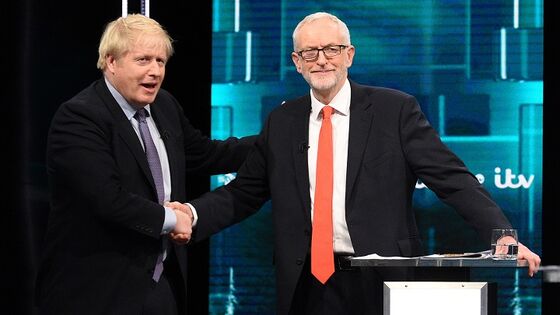 The YouGov research used a technique that more closely predicted the result of the U.K.'s previous election in 2017 than other standard surveys. When smaller parties are included, the result would give the Conservatives a majority of 28 seats. That's smaller than in the previous iteration of the poll two weeks ago, which projected a majority of 68 for Johnson's side.
The YouGov modeling shows Jeremy Corbyn of the main opposition Labour Party a long way short of winning a majority. But if Johnson failed to win a majority, other parties could unite to force him out of office, potentially replacing him with Corbyn, with a mandate to hold another Brexit referendum.
Earlier on Tuesday, Johnson warned activists against complacency. "This is a very, very close-fought election, and we need every vote," Johnson said at a campaign event in Uttoxeter, central England, saying his party is "absolutely not" home and dry.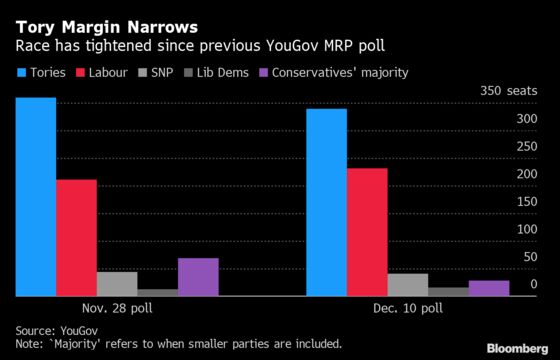 Through a process called Multilevel Regression and Post-stratification, or MRP for short, YouGov aims to identify different types of voters, and predict their behavior. Then the company works out how many of each of these voter types there are in each electoral district to produce a forecast.
In the 2017 election, YouGov's MRP poll correctly predicted that Theresa May would lose her majority, at a time other polls were suggesting her Conservatives would secure a big win.
Johnson's Tories, as his party is also known, have led in the polls throughout the election campaign and most surveys still give the prime minister an advantage of about 10 points over Labour. The YouGov projection gave him a share of 43%, compared to 34% for Labour.
According to YouGov, Labour has managed to pull back support in some seats where it had previously looked to be in danger. Although the Conservatives are forecast to take totemic seats in Northern England such as Sedgefield, once the district of Labour Prime Minister Tony Blair, fewer such places were in play for the party, according to the survey of more than 100,000 voters, conducted over seven days to Dec. 10.
Meanwhile in the south of England, Foreign Secretary Dominic Raab's South West London seat of Esher is in danger from an anti-Brexit revolt, with the Liberal Democrats close to taking it, YouGov said. The Liberal Democrats and Labour are both forecast to pick up a handful of seats in the south.
Ominously for Johnson, YouGov found Labour had been gaining support late in the campaign. It said the overall Tory lead in its model had shrunk from 11% to 9% since the weekend. Monday was Johnson's worst day of campaigning, as he struggled to respond to evidence that the National Health Service was struggling to cope with demand, and refused to look at a photograph of a 4-year-old boy with pneumonia being treated on the floor of a hospital.
The tightness of the race, according to YouGov, meant that a Conservative tally of anything from 367 -- a comfortable win -- to 311 -- another hung Parliament -- was within the margin of error.
The poll itself could change behavior, leading parties to reallocate resources, and also encouraging Tory opponents to switch to the candidate most likely to defeat the Conservatives.
Johnson will spend the final day of campaigning before Thursday's vote pressing his message that the U.K. can only "get Brexit done" if he wins a majority. He's visited districts in northern England and the midlands that have previously been Labour strongholds as he's sought to win over voters who backed leaving the European Union in the 2016 referendum.
For his part, Corbyn has majored on the National Health Service in the final days of the campaign, seeking to take advantage of Johnson's discomfort.
"Our message is quite simply this: Our NHS is under threat, our NHS is at risk," Corbyn, who will travel across England on the final day of campaigning, said Tuesday. The free-to-use service's problems are caused by "a government that's underfunded our NHS," he said, laying the blame at Johnson's door.