Key May Ally Warns U.K. Against Brexit Concessions on Ireland
(Bloomberg) -- The Democratic Unionist Party vowed to fight any concessions on the Irish border question, underlining the challenge facing U.K. Prime Minister Theresa May as she seeks to unlock Brexit talks.
Any sort of extra checks between Northern Ireland and the rest of the U.K. are unacceptable, DUP leader Arlene Foster said in Bloomberg Television interview with Anna Edwards on Tuesday. Foster matters because May effectively relies on the DUP to keep her in power.
"We cannot have either a customs border down the Irish Sea or a regulatory border because that would make us separate from the rest of the U.K.," said Foster. "It's been very clear all along that has been our one red line."
Under May's new plan, the U.K. would back down on its opposition to new checks on goods moving between the British mainland and Northern Ireland, Bloomberg News reported Monday. In exchange, May's team would need the EU to allow the whole of the U.K. including Northern Ireland to stay in the bloc's customs regime as part of a temporary backstop.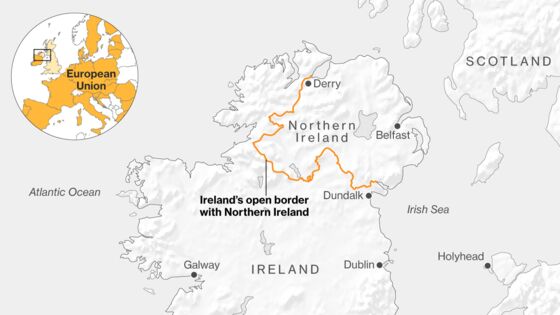 Brexit talks are effectively stalled on how to avoid a hard border in Ireland after the U.K. leaves the bloc. The EU has warned there will be no withdrawal agreement without a solution for the border, but neither side has yet agreed how that will be achieved.
Foster, who is due to meet chief Brexit negotiator Michel Barnier in Brussels next week, said no-one wants a no-deal Brexit, but is adamant she will resist new checks in Irish Sea, saying May has been "on message" so far.