Key Impeachment Witness Alexander Vindman Retires After Trump 'Bullying'
(Bloomberg) -- Lieutenant Colonel Alexander Vindman, a key witness in President Donald Trump's impeachment, will retire after more than 21 years in the U.S. military amid concerns that his future will "forever be limited" in the Army as a result of his testimony against the commander-in-chief, his lawyer said.
"Through a campaign of bullying, intimidation, and retaliation, the President of the United States attempted to force LTC Vindman to choose: Between adhering to the law or pleasing a President," David Pressman, Vindman's counsel at Jenner & Block LLP, said in a statement Wednesday. "Between honoring his oath or protecting his career. Between protecting his promotion or the promotion of his fellow soldiers. These are choices that no one in the United States should confront, especially one who has dedicated his life to serving it."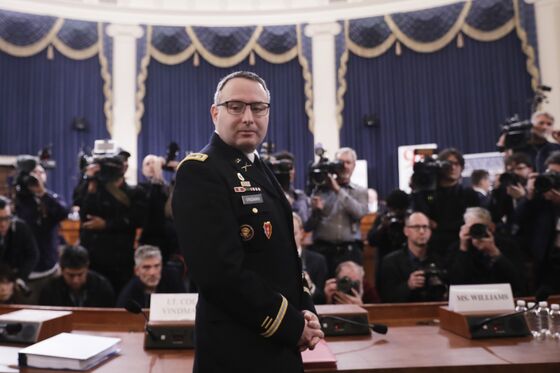 A top National Security Council official at the time, Vindman's testimony to the House during the impeachment saga -- given in full-dress uniform -- was among the most damaging to Trump, pitting the president's claims of a "hoax" against the word of a decorated military veteran.
In his testimony, Vindman said that that Trump exerted "inappropriate" pressure on Ukraine's president by seeking an investigation into Joe Biden's family in exchange for freeing up congressionally-mandated military aid needed to help fend off Russian aggression.
As director of European Affairs on the NSC, Vindman was among the first to be pushed out after the Senate acquitted Trump in his impeachment trial in early February.
Vindman "did a lot of bad things, so we sent him on his way," Trump said in February when asked about Vindman's departure from the NSC. Some top Democrats praised Vindman when news of his retirement broke.
House Intelligence Committee Chairman Adam Schiff, a leader of the impeachment inquiry, told Vindman in a letter released Wednesday evening that "you should not have had to choose between your oath of office and your career. You followed your patriotic and legal duty to tell the truth."
"Yet, I hope that you reflect on these events, unprecedented as they are, and find solace in knowing that you did the right thing," Schiff wrote.
And House Speaker Nancy Pelosi said in a statement that "it is sad that America is losing this patriotic soldier because of the president's cruel vindictiveness and disrespect for the Constitution and our national security."
Despite Trump's criticisms of Vindman, Secretary of Defense Mark Esper told reporters in November that the Purple Heart recipient "shouldn't have any fear of retaliation" from his testimony, while Secretary of the Army Ryan McCarthy said at the time that "we will do whatever we have to do to protect our soldiers."
Democratic Senator Tammy Duckworth of Illinois earlier this month vowed to block Senate approvals of 1,123 senior U.S. Armed Forces promotions until Esper confirmed "that he did not, or will not, block the expected" promotion of Vindman to full colonel. "It is simply unprecedented and wrong for any commander in chief to meddle in routine military matters," Duckworth said in a statement.
Vindman did "what the law compelled him to do; and for that he was bullied by the president and his proxies," his lawyer, Pressman, said. "LTC Vindman's patriotism has cost him his career. Today our country loses a devoted soldier, but it is incumbent upon all of us to ensure it does not lose the values he represents.'