Kemp's Office Blames Georgia Voter Lines on Lengthy Ballot
(Bloomberg) -- As Georgians waited hours to cast ballots Tuesday in some precincts with technical problems or too few voting machines, a spokesman for Georgia Secretary of State Brian Kemp said part of the delay stemmed from voters simply spending more time filling out the forms.
After reports of long lines and technical issues at polling places, state judges ordered six Atlanta-area precincts -- three in Gwinnett County and three in Fulton County -- to remain open longer Tuesday night. Two Fulton precincts were told to stay open until 10 p.m., delaying results for Georgia's biggest and most heavily Democratic county. Polls in Georgia generally close at 7 p.m.
"Truly, the reports that we're getting are that the ballot is really long this year and it's taking voters a long time to review the ballots and decide," Candice Broce, a spokesman for the secretary of state's office, said Tuesday in a phone call. "We're not getting complaints that people are really angry about long lines."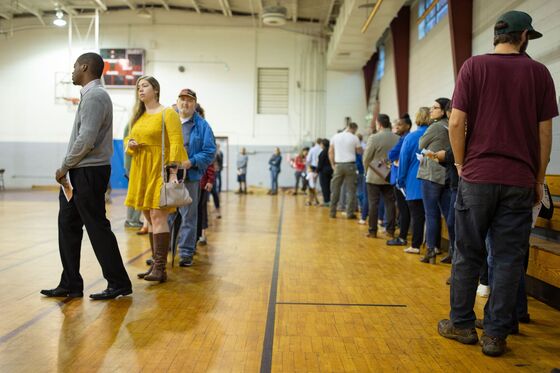 Kemp, a Republican, is also the party's candidate for governor, facing off against Democrat Stacey Abrams in one of the most closely watched U.S. races. Kemp has brushed off allegations of voter suppression by his office that critics say is intended to benefit his candidacy, though judges have ruled against him in recent lawsuits over access to the polls.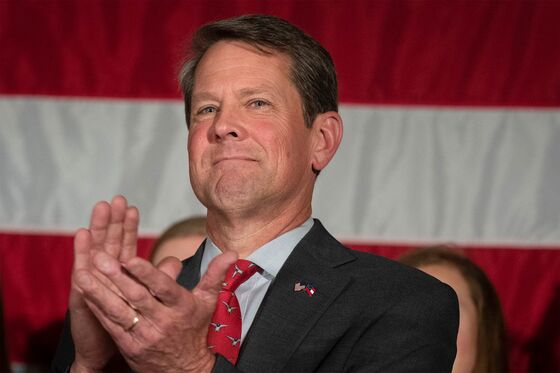 Several Georgia counties were also hobbled by a lawsuit that's unrelated to the 2018 election, Broce said. A judge ordered hundreds of voting machines in different counties to be sequestered in the case.
"That is something to consider," Broce said. "Maybe they don't have as many machines at their disposal."
Ross Cavitt, communications director for Cobb County, said 600 of its machines were sequestered last year as a result of the lawsuit, meaning the county could only deploy about 1,000 on Tuesday. He said several hundred other machines weren't available for Election Day because they'd been used for early voting. He said the longest wait time in his county was two hours.
Meanwhile, the nonpartisan civil rights group Common Cause sued Kemp on Monday over the handling of provisional ballots. If there is a statistically significant increase in use of provisional ballots, the group seeks a court order requiring the Secretary of State to count all that were cast. The group said the order must apply to all provisional ballots unless the state can prove that the voter isn't eligible or didn't register in time.
The complaint says there is no way to investigate "in a timely manner" how many voters have been affected by the security vulnerabilities that Kemp allegedly failed to address.
"Provisional ballots are the only practical proxy for identifying affected voters and ensuring they do not lose their votes as a result of defendant's reckless conduct," Common Cause said in the suit.
Broce said she couldn't immediately respond to the lawsuit because she hadn't seen it.