John Kelly Predicts Trump 2020 Win Even Against 'Right' Democrat
(Bloomberg) -- Former White House Chief of Staff John Kelly said the right Democratic candidate could give President Donald Trump a "run for his money" in 2020 but predicted his former boss would win re-election.
"You never know," Kelly said Wednesday at SkyBridge Capital's SALT Conference in Las Vegas. "There's multiple people running on the Democratic side. I think if they pick the right person I think they can give the president a run for his money. But I think he will win a second term."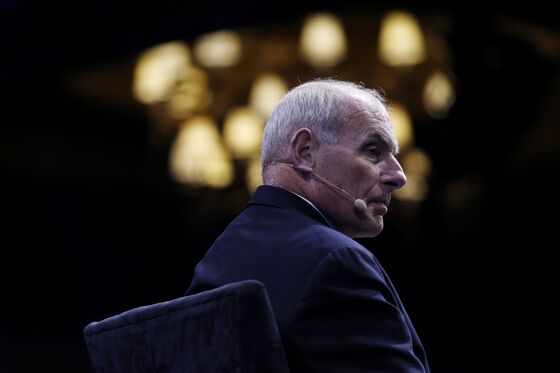 The conference is hosted by SkyBridge's founder and co-managing partner, Anthony Scaramucci, who served 11 days as White House communications director before Kelly fired him shortly after being named chief of staff in the summer of 2017. Scaramucci interviewed Kelly on Wednesday, and the pair joked about their brief time working together.
"What a lot of people don't know is since then, we've kind of developed a friendship," Kelly said.
The two men discussed challenges they faced in their White House jobs, including the disruption Trump could cause on social media. Kelly said he "never tried to get him to stop using Twitter" but conceded that the president occasionally caused him headaches.
"I'd say, OK, you've made my life more complicated than it had to be today," Kelly said.