U.K. Labour Leader Keir Starmer Says Winning Back Voters a 'Four-Year Project'
(Bloomberg) -- Labour Party leader Keir Starmer said the U.K.'s main opposition party has a "lot of work" ahead to win back supporters as he presented a "four-year project" to dislodge Boris Johnson's Conservatives.
In an interview with Bloomberg, Starmer insisted Labour is "under new management" after his predecessor Jeremy Corbyn led the party to a landslide election defeat in December 2019. He said he's shifting Labour's mindset toward a "strong relationship" with business, and urged the government not to jeopardize a recovery in the U.K. by raising taxes.
Starmer said Labour is spending "a lot of our time" talking to companies of all sizes about the problems they face over coronavirus, as well as additional red tape following the U.K.'s departure from the European Union.
"A strong relationship and partnership with business is the only way to secure that longer-term economic future," he said.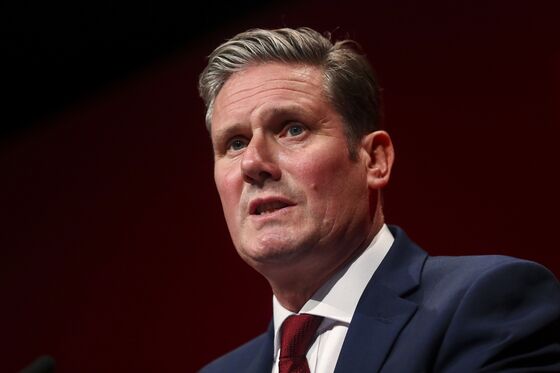 Earlier on Thursday, Starmer used a televised speech to criticize the legacy of a decade of Tory rule that he said left Britain exposed when the pandemic hit.
The Labour leader, who is approaching a year in the role after replacing Corbyn in April, is seeking to bolster his appeal to voters after recent polls suggest Tories are reaping the benefit of an ambitious coronavirus vaccination program that has seen more than 15 million people receive a shot.
Labour has struggled to get its message through with the public's focus firmly on the pandemic, and Starmer is using the government's March 3 budget to draw attention to Labour's plans.
He insisted now is not the time for a new wave of austerity or tax rises, saying that would "choke off the recovery." Those decisions were for the "medium to long term," he said.
He declined to rule out proposing a wealth tax. "In due course all parties will have to set out their proposals for tax going into the 2024 election," he said.
At the heart of Starmer's speech was a plan for a "British recovery bond" to fund infrastructure projects after the pandemic. These bonds would "need to have a competitive interest rate," Starmer told Bloomberg, but would also offer security to the saver.
Asked whether it would make more sense to raise money in other ways when market rates are low, he said these were "not mutually exclusive options" but a "significant amount of money" could be raised by allowing people "to have a stake in what's happening next."
It's a significant departure from Corbyn, and Starmer accepted it would make some Labour members uncomfortable. He's faced criticism, especially from the former leader's supporters on the left of the party in recent weeks. The internal unease has been exacerbated with Labour still trailing in the polls, despite the U.K. recording 118,000 deaths in the pandemic.
"Yes, there will be differences," Starmer said. "But actually I think the whole party movement and the public at large want to move forward now."

In a hint of the challenges he faces in upcoming local and mayoral elections in May, Starmer said the scale of Labour's defeat in 2019 meant he would need the full parliamentary term to convince its former voters to come back.
"Are we going to need the four years? You bet we are," he said. "I always thought that rebuilding from the devastating result from 2019 to being in a position to win in 2024 was a four-year project and we will sweat blood every day, week, month and year on that four-year project."