Trump Orders Kavanaugh FBI Probe After Senate Delays Confirmation Vote
(Bloomberg) -- President Donald Trump ordered an FBI investigation into sexual assault allegations against Supreme Court nominee Brett Kavanaugh after a request by Senate Republicans, a new roadblock for a nominee the GOP had hoped to muscle through the chamber within days.
The move comes a day after a raucous Senate hearing where Kavanaugh forcefully and tearfully denied claims by Christine Blasey Ford that Kavanaugh sexually assaulted her in high school.
"As the Senate has requested, this update must be limited in scope and completed in less than one week," Trump said Friday afternoon in a statement.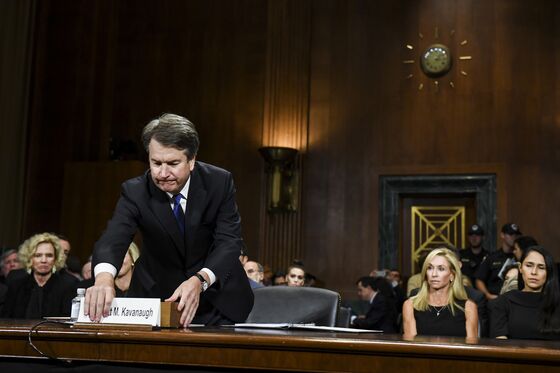 Kavanaugh in a statement released by the White House, said Friday, "Throughout this process, I've been interviewed by the FBI, I've done a number of 'background' calls directly with the Senate, and yesterday, I answered questions under oath about every topic the Senators and their counsel asked me. I've done everything they have requested and will continue to cooperate."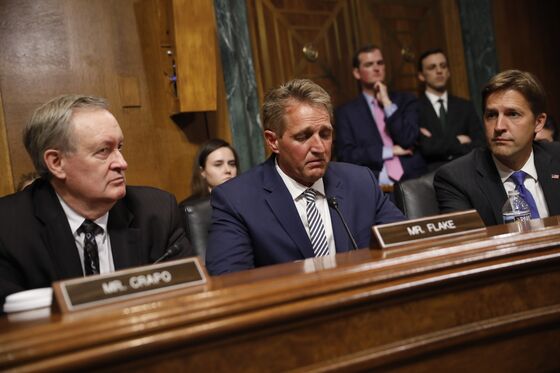 The Judiciary panel asked that the investigation be "limited to current credible allegations" against Kavanaugh. GOP Senator Jeff Flake of Arizona, who had demanded the move, told reporters that means that addition to Ford's claim, the FBI could decide whether to look into allegations of sexual misconduct by two other women.
Other senators backed Flake's request, including Republicans Lisa Murkowski of Alaska and Susan Collins of Maine, as well as Democrat Joe Manchin of West Virginia, who has been viewed as a possible vote in favor of Kavanaugh.
Late Friday afternoon, the Senate agreed on a voice vote to take up the nomination, formally opening debate on Kavanaugh as Republicans sought to show momentum while the FBI conducts its investigation. Before Flake's call for the FBI probe, GOP senators had planned to work this weekend in an effort to take a final confirmation vote as early as Tuesday.
Democrats had repeatedly demanded an FBI investigation since Ford's allegation surfaced a few weeks ago, and they hammered at the issue throughout Thursday's raucous Judiciary panel hearing where Ford and Kavanaugh testified.
Republicans who back Kavanaugh said there was no corroborating evidence for Ford's allegation. Democrats pointed to the lack of an impartial investigation and the committee's refusal to call witnesses who might be able to back up her claim, or to seek testimony from the two other women who accused Kavanaugh of sexual misconduct.
Separately, former Kavanaugh classmate Mark Judge -- who Ford says witnessed and encouraged the attack -- told the committee in a letter he will cooperate with any law enforcement agency that investigates "confidentially." He also "categorically" denied sexual misconduct claims against him and Kavanaugh made by another accuser, Julie Swetnick. Judge had previously notified the Judiciary Committee that he didn't want to testify in public.
The Judiciary Committee voted 11-10 on party lines Friday to send Kavanaugh's nomination to the Senate floor. After the Judiciary panel meeting concluded, Grassley told top Democrat Dianne Feinstein of California the plan was "a gentlemen's and women's agreement."
Flake of Arizona, who had been undecided until Friday morning, announced his demand for an FBI investigation not long after announcing his support for Kavanaugh.
Flake said he would "only be comfortable moving on the floor until the FBI has done more investigation than they have already." He added: "It may not take them a week. We owe them due diligence."
Later, Flake told reporters, "I want to support Judge Kavanaugh. I'm a conservative and he's a conservative."
Flake's proposal was endorsed by GOP Senator Lindsey Graham, a strong Kavanaugh backer who said, "What Jeff is saying makes sense to me." Senator Orrin Hatch of Utah, another top GOP backer of Kavanaugh, told reporters he thought an FBI investigation was "overkill" but that he was okay with the idea.
Democrat Chris Coons told reporters that Flake only struck the deal with Democrats "after having reassurances from some other senators in his party."
Coons of Delaware said that after Flake announced his support for Kavanaugh earlier Friday, they had a private conversation and Coons said he told Flake, "I respect you as my friend, but I'm having difficulty with your vote. It became a much broader conversation."
A U.S. official with knowledge of the matter said the FBI could complete an investigation within a week, but the timeline ultimately depends on what is involved, such as the number of interviews that need to be done and whether newly uncovered information needs to be followed up on.
Connecticut Democrat Richard Blumenthal, a Democrat on the Judiciary panel, said an FBI investigation "has to be more than a sham, and a charade."
"What's really needed now is a penetrating, complete, fair and impartial investigation by the FBI," Blumenthal said, including an interview of Judge.
On Thursday the Judiciary committee heard Ford, a California psychology professor, testify that she's "one hundred percent" certain Kavanaugh attacked her in 1982 when they were teenagers, describing in detail being held down on a bed at a drunken high school gathering. She described "uproarious laughter" by Kavanaugh and Judge, who has said he doesn't recall such an incident.
Kavanaugh angrily, tearfully and "unequivocally" denied any wrongdoing involving Ford and other women who have made claims of sexual misconduct in recent days. He denounced his treatment as a political hit orchestrated by Democrats.
A second woman, Deborah Ramirez of Colorado, claims Kavanaugh exposed himself to her at a drunken party when they were freshmen at Yale. And in the most lurid allegation yet, Swetnick of Washington said in a sworn statement released Wednesday that Kavanaugh took part in efforts during high school to get girls intoxicated so that a group of boys could have sex with them.
The American Bar Association and Heather Gerken, dean of Yale Law School where Kavanaugh earned his law degree, called for a delay in Kavanaugh's confirmation to allow an investigation.