Kavanaugh Takes Oath From Roberts, Becomes New Top Court Justice
(Bloomberg) -- Brett Kavanaugh became the newest U.S. Supreme Court justice on Saturday when he was sworn in by Chief Justice John Roberts and retired Justice Anthony Kennedy, hours after winning confirmation from a bitterly divided Senate.
Kavanaugh, 53, is the 102nd associate justice in the nation's history and 114th member of the court when also counting the chief justices. He was confirmed by the Senate on a 50-48 vote, the smallest margin in more than a century.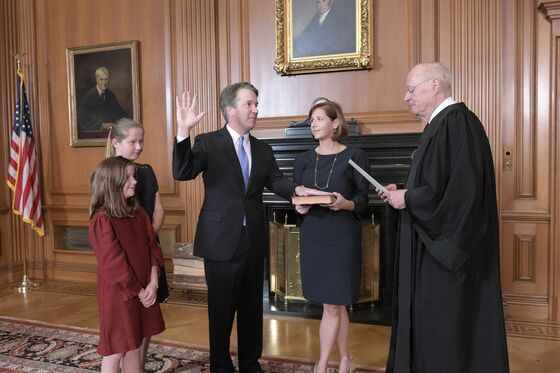 The private ceremony was held in the justices' conference room in the Supreme Court building. Also attending were Justices Clarence Thomas, Ruth Bader Ginsburg, Samuel Alito and Elena Kagan, according to court spokeswoman Kathy Arberg.
Hundreds of demonstrators chanted outside on the front steps next to the bronze front doors. One demonstrator sat with raised fist on the lap of one of the two large, marble statues flanking the front steps. Later, court police slowly moved the demonstrators off the front steps to the sidewalk in front of the building.
A formal investiture ceremony will be held in the courtroom at a later date, according to a statement from the court.
"We have a great new Supreme Court justice and he's going to be there for many years," President Donald Trump told reporters as he arrived in Topeka, Kansas, to hold a campaign rally Saturday evening.
The oath administered by Roberts is mandated by the Constitution while the other, given by Kennedy, is required under the Judiciary Act of 1789. Kavanaugh replaces Kennedy, whom he served as a law clerk in 1993-94.