Kavanaugh Still Standing After Senate Showdown
Christine Blasey Ford's Senate testimony that she's "100 percent" certain Brett Kavanaugh was the person who attacked her at a 1982 house party hasn't shaken President Donald Trump's support for his Supreme Court nominee, as Republicans press ahead with his confirmation.
The Senate Judiciary Committee plans to vote this morning, following a nearly nine-hour hearing yesterday that degenerated into bitter partisanship. Kavanaugh's defiant, argumentative behavior before the panel contrasted with the soft-spoken and admittedly "terrified" Ford, whose account even some Republicans described as credible.
Trump called for the Senate to confirm Kavanaugh — who repeatedly denied ever committing sexual misconduct — as soon as the hearing concluded, echoing the nominee's accusation that Democrats were on a "search-and-destroy" mission. The full Senate could vote early next week.
Regardless of the outcome, yesterday's events seared into the American consciousness the gulf between women who've felt their misconduct claims have been minimized and conservative men aggrieved by a system they see as rigged against them.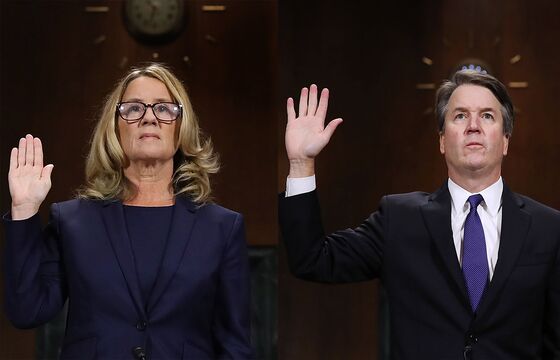 Populism wins | Five Star and the League came out on top in their first big battle with the mainstream officials trying to put a brake on their spending ambitions in Italy. The populist coalition partners secured a 2019 deficit target of 2.4 percent yesterday after weeks of wrangling – three times the shortfall the previous administration projected. Italian bonds and stocks tanked.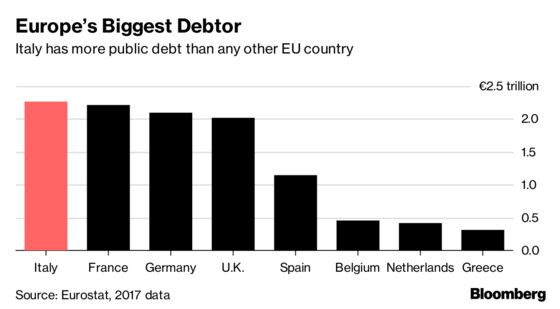 Welcome back, Mr. President |  A year after he accused Germans of using Nazi methods to stop election rallies by Turkish immigrants, Recep Tayyip Erdogan is meeting Chancellor Angela Merkel on a state visit in Berlin today. Hemmed in by U.S. pressure and an economic crisis, the Turkish leader is seeking to repair relations with Europe's political figurehead, the latest sign of a global realignment as the world adjusts to Trump.
Ramaphosa's quandary | When Trump tweeted in August that South Africa was engaged in "the large scale killing" of white farmers to seize their land, the nation's president, Cyril Ramaphosa, didn't respond personally. As Sam Mkokeli writes, a fabricated accusation from the leader of the free world was the least of his problems. Ramaphosa must instead focus on market reforms that many in his badly fractured party detest.
Architect of a crackdown | If one person sums up the values gap between a rising China and the West, it may be Chen Quanguo. The most senior Communist Party official in the far western region of Xinjiang has orchestrated a crackdown against Muslim minority Uighurs, which the United Nations says has placed as many as 1 million of them in "re-education camps." Some U.S. lawmakers want him sanctioned. But in China, Chen is a rising star.
Tory smackdown | The two biggest names in the governing Conservative Party square off again next week in a deepening rivalry shaping Britain, Tim Ross writes. Former Foreign Secretary Boris Johnson, in a 4,600-word essay in the Daily Telegraph today, attacked the government's "disastrous" strategy for leaving the European Union in six months. Now Prime Minister Theresa May must find a response that can unite the Tories and see off the man who wants her job.

Below, sunset on a farm in Australia, which is enduring a devastating drought. To see more photos from our Political Focus slideshow, click here, and to play this week's quiz, here.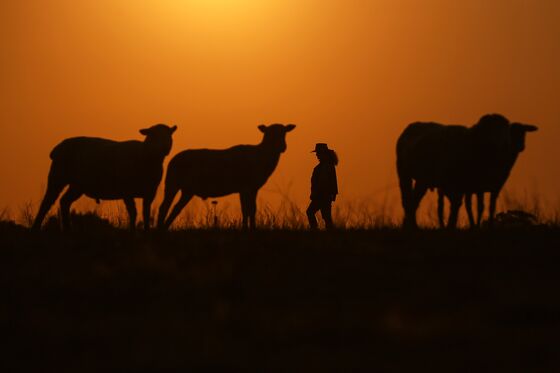 And finally ... May's attempt to leave New York quickly after her speech to the UN was sabotaged when the bus carrying some of her key staffers broke down en route to JFK airport. Separated from the official motorcade, and blocking two lanes of traffic, her aides had to suffer the indignity of her chief of staff taunting them on Twitter that the plane was about to leave without them. They were rescued by NYPD officers who rushed them to the runway — their reward was a chance to pose with a grateful prime minister.