Kavanaugh's Fiery Denial Gives Republicans Cover to Vote 'Yes'
(Bloomberg) -- Brett Kavanaugh's passionate denial of allegations of sexual misconduct may have convinced Republicans who want to vote "yes" to put him on the Supreme Court that they can overlook his accuser's credible and moving testimony.
In combative testimony to the Senate Judiciary Committee, Kavanaugh rejected accusations of sexual assault made by Christine Blasey Ford, a California college professor, just hours before. He bashed Democratic senators who criticized him, assailed media reports on the allegations, and claimed to be the victim of a conspiracy driven by anger over President Donald Trump.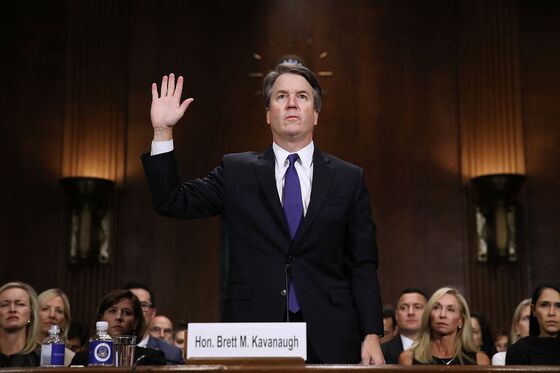 Kavanaugh's behavior before the committee -- defiant, argumentative, his voice raised -- contrasted in stark fashion with the soft-spoken and admittedly "terrified" Ford.
At least one person liked what he heard from the nominee: Trump himself. The president thought Kavanaugh's angry and emotional opening statement to the committee was strong, according to three people familiar with Trump's thinking. Within the White House, the consensus was that the nominee showed passion and honesty.
Trump called for the Senate to confirm Kavanaugh as soon as the hearing concluded.
The testimony also appeared to rally conservatives. Republican senators on the panel argued a vote against the nominee would legitimize a "charade."
"To my Republican colleagues: if you vote 'no,' you're legitimizing the most despicable thing that I have seen in my time in politics," Senator Lindsey Graham, the South Carolina Republican, said in an emotional and angry statement to the panel, dispensing with the female sex-crimes prosecutor Chairman Chuck Grassley had hired to ask questions of Ford on behalf of the all-male GOP side.
But a high-stakes choice awaits other Republican senators, who must decide whether to press forward with a nominee who could both alter the ideology of the Supreme Court for a generation and damage their party's standing with a generation of women and millennials.
And at the end of the tumultuous day, the American Bar Association urged the Judiciary Committee to proceed with a confirmation vote "only after an appropriate background check into the allegations made by Professor Ford and others is completed by the Federal Bureau of Investigation."
A high court appointment, the association's president, Robert Carlson, said in a letter "is simply too important to rush a vote."
Kavanaugh cited "his unanimous well qualified rating from the American Bar Association" in his testimony on Thursday afternoon.
The Kavanaugh hearing crystallized what has become a central divide in American politics. On one side: women who for decades have suffered as their stories of sexual assault and harassment went ignored or ridiculed. On the other: conservative men aggrieved by a system they see as rigged against them and rife with unfair and reputation-destroying accusations.
Both sentiments were embodied in the proceedings, with emotional and electric testimony from the accuser and accused. But while the sex-crimes prosecutor, Rachel Mitchell, probed discrepancies in Ford's testimony for hours while the Republicans who had hired her sat silent, she was relieved of her duties shortly into Kavanaugh's testimony to make way for political attacks.
Ford, who said the alleged assault had been "seared into her memory," in turn seared her story into the national political consciousness.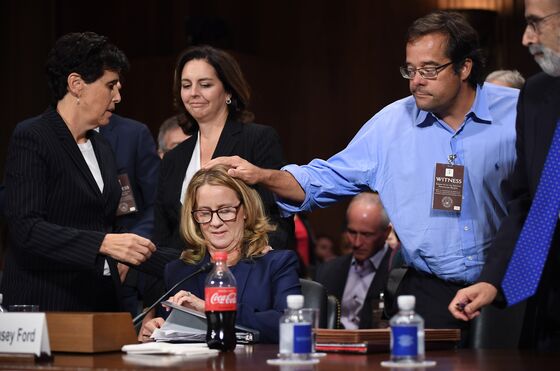 The early verdict -- on social media, television networks, and offices around the country tuned in to the hearing -- was that Ford's testimony was powerful and believable. Her vivid, specific and heartbreaking account invited contrast with the angry bickering over Senate rules and procedures by lawmakers, and the preemptive dismissal of her account by Trump.
She told of being afraid she would die as she was pinned to a bed, her mouth covered to keep her from screaming. The sickening laughter from her attacker and his friend as she struggled to break free. And the horror and claustrophobia she feels decades later -- so terrible that she asked that a second front door be installed on her California home.
She said she was "100 percent" sure that Kavanaugh had been her attacker.
Sitting at the same table hours later, Kavanaugh delivered his denial.
Denouncing the confirmation process as "a national disgrace," he accused Democrats on the panel of a "calculated and orchestrated political hit." He said fear had been "unfairly stoked about my judicial record, revenge on behalf of the Clintons and millions of dollars in money from outside, left-wing opposition groups."
Kavanaugh was also brought to tears as he described the impact of the allegations on his family and career. But he flatly and unequivocally denied any sexual misconduct at any point in his life, and vowed not to exit the confirmation process.
"You may defeat me in the final vote," Kavanaugh said. "But you will never drive me to quit."
Thursday's proceedings didn't do much to change the nature of the accusations, the fact that no corroborating evidence or testimony has been presented, or that Kavanaugh has steadfastly denied any such incident occurred. But the emotional testimony humanized a case that has -- and may still -- serve as a cultural and political litmus test.
Supporters for Kavanaugh saw his denial as impassioned and fierce, and the performance was cheered by many conservatives who have long complained that liberals and the media unfairly wield charges of sexism or racism as a cudgel against conservatives.
But Democratic lawmakers, including Representative Colleen Hanabusa, said his appearance revealed an angry temper and questioned whether he could ever serve impartially on the nation's highest court.
At one point, he churlishly asked Democratic Senator Amy Klobuchar if she herself had ever drunk to excess after she asked if he had ever blacked out while drinking. He apologized to her after a recess.
"What I was thinking is if he was a judge in a courtroom and I had acted like that -- and this is our courtroom -- he would have thrown me out," Klobuchar said in an interview with NBC Friday morning.
The gambit by Senate Republicans to hire Mitchell failed to pay dividends, providing no blockbuster revelations that might undermine Ford's testimony or the polygraph test that supported it.
Some Republicans, including Graham, seized on lapses in Ford's memory. Others said that Kavanaugh's nomination should not be derailed by an uncorroborated allegation.
Inside the White House, multiple officials speaking on the condition of anonymity conceded that Ford appeared credible while stressing that she had demonstrated gaps in her memory surrounding the incident. The president said Wednesday that he didn't believe Ford's accusation, but signaled he might be swayed by her testimony and reevaluate his decision to stick with Kavanaugh.
His tweet after the hearing put an end to the equivocation.
Administration officials remained hopeful that the lack of new and damning evidence against Kavanaugh -- paired with his impassioned defense -- would provide swing Republican senators with enough cover to push through with the nomination. The GOP can only afford one defection to secure his confirmation.
Republican senators met at the Capitol Thursday night and emerged saying the Judiciary Committee will vote on Kavanaugh's nomination Friday followed possibly by a procedural test vote on Saturday. That would set up a vote on the nomination by the full Senate early next week.
Three Republican senators haven't revealed their stance: Susan Collins of Maine, Lisa Murkowski of Alaska and Jeff Flake of Arizona. Flake is a member of the Judiciary panel and Collins and Murkowski are key votes with Republicans holding a two-vote majority in the Senate.
Majority Leader Mitch McConnell, a Kentucky Republican, has guaranteed the nomination would come to the Senate floor.
Such a move after Thursday's testimony would only lay bare the cold political calculus, and leave no good answers to questions that opponents are certain to raise for years: how could Republicans say they're taking the allegations seriously, yet refuse to order an FBI investigation or subpoena other potential witnesses. Or: why hasn't the Senate heard from two other women who have alleged sexual misconduct by Kavanaugh during drunken parties as a young man.
Mark Judge, a friend of Kavanaugh's who Ford said was present when the alleged attack occurred, wrote in a letter released by the Judiciary Committee on Thursday night that "I do not recall the events described by Dr. Ford in her testimony before the U.S. Senate Judiciary Committee today. I never saw Brett act in the manner Dr. Ford describes."
In the letter, which was also signed by his lawyer, Judge said "we have told the committee that I do not want to comment about these events publicly. As a recovering alcoholic and a cancer survivor, I have struggled with depression and anxiety. As a result, I avoid public speaking."
Republicans will have to decide whether to push forward, and how such action will be interpreted by a nation watching intently -- and heading to the polls in just two months for a referendum on GOP governance. But fears of reprisal seem unlikely to deter Republican leaders.
In the hearing, Senator John Cornyn, a Texas Republican, indicated that the plan was to plow forward.
"You have been accused of a crime," he told Kavanaugh. "They need to come forward with some corroboration."