Kavanaugh Hearing Draws Supreme Court Into Politics It Disclaims
(Bloomberg) -- The U.S. Supreme Court was already struggling to stay above politics. That may be about to get a lot harder.
High court nominee Brett Kavanaugh's Senate testimony in response to allegations of sexual assault left a partisan gulf -- with him squarely on the Republican side. Kavanaugh and Democratic senators scowled and shouted at each other as he angrily, and sometimes tearfully, denied the claims.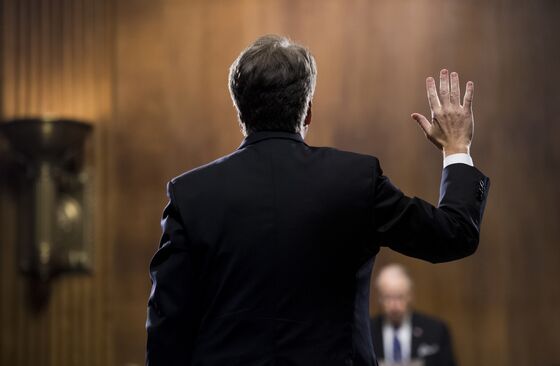 The spectacle that unfolded on live television last week guarantees that if Kavanaugh is confirmed by the Republican-controlled Senate he will arrive at the Supreme Court carrying heavy political baggage. The court's new nine-month term opens Monday.
The political taint would come at a tipping point on some of the nation's most polarizing issues. Kavanaugh could provide the decisive vote to roll back abortion rights, outlaw affirmative action programs and slash environmental regulations. He might be called upon to rule on issues stemming from the special counsel investigation of President Donald Trump.
Kavanaugh would become Trump's second Supreme Court appointee, following Neil Gorsuch, whom Trump selected after Republicans blocked a vote on President Barack Obama's nomination of Merrick Garland.
Kavanaugh's nomination is on hold after last-minute demands from a key Republican for a one-week FBI probe of the assault claims. The GOP had been resisting Democrats' calls for such an investigation but changed course after it became clear there wouldn't be enough votes to confirm him without it.
How the whole confirmation ordeal might affect Kavanaugh is something that could take years to play out. Two other Republican-appointed justices who endured divisive confirmation hearings -- Clarence Thomas and Samuel Alito -- have suggested they nursed their wounds long after joining the court.
Years after Alito won confirmation in 2006, he said he made a practice of crossing the street so as not to walk past the Senate building where his hearing was held. Alito was criticized for his membership in a group that opposed admission of women and allegedly unqualified minorities to Princeton.
Thomas, confirmed in 1991 despite sexual harassment allegations against him, wrote in his 2007 book that he was battling a "mob" determined to "keep the black man in his place."
Thomas and Alito have since become entrenched members of the court's conservative wing, far less interested than Roberts in reaching narrow rulings that might attract votes from some of the court's liberals.
At Thursday's Senate Judiciary Committee hearing, Kavanaugh described the allegations against him as a "calculated and orchestrated political hit." He blamed "apparent pent-up anger about Trump and the 2016 election" and "revenge on behalf of the Clintons." The latter comment alluded to his role investigating President Bill Clinton's affair with a White House intern two decades ago.
"This is a circus," Kavanaugh said.
He spoke after Christine Blasey Ford, a California college professor, testified she was "one hundred percent" sure he was the one who attacked her in 1982 when both were high school students. Ford is one of three women to publicly accuse Kavanaugh of sexual assault or misconduct.
If confirmed, Kavanaugh would join a court whose members "don't work as Democrats or Republicans," according to Chief Justice John Roberts. Even so, the court is divided along ideological lines, with the four Republican appointees currently on the court often sharply at odds with the four Democratic-appointed justices.
When he testified before the Senate panel three weeks ago, Kavanaugh presented himself as someone determined to stay above the political fray and to be part of a "team of nine" should he join the court.
"The Supreme Court must never, never be viewed as a partisan institution," Kavanaugh said on Sept. 4. "The justices on the Supreme Court do not sit on opposite sides of an aisle. They do not caucus in separate rooms."
By Thursday, his tone had changed dramatically. He pointed to a "frenzy on the left" to block his confirmation. He used the word "Democratic" when discussing his perceived tormentors eight times in his opening statement.
"The behavior of several of the Democratic members of this committee at my hearing a few weeks ago was an embarrassment," Kavanaugh said.
Republican members of the committee reinforced Kavanaugh's stance. Senator Lindsey Graham of South Carolina called the attacks on the nominee "the most despicable thing I have seen in my time in politics."
Even before the sexual harassment allegations arose, Democrats said the nomination was tainted because Republicans hadn't turned over all the records from Kavanaugh's work in President George W. Bush's White House.
Senator Richard Blumenthal, a Connecticut Democrat, said during Kavanaugh's first hearing three weeks ago that his appointment would carry an "asterisk."
The planned One-week probe into sexual abuse allegations hasn't put to rest concerns raised by Democrats. The probe will be limited in scope in ways dictated by the White House, said a person familiar with the proceedings. That apparently includes not following up on claims of sexual misconduct by Kavanaugh from Julie Swetnick, another woman to come forward.
"I hope the FBI has free hands over the next week to investigate, and that certainly means to call in all the relevant witnesses," Representative Jerrold Nadler, the top Democrat on the House Judiciary Committee, said Sunday on ABC's "This Week." "If they don't, that's a real problem."