Kavanaugh College Visit to Bar Erupted in Fight, Classmate Says
(Bloomberg) -- Future Supreme Court nominee Brett Kavanaugh and two fellow Yale University students were in an off-campus bar back in 1985.
They had just come from seeing the English reggae band UB40 at a nearby venue in New Haven, Connecticut, when they saw a man who resembled the lead singer. The man told the trio he wasn't the singer and brusquely told them to stop looking at him. Kavanaugh couldn't let the comment pass, according to one of the two friends with Kavanaugh that night.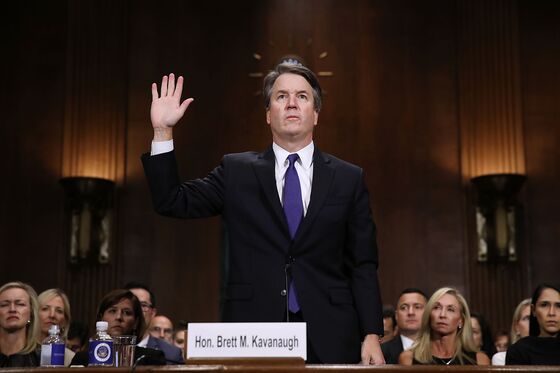 Kavanaugh first cursed at the man. After the man responded in kind, Kavanaugh threw a beer in his face, said Charles Ludington, a former Yale basketball player who's now a history professor at North Carolina State University. The act precipitated a brawl that drew in their other friend -- Yale basketball star and future NBA player Chris Dudley -- who was taken into custody, according to a police report.
"It was sort of a general feature of hanging out with Brett in college," Ludington said. "When you're having beers on a Friday or Saturday night, that was kind of Brett's shtick. He was aggressive. He was belligerent."
The White House had no comment when asked about Ludington's account and the police report, instead referring a reporter to statements issued earlier by Dudley and another classmate attesting to Kavanaugh's character.
Kavanaugh's nomination to the high court is mired in allegations of drunken behavior and sexual misconduct following a Senate Judiciary Committee hearing last week in which a California college professor, Christine Blasey Ford, testified that he assaulted her while drunk when the two were teenagers. Kavanaugh denies the assault, but acknowledged drinking beer as a youth. Democrats have raised questions about his temperament and whether he was truthful about the extent of his alcohol use.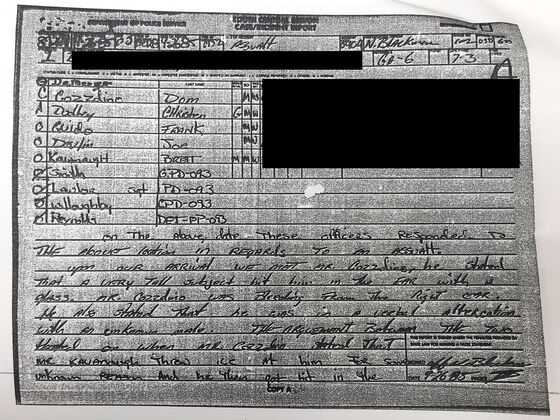 Kavanaugh was frequently "belligerent and aggressive" after drinking and had lied to senators about his experience with alcohol, Ludington said in a statement released to the news media Sunday. The barroom fisticuffs were the most searing example of Kavanaugh's behavior he remembers, Ludington said in interviews with Bloomberg News, in which he expanded on his statement for the first time.
A police report from that night confirmed that there was a fight at the bar, though some details are different from Ludington's memory. The 21-year-old victim, Dom Cozzolino, told police, "Mr. Kavanaugh threw ice at him for some unknown reason and then he got hit in the ear with a glass."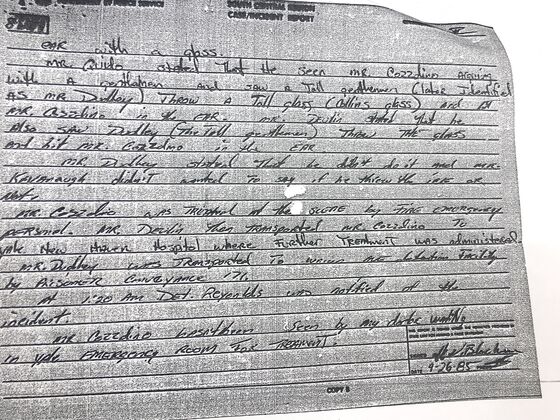 A witness said that Dudley, identified in the report as "a tall gentleman," threw a glass and hit Cozzolino in the ear. Dudley "stated that he didn't do it and Mr. Kavanaugh didn't wanted to say if he threw the ice or not," the report, provided by the New Haven Police Department, said.
Cozzolino was taken to a local hospital. Dudley was transported to a police detention facility. The report doesn't name Ludington.
Dudley was arrested that night, though it's unclear what the charges were and if anyone was prosecuted, New Haven Police media liaison David Hartman said Tuesday. Police checked with the court system and were unable to find any record of a case, he said.
"We have no disposition on this case whatsoever," Hartman said.
The lack of a supplemental report suggests the investigation didn't progress much further, he said. Courts and prosecutors have a variety of ways to dispose of cases without obtaining a conviction.
Mark Dupuis, a spokesman for Connecticut Chief State's Attorney Kevin T. Kane, said records of any court case stemming from the incident likely don't exist given their age.
Police have no knowledge of additional records involving Kavanaugh, Dudley and the others, Hartman said.
Ludington said he has been in contact with the FBI, which is conducting a one-week investigation in the wake of the Senate hearing on Kavanaugh's nomination. The investigators asked him for more information.
Dudley, a 6'11" center, played for 16 years in the NBA on various teams, including the Nets and Knicks. He ended his career with the Portland Trailblazers.
He was the Republican nominee for governor in Oregon in 2010, losing narrowly. He is now a California-based certified financial planner with Boston Private.
Dudley didn't respond to a voicemail and email left at his office asking about the incident in the bar. In a statement released Monday, he said, "I will say it again, we drank in college."
"I was with Brett frequently in college, whether it be in the gym, in class or socializing. I never ever saw Brett blackout. Not one time," Dudley said. "I would also like to point out that going out never came before working hard and maintaining our focus on our goals."
President Donald Trump said Kavanaugh's testimony last week showed that his second Supreme Court nominee had "a little bit of difficulty" with alcohol when he was younger.
"I was surprised at how vocal he was about the fact that he likes beer and he's had a little bit of difficulty, I mean, he talked about things that happened when he drank," Trump during a Rose Garden press conference Monday.
Ludington said he has no information about any of the allegations of sexual impropriety facing Kavanaugh. But he has clear memories of the nominee's drinking during college and of the incident at the bar.
The incident would become a hot topic of conversation among the other members of the basketball team because its star at the time, Dudley, was involved, according to another team member.
Team members were given a harsh lecture by coaches the next day telling them to avoid the bar, said the former player in an interview. He asked not to be named because of the intense politics surrounding the nomination hearing.
The episode occurred on a September evening in 1985 after Kavanaugh, Ludington and Dudley, attended the UB40 concert.
After the show, Ludington said, the three young men went to Demery's, a bar popular with Yale students. Soon after arriving, they spotted another man in the bar who looked like UB40's lead singer, Ali Campbell. Fans of his music, they thought they'd introduce themselves, Ludington said.
"He looked at us looking at him and said in sort of an aggressive manner, 'What are you guys looking at?' And I said, sort of apologetically, 'Sorry, we thought maybe you were the lead singer of UB40.' "
Ludington said the man replied angrily, telling them to stop looking at him. At that point, Kavanaugh responded with an expletive and the man responded with his own expletive.
"The next thing you know, Brett throws his beer at the guy," Ludington said. "The guy swings at Brett."
Ludington said he doesn't recall what Kavanaugh was doing as the fight erupted but police were called.
A calendar of concerts published in the Courant newspaper in Hartford, Connecticut, showed that UB40 played in New Haven on Sept. 25 that year.
Ludington said he called basketball coach Tom Brennan the night of the fight, though he doesn't know how the team's star player was released or how the case was handled. Brennan didn't respond to requests for comment through Sirius XM Holdings Inc., where he appears on the radio show College Sports Nation.
Drinking as a college student is hardly unique and Ludington said he had no thought of making his story public when Kavanaugh was first nominated to the nation's highest court. But watching Kavanaugh downplay his drinking in a Fox News interview and later in the contentious Senate hearing convinced Ludington he needed to set the record straight.
"I can unequivocally say that in denying the possibility that he ever blacked out from drinking, and in downplaying the degree and frequency of his drinking, Brett has not told the truth," Ludington said in his statement.
In his appearance before the Senate Judiciary Committee Thursday, Kavanaugh called the confirmation process "a national disgrace" and aggressively denied charges of sexual impropriety, including allegations by Ford that he laid on top of her and tried to forcibly remove her clothes during a party in high school.
In his opening statement, he acknowledged drinking beer. "But I did not drink beer to the point of blacking out and I did not sexually assault anyone," he said.
In the Fox interview Sept. 24, he acknowledged high school seniors drank beer at the time and "people might have had too many beers on occasion" and might "regret or cringe a bit." But he said he never was unable to remember what had happened.
Ludington doesn't recall how much they had been drinking that night. The group was most likely "pretty buzzed," he said, though not so drunk that he doesn't have a clear memory of that night.
What the incident illustrates about Kavanaugh "is just the aggressiveness that came along with the alcohol, the hair-trigger machismo, which was pathetic," he said.
That bar episode and others were something Ludington didn't find "very attractive" and he found himself drifting away from Kavanaugh as a friend.
Ludington, a registered Democrat, said he did not vote for Trump and disagrees with Kavanaugh's politics. He worked as an unpaid volunteer for Bill Clinton's campaign for president in 1992, though he said he "was not made out for the world of politics" and chose graduate school rather than pursuing a government job in the Clinton administration.
He has given a series of small donations to Democrats and Democratic Party committees since 1980, according to Federal Election Commission records.
Ludington said he had resigned himself to seeing Kavanaugh on the Supreme Court until the latest allegations emerged and the judge began defending himself on national TV and before lawmakers with what he believes are lies about heavy drinking.
"He's unable to acknowledge that about himself, which is a real shame," Ludington said. "My personal opinion, of course, that's the kind of thing that disqualifies you from being a Supreme Court justice. But I guess I'll have to let others decide that."