Harris Says Trump Threatens Social Security: Campaign Update
(Bloomberg) -- Democratic presidential candidate Kamala Harris said Tuesday that a second term for President Donald Trump would endanger Social Security due to rising deficits.
"To have four more years of this administration means to really put Social Security in jeopardy," she said at a forum in Davenport, Iowa, hosted by AARP and the Des Moines Register.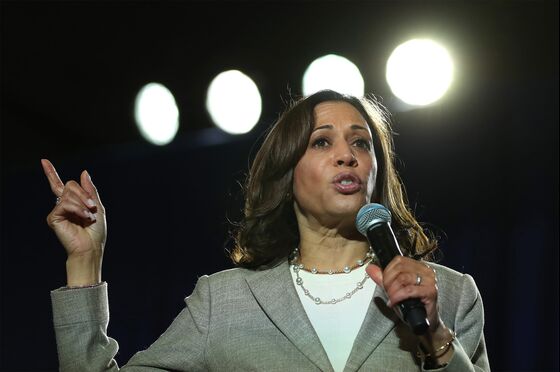 Harris said the widening deficit, which the White House projected this week will reach $1 trillion this year, was the result of Trump's tax bill, which "benefits the top 1% and the biggest corporations." Funds to make up the shortfall are "going to have to come from somewhere," she added.
Social Security is projected to be fully funded until 2034, according to its trustees, but then may be in trouble because the large Baby Boom generation, which began retiring about 10 years ago, has strained the Social Security trust fund.
Harris also defended her co-sponsorship of legislation to expand Social Security and lift the payroll tax cap to add revenues to the program, which some Democrats support but is opposed by Trump and Republicans.
New Hampshire Polls Split on Who Has 2020 Lead
A new poll of New Hampshire voters shows Joe Biden leading the Democratic field with 24% of likely voters.
The poll by CNN and the University of New Hampshire showed Elizabeth Warren and Bernie Sanders with 19% each. But the trend line may be notable: she's up by 14 points since April and he's down by 11 points since then.
State polls are tricky things months from a primary. Both the CNN-UNH poll and a Saint Anselm College poll released Monday had margins of error of more than 5 percentage points in the small state. The Monday poll showed a much tighter race with Biden, Kamala Harris and Warren all within the margin of error for first place.
The new poll shows Pete Buttigieg in third place with 10% and Harris with 9%. Nobody else tops 2%. -- Sahil Kapur
Biden Wants Stronger Antitrust Laws for Farms
Joe Biden called for the strengthening of antitrust enforcement to protect farmers and ranchers as part of a broader plan targeting voters in rural areas, which have largely become Republican strongholds.
Biden, who is leading in most polls for the Democratic presidential nomination, released a "plan for rural America" as he campaigned in Iowa on Tuesday.
His plan notes, without giving specifics, he would also work to make U.S. trade policy more favorable to farmers, especially as some are feeling the effects of President Donald Trump's trade war with China.
To help small- and medium-sized farms, Biden would strengthen enforcement under the Sherman and Clayton Antitrust Acts and the Packers and Stockyards Act, his campaign said. Another contender for the Democratic nomination, Massachusetts Senator Elizabeth Warren, has called for breaking up big agricultural businesses that supply farmers. "Consolidation is choking family farms," she said in March. -- Jennifer Epstein
Mark Sanford Is Mulling a Challenge to Trump
Former South Carolina Representative Mark Sanford is considering a primary challenge to President Donald Trump, according to a report in the Charleston Post and Courier.
Sanford told the newspaper in a story published Tuesday that he will decide whether to run over the next month. He said he would focus on sparking a debate about the debt, the deficit and spending.
Sanford served as the state's governor from 2003 to 2011. His second term was overshadowed by the disclosure he was having an extramarital affair. His staff famously explained his absence from the state by saying he was "hiking the Appalachian Trail," when in fact Sanford, who was married, was in South America visiting another woman. He was censured by the South Carolina Supreme Court.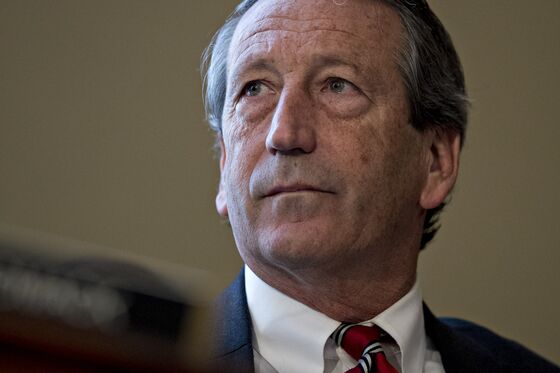 He was elected to Congress in 2013, became a fierce critic of Trump, but lost the Republican primary for his House seat in 2018 after Trump endorsed his opponent.
If he decides to run, Sanford would join former Massachusetts Governor William Weld who is also challenging Trump. Both face a daunting task campaigning against an incumbent president who remains popular with the party's base. -- Max Berley
Sanders Would Meet With Dictators But No Praise
Bernie Sanders said that as president he would sit down with authoritarian leaders like North Korea's Kim Jong Un or Russia's Vladimir Putin even though he remains critical of President Donald Trump's "respect and affection for" dictators around the world.
"Should we sit down and negotiate with them? Absolutely," the Vermont senator and Democratic White House contender said at a Washington Post Live news event Tuesday. "Should we praise them as a great leader? I don't think so."
Sanders also said that he would directly engage with leaders of Iran to try to improve strained relations and quell the risks of conflict that have been escalating under Trump. He said he would convene a broader meeting between the U.S., Iran, Saudi Arabia and other Middle Eastern nations to try to reduce tensions in the region.
"I think there is an opportunity to sit down with them, explain to them our concerns about their support for this or that terrorist group, their missile program," Sanders said in the wide-ranging interview. "But also to tell Saudi Arabia and Iran that we are sick and tired of losing young men and women in the war on terror and spending trillions of dollars."
Meanwhile, Sanders said he probably would not move the U.S. Embassy back to Tel Aviv from Jerusalem if he's elected, although he said that could be a factor in peace talks among the U.S., Israel and Palestinians. Trump in late 2017 announced U.S. recognition of Jerusalem as Israel's capital, even though it is disputed territory.
Biden Says He Won't Be 'Third Term of Obama'
Joe Biden's presidency wouldn't just be a continuation of Barack Obama's two terms, the former vice president contended in an interview airing Tuesday.
"This is not a third term of Obama," he told MSNBC's Mika Brzezinski in an interview conducted Monday in Iowa when she asked about his relationship with the former president.
"The world's changed. It's different. We have the same value set, he and I," Biden said. "It's a different world. The same things don't apply."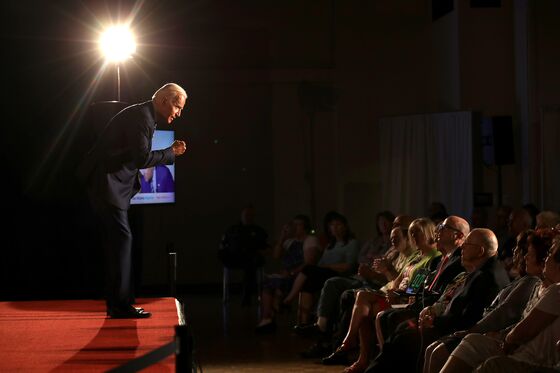 The Democratic front-runner frequently invokes Obama on the campaign trail and has offered policy positions that align closely with the Obama administration's work. He unveiled a plan Monday to defend and build on the Affordable Care Act at a time when other Democratic presidential hopefuls are looking past the signature Obama achievement on health care and advocating for Medicare for All. And he even fell into a trap Monday that Obama set on health care a decade ago, promising that under his proposal, "if you like your health care plan, your employer based plan, you can keep it."
Despite their close ties -- which Biden noted include friendships between his granddaughters and Malia and Sasha Obama -- Obama has not endorsed Biden, which he claimed in the interview was "because I have asked him not to do that -- I don't want to put him in that spot and I want to earn this on my own." Obama has said that he will stay out of the Democratic primary until there is a nominee to avoid influencing the race.
Even without an endorsement, Biden wants voters to know that the ties run deep. "We're friends. You know, it's family," he said. -- Jennifer Epstein
Kamala Harris Threatens to Probe Drug Makers (6 a.m.)
A centerpiece of Kamala Harris's new plan to tackle rising prescription drug prices is a threat to launch an investigation into drug companies that are "price-gouging patients."
The Democratic contender says she'd do that by executive action if Congress doesn't pass her plan to lower drug costs in her first 100 days. She says she'd demand that the bad actors lower their prices, and if they refuse, use regulatory powers to import cheaper alternatives and license some patents to low-cost competitors under the Bayh-Dole Act. -- Sahil Kapur
On Wednesday, CNN and the Democratic National Committee, the organizers of the next round of Democratic debates on July 30 and 31, will announce which 20 candidates will qualify for the event. On Thursday, CNN will broadcast a live drawing that will determine the lineup of 10 candidates on each night.
Nineteen of the two dozen or so Democratic candidates are participating in AARP's five forums in Iowa between Monday and Saturday.
The Tuesday event in Davenport will feature Senators Kirsten Gillibrand and Kamala Harris, and former HUD secretary Julian Castro.
The Wednesday event in Cedar Rapids will feature Representatives Tim Ryan and Tulsi Gabbard, and Senator Michael Bennet.
The Friday event in Sioux City will feature Senator Elizabeth Warren, author Marianne Williamson, former Representative Beto O'Rourke and tech entrepreneur Andrew Yang.
The Saturday event in Council Bluffs will feature Senator Bernie Sanders, South Bend Mayor Pete Buttigieg, Montana Governor Steve Bullock and New York City Mayor Bill de Blasio.