DOJ Preparing Opinion Backing Whitaker's AG Appointment, Source Says
(Bloomberg) -- The Justice Department is writing a legal opinion justifying President Donald Trump's decision to bypass normal procedures and name Matthew Whitaker as acting attorney general, according to a person familiar with the matter.
The opinion from the department's Office of Legal Counsel is expected to be issued Tuesday, just as the state of Maryland plans to ask a federal judge to rule that Whitaker's appointment wasn't legitimate, according to the person, who asked not to be identified discussing internal planning.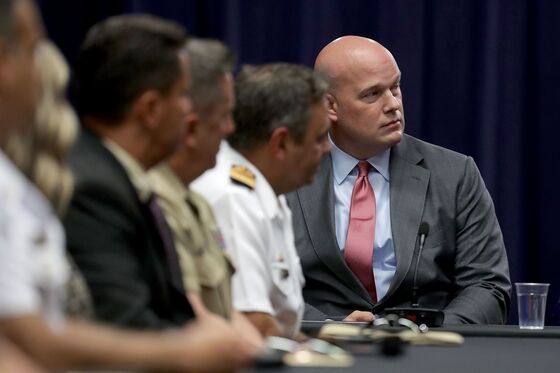 Whitaker, who was chief of staff to Attorney General Jeff Sessions, took control of the Justice Department on Nov. 7 after Trump pushed out Sessions. His eligibility to take over the department has been challenged as a threshold issue by Democrats and some legal experts.
Rather than follow the department's line of succession, which called for Deputy Attorney General Rod Rosenstein to serve as the acting attorney general, Trump invoked a provision in the Federal Vacancies Reform Act to install Whitaker. That law allows for a president to name someone to a post on an acting basis if he or she served in a senior capacity within the department for at least 90 days. Whitaker came into the department in September 2017.
Critics argue that Whitaker shouldn't be permitted to serve as acting attorney general because he hasn't been confirmed by the Senate during Trump's presidency. He was confirmed in 2004 to serve as U.S. attorney for the Southern District of Iowa but left government service in 2009.
As acting attorney general, Whitaker also has taken over supervision of Special Counsel Robert Mueller's probe. Critics say they fear Trump installed Whitaker to curtail or stop the investigation, which is probing Russia's efforts to interfere in the 2016 election, whether Trump or any of his associates conspired in the operation, and whether Trump has obstructed justice.
Senator Dianne Feinstein, the top Democrat on the Judiciary Committee, called Tuesday for hearings on Whitaker's appointment.
"The circumstances surrounding Attorney General Sessions' departure raise serious questions, including whether the appointment is lawful and the possible impact on Special Counsel Mueller's investigation," she said.