Risk-Asset Rally Has Legs as Split Congress Seen Mending Trade
(Bloomberg) -- The prospect of Congressional gridlock taking the edge off Donald Trump's policies spurred gains in emerging markets. In the wake of the U.S. midterms, though, the biggest wild card remains international trade.
Trump still holds the reins over talks with his Chinese counterpart, Xi Jinping, ahead of their planned dinner at a Group of 20 summit later this month, yet a recently renegotiated North American trade deal risks getting blocked or delayed by the House's Democratic majority. Adding to the uncertainty is incoming Mexican President Andres Manuel Lopez Obrador, who has already tested market optimism ahead of his Dec. 1 inauguration.
Even so, investors and strategists from JPMorgan Chase & Co. to Ashmore Group Plc say a divided Congress will force Trump to embrace his deal-making ethos, helping mend trade conflicts. Scaled-back tariffs could also lead to a weaker dollar, lifting appetite for riskier developing-nation assets.
"Trump is now a lame duck," said Jan Dehn, the London-based head of research at Ashmore Group, which oversees $76 billion. "Congress does not want economic insanity, so they will tell him to take the chill pill on trade."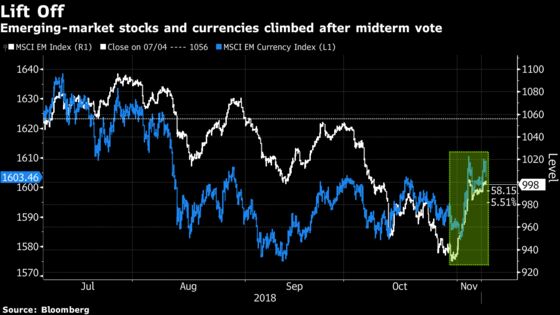 With a few exceptions, emerging-market equities and currencies rose Wednesday as the consensus call of a Democratic House and Republican Senate came true. Mexico's peso snapped a four-day winning streak and Chinese stocks deepened their longest slide in eight weeks as the dollar fell.
Developing-nation debt looks more attractive since a conciliatory approach to trade will curb gains in the greenback, according to Dehn. Meanwhile, JPMorgan strategist Marko Kolanovic said Trump will be forced to "drop the damaging trade war," which supports a rally in emerging-market shares.
That's not to say the developing world will get instant relief from Washington. Congressional approval of the North American trade deal, additional sanctions on Russia and the U.S.-China standoff are lingering risks, according to Yacov Arnopolin, a money manager at Pacific Investment Management Co. in London.
But even if trade threats don't fully fade, emerging markets could find relief elsewhere. For instance, the partisan divide will probably quash Trump's hopes of passing another round of tax cuts to the wealthy and lead the Federal Reserve to slow its pace of interest-rate hikes, according to Edwin Gutierrez, a money manager at Aberdeen Standard Investments in London.
"That undermines the case for continued dollar strength," he said.