Travelers Left Stranded After Airport Protest: Hong Kong Update
(Bloomberg) -- Travelers were left stranded at Hong Kong's international airport after protesters disrupted transport to and from the facility, blocked roads and vandalized train stations.
Queues of people sat on their suitcases in the airport terminal building and others walked down the highway pushing luggage, with no buses or taxis to be seen. Riot police dispersed the crowds of protesters, some of whom had earlier damaged offices and equipment at train stations on the airport route.
The demonstration followed a night of violence in the city after tens of thousands joined an unauthorized march, which led to running battles with police who fired warning gunshots, tear gas and water cannons. The protests began in June over a bill allowing extraditions to mainland China before morphing into a wider push against Beijing's grip on the city.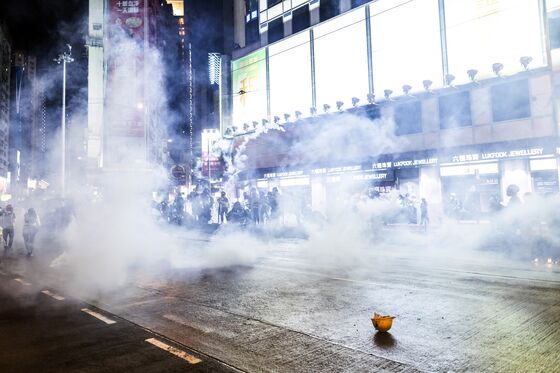 Embattled leader Carrie Lam last week called for talks with the opposition while refusing to rule out invoking a sweeping colonial-era law that allows for easier arrests, deportations, censorship and property seizures. The unrest in the Asian financial hub threatens to distract from China's celebrations of the Oct. 1 70th anniversary of Communist Party rule.
MTR Corp. said it suspended airport express train service in both directions, and on the Tung Chung and Disneyland Resort lines.
Riot police start clearing protesters at the airport who tried to paralyze transport to the facility.
Service was suspended at various key metro stations after clashes between protesters and police spread to the public transport system.
The Chinese central government earlier this summer dismissed a proposal by Chief Executive Lam to withdraw the controversial extradition bill, and ordered her not to yield to protesters' demands, Reuters reported.
Here's the latest (all times local):
Police arrests (6.18 p.m.)
Police arrested 63 people -- 54 men and nine women -- in train stations in Kowloon on Saturday night, Acting Senior Superintendent of Kowloon West Tsui Suk Yee said at a press conference. The youngest person held was 13 years old, she said. Petrol bombs, laser pens and helmets were confiscated and those arrested face charges including possession of weapons and unlawful assembly, according to the police. Two trains were damaged by demonstrators, she said.
Tung Chung line suspended (6.05 p.m.)
MTR, operator of Hong Kong's rail service, suspended train services on its Tung Chung and Disneyland Resort lines. Police said protesters damaged turnstiles, CCTV cameras and broke windows in the customer service station at the Tung Chung train station. The demonstrators blocked roads in the area and set fire to barricades, according to a police statement.

Airport train service suspended (4.45 p.m.)
MTR suspended its airport express train service in both directions, saying someone was trespassing on a track near the Airport Station.
Riot police move in (3 p.m.)
Riot police moved to disperse crowds of protesters around the airport building and in the public transport areas. Demonstrators built barricades of rubbish skips in roads into and out of the facility, and prevented buses from leaving the terminus.
Crowds of people walked along the highway toward the airport after buses and train service to the facility was canceled.
Airport protests (1 p.m.)

Protesters vandalized turnstiles at train stations to the airport and spray-painted graffiti as crowds gathered to try to disrupt transport to the facility, where people had massed outside. MTR suspended service of express trains to the airport.
Two Gunshots (Sunday 3 a.m.)
Two shots were fired minutes apart shortly after 9 p.m. Hong Kong time after police found themselves surrounded by demonstrators, Yolanda Yu, a police senior superintendent, said at a briefing early Sunday morning. The officers were in serious danger, she said, adding that the shots followed repeated warnings to the demonstrators.
Clashes in metro (10:45 p.m.)
Riot police rushed into multiple subway stations, making a number of arrests and ordering reporters to clear out. Clashes in the transport system were reported at several stations and the metro service was suspended at key stops disrupting two of the system's main lines. MTR, the system operator, said on its website that it was forced to suspend some service due to "disturbances" and "damage to facilities."
Clashes continue into the night (8.30 p.m.)
Police baton-charged protesters and drove them off the streets with water canons as clashes continued into the night. The retreating protesters seemed to disperse only to reappear in a nearby suburb. In some clashes police were outnumbered and were forced back, with protesters hurling firebombs and other objects. Police did manage to arrest some people and loaded them into vans.
Barricade bonfire (7.20 p.m.)
Protesters used police barricades, and stands and fencing from a nearby park to build a huge blaze in the middle of a road in Wan Chai in the city center. Plumes of smoke filled the air as fire engines battled for access to the blaze.
Police said protesters also attacked government buildings with petrol bombs.
"Violent protesters continue to throw corrosives and petrol bombs on Central Government Complex, Legislative Council Complex and Police Headquarters," police said in a statement. "Such acts pose a serious threat to everyone at the scene and breach public peace."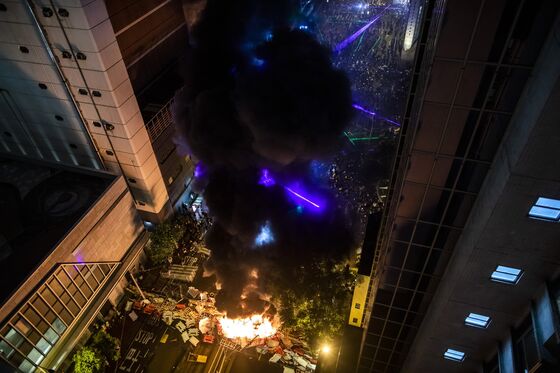 Police sprayed what appeared to be dye at protesters outside the Legislative Council offices, leaving the streets washed in blue. A water cannon was deployed earlier to drive away the demonstrators.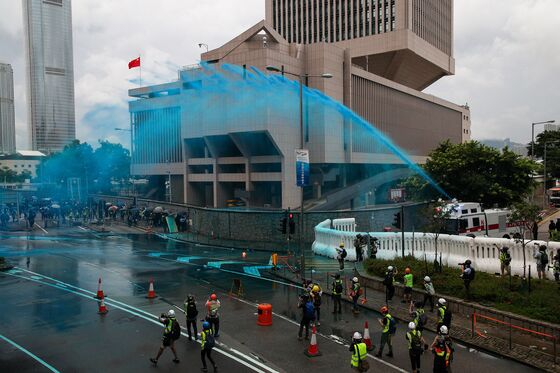 Tear gas fired, helicopter hovers (4 p.m.)
Police fired tear gas at demonstrators outside the Legislative Council offices in Admiralty after people lobbed eggs and surrounded the building, which was barricaded. Earlier, protesters urged one another to cover their heads with umbrellas to avoid being identified as a Government Flying Service helicopter hovered over the marchers.
Rex Lau, a 31-year-old lecturer, said he and others were risking everything by marching to maintain their rights as Hong Kong citizens.
"Some of the people are scared of the emergency law and the arrests, and people think they might get fired for speaking out," he said, wearing a mask and holding a black umbrella as he walked down a closed-off road in a chanting crowd of thousands.
"But today, I thought if I stayed at home and didn't come out that we would lose our rights," he said. "If we keep silent, the government may think everything's OK and that we have no comment about the extradition bill, about 'one country, two systems,' and about our elections."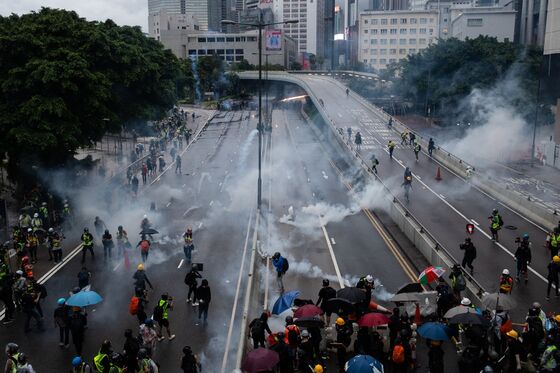 Marchers defy ban (2.30 p.m.)
Tens of thousands of protesters marched peacefully through the streets of business and shopping districts on Hong Kong island despite a police ban. The procession wound its way through the Central neighborhood and headed to the western part of the island where the China Liaison Office is located.
"If the government wants to stabilize society, they should give some positive response to demands made by the protesters -- like Ms. Carrie Lam should resign and set up independent commission to look into the issues. And I think that would be very helpful," Yeung said.
China Rejected Lam's Concession: Reuters (2:23 p.m.)
The Chinese central government earlier this summer dismissed a proposal by Chief Executive Lam to withdraw the controversial extradition bill, Reuters reported on Friday. Beijing ordered Lam not to yield to any of the protesters' other demands at that time, the report said, citing three unidentified people with direct knowledge of the matter.