Jokowi Orders Spending Curbs to Focus Budget on Virus Relief
Indonesian President Joko Widodo ordered spending cuts across the public service so that expenditure could be reallocated to fight the coronavirus, which officials say could bring growth down to zero in Southeast Asia's biggest economy if the pandemic worsens.
Jokowi, as the president is commonly known, instructed all ministries and institutions as well as local and regional governments to reduce spending on things like travel and meetings, according to a statement from his office Friday. The nation's budget should be focused on strengthening health care, supporting households and helping small businesses, he said.
The virus is pushing the world economy into recession, with Indonesia facing worse growth prospects than during the global financial crisis more than a decade ago. Finance Minister Sri Mulyani Indrawati on Friday warned the situation could be even more dire.
"If Covid is prolonged by 3-6 months, and if there is lockdown and if international trade falls by 30%, and also international flights are affected, the scenario can be more severe," she said. "Economic growth can reach 2.5% and even 0%."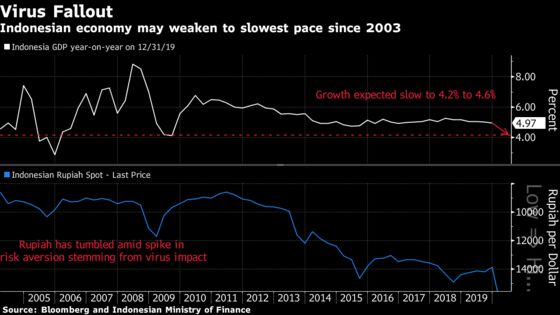 Jokowi told ministers at a meeting on Friday that the "purchasing power of the people really has to be our concern." Officials have been ordered to go through budgets line by line to eliminate any spending that is not a priority, including travel.
The central bank, which on Thursday cut its key rate by 25 basis points for a second month, slashed its growth forecast for this year to 4.2%-4.6% from a previous estimate of 5%-5.4%.
The government has already announced plans to inject stimulus -- unveiling three emergency packages in the past few weeks, including as much as $1.8 billion in measures Wednesday.
Jokowi said direct community assistance programs must be implemented as early as possible while the so-called cash for work programs run by various ministries must be expanded. The budget reallocation would also be focused on providing economic incentives for businesses, including the informal sector, which in Indonesia employs tens of millions of people.
The president said he had met with Bank Indonesia Governor Perry Warjiyo on Thursday, along with heads of other key financial agencies, and told them to monitor the financial system "at all times" and carry out risk mitigation as comprehensively as possible. "I ask for policy synergy," Jokowi said.
Indonesia's currency, stocks and bonds have plunged to multi-year lows as investors dumped emerging market assets amid worries about the global economy. The rupiah tumbled past 16,000 to the dollar on Friday to its lowest level since the Asian financial crisis, while stock trading was halted twice this week after circuit breakers were triggered.