Boris Johnson Wins Second Legal Challenge Over Parliament Suspension
(Bloomberg) -- U.K. Prime Minister Boris Johnson won a second legal challenge over his plan to suspend Parliament ahead of a deadline to leave the European Union, giving the country's top court the final say on prorogation.
Three London judges dismissed a case Friday brought by businesswoman Gina Miller and former Prime Minister John Major, who argued that bypassing lawmakers through the process known as prorogation is an abuse of the government's power. The appeal of the ruling will go straight to the U.K. Supreme Court.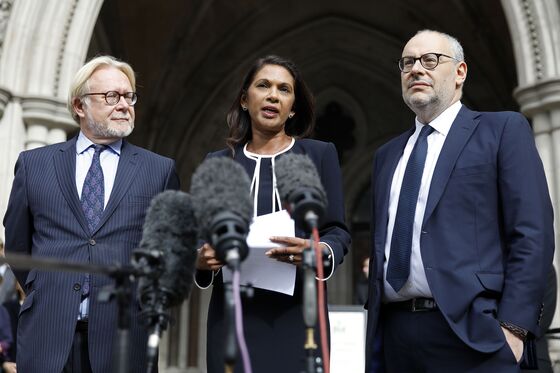 The ruling comes after Johnson successfully fended off a challenge in Scotland earlier this week. The cases, alongside a third being heard in Northern Ireland, are likely to go to appeal. Before Friday's ruling, the Supreme Court said its judges would end their summer vacations early to allow a hearing on Sept. 17, days after the prorogation has come into effect.
"Today we stand for everyone, we stand for future generations, and we stand for representative democracy," Miller said outside London's High Court after the ruling. "To give up now would be a dereliction of our responsibilities."
The legal skirmishes are part of a concerted series of action to limit Johnson's ability to leave the European Union. On Wednesday night, Labour Party and Tory rebels voted to take control of the legislative agenda and passed a bill to rule out a no-deal Brexit.
Miller's attorney, David Pannick, had argued that the length of the proposed prorogation at such a critical time was unlawful and that Johnson has abused his powers as Prime Minister.
"As disappointed with the result as Mrs. Miller will be, we will go to the Supreme Court," Pannick said.
Miller, who famously won an earlier case against Theresa May that gave Parliament more scrutiny of Brexit, will need to overcome a legal hurdle that stymied lawmakers who filed a similar challenge in Scotland. The judge in Edinburgh, Raymond Doherty, questioned the court's role in the issue because ministers' advice to the Queen is a matter "involving high polity and political judgment."
Terence Etherton, one of three judges on the panel in London, also heard Miller's previous case. He and the other judges in that case were labeled 'Enemies of People' in a Daily Mail headline backing the decision.
The Belfast High Court is also being asked to weigh in on a lawsuit focusing on the effect of a no-deal Brexit on the Good Friday Agreement. Raymond McCord, whose son was killed in Northern Ireland's so-called Troubles, is seeking a declaration from the court that a no-deal Brexit is a breach of the peace accord that largely ended the violence that gripped the region for almost three decades.
Should McCord win, the result wouldn't be immediately binding on the U.K. Government, but if ignored, McCord could return to court to seek further action. A decision is expected by Sept. 10, and is expected to be appealed either way a week later at the Supreme Court in London.
"These are unprecedented times," Ciaran O'Hare, McCord's lawyer, said in an emailed statement. "My client is gravely concerned that time is running out and it seems that we are on the road to a no-deal Brexit, which would be utterly devastating for the good people of Northern Ireland."
During the second day of arguments in Edinburgh, lawyers were seeking an interim halt of the prorogation. Government lawyers said that the court had no right to decide the length of the suspension and tried to make a distinction between a no-deal Brexit and prorogation.
The Scottish judges will rule on Wednesday and didn't make any interim orders Friday.