Boris Johnson to Hold Talks in Brussels Wednesday: Brexit Update
(Bloomberg) -- U.K. Prime Minister Boris Johnson will hold crisis talks with European Commission President Ursula von der Leyen on Wednesday evening as the two sides try to salvage a trade deal by the end of the year.
Johnson will head to Brussels after the U.K. government announced it will drop controversial clauses that would rip up parts of the Brexit divorce agreement, bringing to an end a dispute that threatened to derail negotiations on a future trade deal.
Talks over the future trading relationship between the U.K. and the European Union remain deadlocked, with an agreement hanging in the balance. But news of a resolution to the three-month row over clauses in the U.K. Internal Market Bill may help ease the talks on trade.
Johnson said earlier in the day he still wants and hopes for a trade deal but warned the time may be coming to recognize that the negotiations have failed.
Pound traders are bracing for volatility
Johnson warned there may come a time to abandon talks
The food industry warned imports will be at risk because of Brexit border checks
Johnson Heads to Brussels for Talks Wednesday (5:50 p.m.)
U.K. Prime Minister Boris Johnson will travel to Brussels to meet European Commission President Ursula von der Leyen on Wednesday for talks to salvage a trade deal.
The prime minister will "continue discussions on the future relationship between the U.K. and the EU" over dinner, Johnson's office said in a statement.
Gove Says Committee Agreement Is a Success (5:40 p.m.)
Cabinet Office Minister Michael Gove said the joint EU-U.K. committee's agreement is "a success for the people of Northern Ireland."
Speaking in a pooled TV interview, Gove said a trade deal with the EU would be in both sides' interests -- but it shouldn't come at any price. Britain's red lines on sovereignty must be respected, he said, before expressing hope there will be movement on the EU's sides in the negotiations.
Barnier: Chances of a Deal Now 'Very Slim' (3:40 p.m.)
Michel Barnier told EU ministers this morning that the chances of reaching a deal with the U.K. by the end of the year were now "very slim," Sky News' Adam Parsons tweets, citing a person familiar with the matter.
IATA Sees No Disruption to Flights (3:40 p.m.)
Alexandre De Juniac, director general of the International Air Transport Association, said Tuesday in a briefing that he anticipates no disruption to air travel between the U.K. and EU after Jan. 1 even in the absence of a deal.
Travel will be continue under a "transitory phase" agreed before previous Brexit deadlines. "In the long term, the air-service agreement would have to be renegotiated between the U.K. and the countries in Europe," he said.
Ireland Welcomes EU-U.K. Agreement (2 p.m.)
Irish Foreign Minister Simon Coveney welcomed the joint EU-U.K. committee's agreement on the implementation of the Northern Ireland protocol.
"I hope this may also provide some of the positive momentum necessary to instill
confidence and trust and allow progress in the wider context of the future
relationship negotiations," he said in a statement.
U.K. Drops Law-Breaking Brexit Clauses (1:19 p.m.)
The U.K said it will withdraw the controversial clauses in its Internal Market Bill which would have given ministers the power to unilaterally override the Brexit divorce treaty.
In a statement, the British government said it had reached an agreement in the Joint Committee with the EU over outstanding issues relating to Northern Ireland, which meant the clauses wouldn't be needed.
It also said it wouldn't be bringing forward similar controversial proposals in its taxation bill, which is due to be introduced in Parliament later today.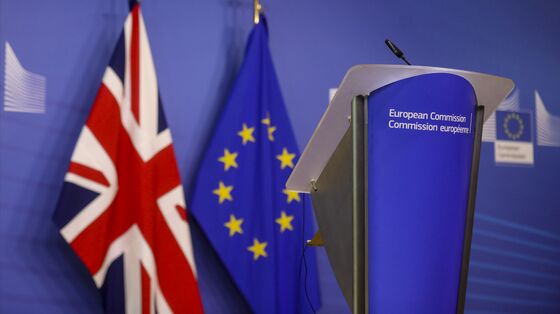 Barnier: Access Comes With Conditions (1 p.m.)
The EU's chief negotiator tweets:
Johnson Tells 'Unified' Cabinet He's Seeking Deal (12:45 p.m.)
Boris Johnson told his cabinet on Tuesday that he's still working to secure a deal and that he wants to find a way through remaining areas of disagreement, his spokesman, Jamie Davies, told reporters.
The U.K.'s envoys will prepare an "overview" of outstanding areas to be resolved which the premier will then discuss with European Commission President Ursula von der Leyen in coming days and "see if there is a political way through," Davies said.
No date has yet been set for the meeting with von der Leyen in Brussels, and there are no plans for Johnson to meet with either President Emmanuel Macron or German Chancellor Angela Merkel.
The cabinet is "unified around the government's approach to push for a deal, "but they also agree that any agreement must respect our sovereignty and allow us to regain control of our money, law and borders," according to Davies.
Traders Brace for Inflation Shock (12:20 p.m.)
U.K. two-year inflation swaps, a gauge of expectations for price rises, have spiked to their highest level in over a year as the prospect of Brexit trade talks collapsing re-awakens fears of a tumble in the value of the pound.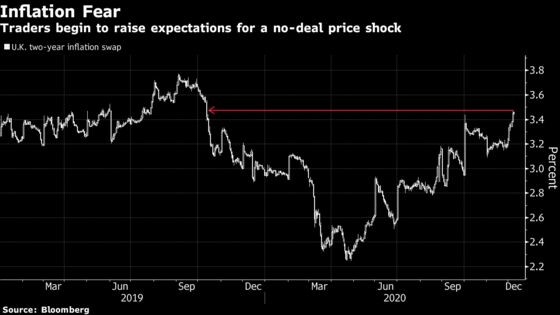 That, along with the threat of trade barriers between Britain and the EU after the Dec. 31 deadline, means traders are anticipating surging import costs. The rate, using the retail price index, climbed close to 3.5% this week.
Businesses Warn Over Border IT System (11:40 a.m.)
Companies are poorly prepared for the introduction of a key post-Brexit border IT system, the Goods Vehicle Movement Service, according to Britain's largest automotive lobby group. The system will police cross-Irish Sea trade and some U.K.-EU freight.
"We have no idea what it looks like or how it functions in practice," Lloyd Mulkerrins, policy manager at the Society of Motor Manufacturers and Traders, told a panel of lawmakers in London. "We are nervous that we could have some unexpected data requirements put on business late in the day."
Automakers will also face tariffs on Jan. 1 for U.K.-EU trade even if a trade deal is struck because they haven't had time prepare for new rules of origin requirements, Mulkerrins said.
Johnson-Von der Leyen Call 'Cordial' (11.13 a.m.)
European Commission spokesman Eric Mamer told journalists in Brussels that no date has been set for the meeting between Ursula von der Leyen and Boris Johnson.
Mamer denied that Wednesday is a deadline for post-Brexit deal negotiations to wrap up, saying that the hope is that the meeting between the U.K premier and the Commission president will pave the way for negotiations to resume after that.
Mamer wouldn't give any fresh details about Monday's call between the two leaders but said the discussion was "cordial."
European Parliament Member Sees No Deal (11:11 a.m.)
Philippe Lamberts, a member of the European Parliament's Brexit steering committee, said he would put money on no deal being struck.
Boris Johnson "wanted to make a last-ditch attempt, but then again that was already the scenario on Saturday," he told Bloomberg Television's Maria Tadeo. "So the negotiators were given 48 hours more, and the result after 48 hours is that nothing moved an inch."
He warned that even if an agreement is reached, the European Parliament will need "some extra time" to ratify it, meaning it could only vote on the deal in January.
Barnier: Brexit a "School of Patience" (11:10 a.m.)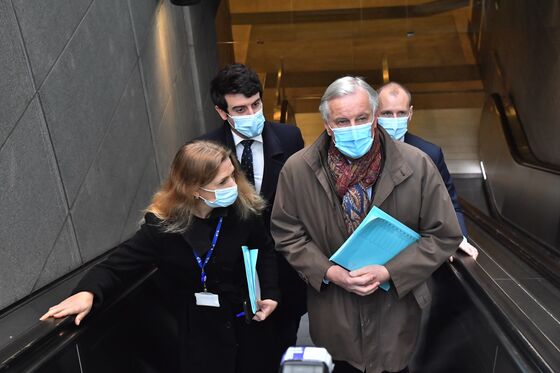 Michel Barnier tells reporters in Brussels that he will brief EU ministers after meeting with the U.K.'s chief negotiator, David Frost, earlier this morning.
"Next steps, obviously the meeting with Boris Johnson and Ursula von der Leyen," he said. "At that stage, more than ever, Brexit is a school of patience, even a university of patience."
U.K. Food Imports 'at Risk' After Brexit (10:57 a.m.)
Food imports from the EU into the U.K will face disruption in January due to new Brexit border checks, according to Britain's food and drink lobby group.
"We can't be absolutely certain about the movement of food," Ian Wright, chief executive of the Food and Drink Federation, told a panel of lawmakers in Parliament on Tuesday. "This is all about lorries with the right paperwork getting in through a particularly small number of ports."
Wright also said U.K food exporters have started losing business in the EU due to Britain's pending departure from the bloc's single market and customs union.
Johnson Hopes for Deal But Talks Tricky (9:20 a.m.)
Boris Johnson says he's "hopeful" of securing a trade deal, but warned there may come a time to abandon negotiations. The two sides are "a long way apart" on issues such as fishing rights, he said.
"I've got to be honest with you, I think that the situation at the moment is very tricky," he told reporters in a pooled TV clip. "There may come a moment when we have to acknowledge that it's time to draw stumps," he said, using a sporting analogy referring to the end of a cricket match.
"There are just limits beyond which, obviously, no sensible independent government or country could go."
Brexit Negotiations Off Summit Agenda (9:19 a.m.)
Angela Merkel and Emmanuel Macron have agreed Brexit negotiations should be kept off the agenda of this week's summit of European Union leaders, a sign the bloc will resist making any significant last-minute concessions to the U.K. and will stick with Michel Barnier's mandate.
France: EU United on Fishing (8:15 a.m.)
"We aren't divided including on fishing and I can solemnly say we'll remain united," French junior minister for EU affairs Clement Beaune tells Senators at a hearing. "We'd rather get an agreement, but we can't accept an agreement at any price, under U.K. conditions"
France Sees Room to Negotiate (7 a.m.)
There is still room to negotiate and find an agreement on Brexit, French European Affairs Minister Clement Beaune said in an interview with RMC radio on Tuesday.
"I don't want to acknowledge a failure yet, I believe we still have some time for negotiation, several days", Beaune said. "We then need to say, because it's important for companies and fishermen, whether there is an deal or no deal."